Recapping Social Media Day X Digital Adelaide 2021
Rubina Carlson
22 July 2021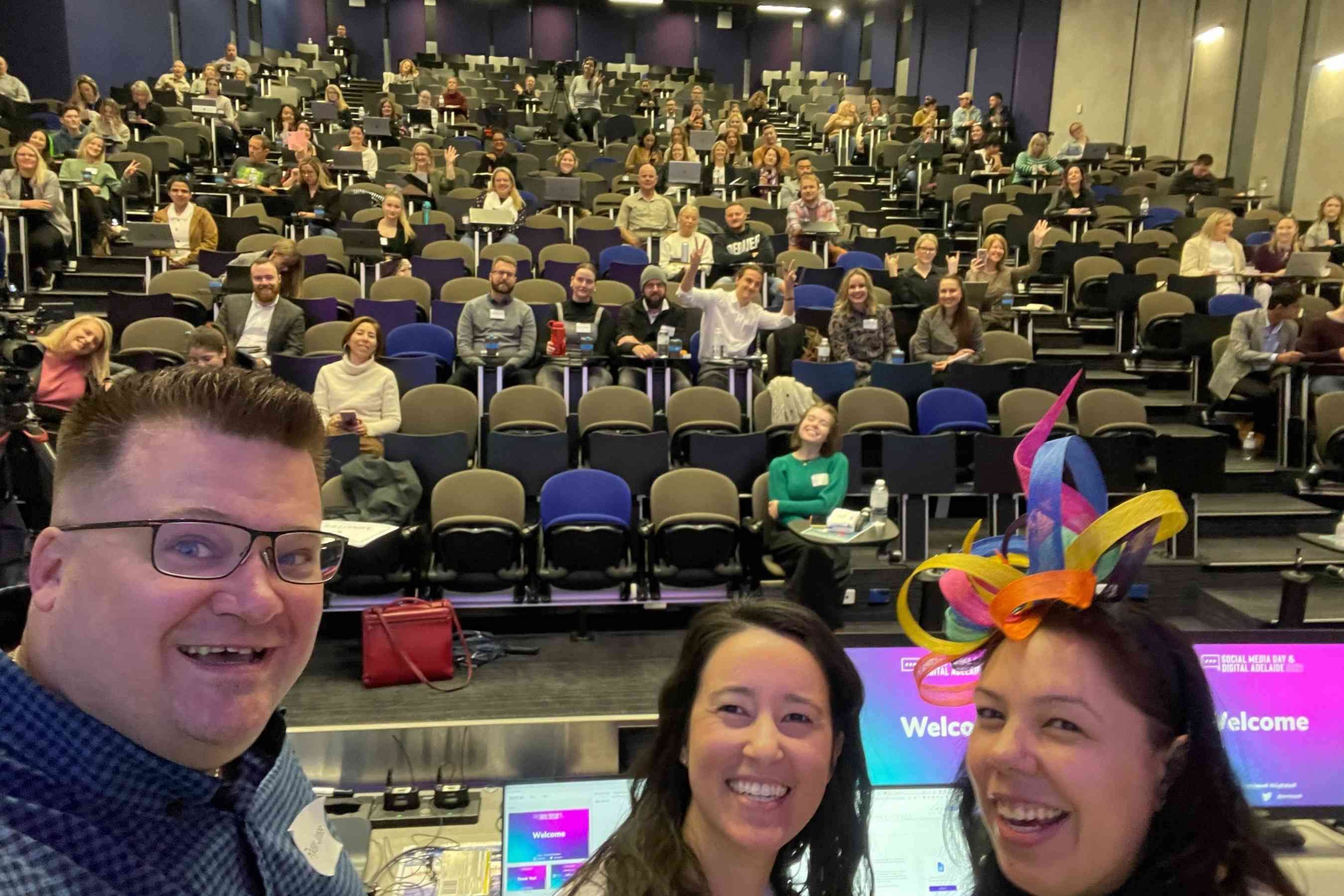 This year at Social Media Day X Digital Adelaide, we heard from some of the best social media and digital marketers from South Australia. As we sat in the Allan Scott Auditorium at UniSA, we all scribbled down insights and learnings from others' experiences.
What a conference! 2 full days. 15 expert speakers. 150 marketing/communication professionals. Endless notes. Here's my recap of the recurring themes and trends...
Consumers are increasingly savvy
Did you know that ad executives are the least trusted profession in Australia?
There's no denying that there's been a shift in how people engage online in the past 18 months during the pandemic. 18 million Australians are active social media users who check their socials daily. We've seen Mums join TikTok, grandparents join Instagram and everyone master Zoom meetings.
The understanding of digital platforms has risen to unprecedented levels across the population. Consumers are wising up to marketing tricks, particularly across social media. Never mind that there's even more white noise than before. It can be incredibly difficult to cut through and get the right message to the right person at the right time.
92% of consumers trust organic user-generated content above all other forms of advertising.
Nielsen
While this statistic was released in 2012, we've seen many iterations of it over the years.
92% of B2B buyers are more likely to purchase after reading a trusted review.

G2 Crowd/Heinz Marketing

Four out of five consumers have changed their minds about a recommended purchase after reading negative online reviews.

Cone

93% of consumers say that online reviews influenced their purchase decisions.

Podium

Nearly all consumers (97%) now use online media when researching products or services in their local area. BIA/Kelsey's
92% of consumers trust recommendations from others, even people they don't know, over branded content.

Adweek

70% say that online reviews are their second-most-trusted source. Adweek
While 93% of purchase decisions begin with a general web search, 74% of shoppers make buying decisions based on social media. ODM Group
The most credible form of advertising comes straight from the people we know and trust. 83% of online respondents in 60 countries say they trust the recommendations of friends and family. Nielsen
In a nutshell, most people trust other people, not brands or marketers.
While your brand must engage across its own digital channels, you also need to leverage earned digital media. Integrate user-generated content into your digital marketing strategy. Ask your customers for reviews on your Google Business Page or social channels.
Alternatively, you might even adopt a raw approach to creating your content, signifying how real your content is.
But don't just re-appropriate user-generated content without permission! As Paul Gordon, Partner at Wallmans Lawyers (aka the destroyer of marketers' dreams), reminded us:
"Always ensure that you have permission from the original creator of the content to re-publish the content and that you also credit the original creator."
You also need to be careful that you (and influencers you work with) don't get caught engaging in misleading or deceptive conduct.. Always ensure that the influencer clearly indicates if they've received payment or a product as a gift.
Put the customer at the centre
"There's only one boss. The customer."
Sam Walton, Walmart
While the customer always understands their own needs, they don't always know what the best solutions to their needs are. It's vital to understand the 'why' behind the customer's needs.
"If I had asked people what they wanted, they would have said faster horses."
Henry Ford, Ford Motors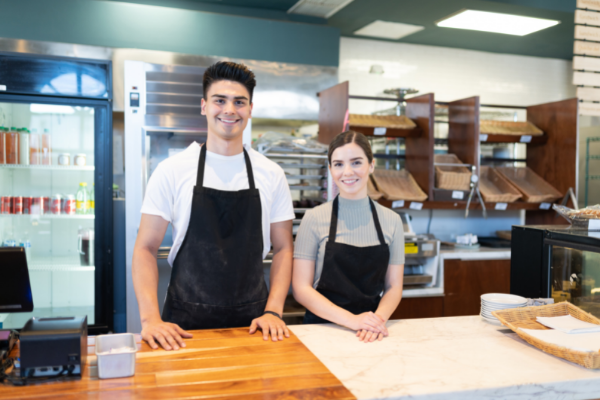 Customer experience impacts the bottom line, where PwC has found that:
50% of customers switch after a negative experience
92% of customers abandon after 3+ negative experiences
13% of customers spread the word after a negative experience
57% of people won't recommend you if they have a poor website experience
38% stop engaging with you if the content and layout of your website is hard to use
Investing in a solid customer experience is worthwhile. People who have a great customer experience are likely to pay 16% more and 49% are more likely to impulse buy. Make sure you cover all the "X's": brand, people (employees), technology, product and user experiences.
Customer personas and their tribes
While it's important to gain a real understanding of your customer, a customer persona is not the only way to express it. Sometimes, the customer persona can prove to be limiting, so it can be helpful to consider the concept of tribes.
"A tribe is any group of people, large or small, who are connected to one another, a leader, and an idea. Now the Internet has eliminated the barriers of geography, cost, and time. All those blogs and social networking sites are helping existing tribes get bigger."
Seth Godin
It's important to understand who is part of your tribe, and equally who isn't. Mal Chia and the team at Ryderwear take this approach to all of their marketing efforts. They always consider the characteristics of their Warriors.
When launching Australia's Violet Crumble back into the market, Robern Menz adopted the mantra that it was an evolution, not a revolution. They recognised that there was already a strong, passionate tribe around Violet Crumble. Polly Love, Marketing Manager at Robern Menz listened to her community of consumers and what the brand means to them: iconic, Aussie, tasty and fun.
When creating content, be authentic, be yourself
It's incredible how many brands all used the same messaging throughout the pandemic.
#relyonus #unprecedentedtimes #hereforyou
While all these ads were aimed at reassuring consumers, they all sound the same and so cliché. Take the time to revisit your values, differentiators and unique selling propositions. Develop your messaging to ensure they reflect these aspects.
Your social media channels are a reflection of your business and brand. Be real and authentic. Don't fake it. Use your own photos and videos.
As marketers, we need to provide detailed briefs to internal staff, so that they have all the information they need to create content. This is even more important if content creation is not part of their everyday job. The detailed briefs are equally vital when working with external freelancers, agencies or influencers. They must be clear on the content that needs to be captured, drafted and published, and you must set clear expectations from the outset.
Don't use content just once! Reuse and repurpose content by sharing the same content with different angles. If you've written a blog with 5 sections, share it at least 5 times on your social channels focusing on a different section each time.
If you're in a large organisation, like ABC Adelaide, use Facebook's video cross-posting feature. This allows you to share the same video content across multiple Facebook Pages.
Ultimately, content is no longer king, authenticity is.
Use social media as a platform to build your brand, give your brand depth and meaning. Brand building is not about the "now". It doesn't give you instant results. Rather, it's about building wider awareness and your reputation over a sustained period of time.
Investing in your brand during hard times can help your business bounce back faster. Jo Fort from the Innamincka Hotel, Outback Loop and Aussie Travel Code is living proof. Marketing should be an investment as important as keeping the lights on.
Influencers are people, so build relationships
When working with influencers or content creators, remember that they are people first and foremost.
"Don't think of influencers as a transaction, it's a relationship. Vet and brief them, work with them."
Dena Vassallo, Society Marketing Communications
You could take the Robern Menz approach: surprise and delight. You could send Violet Crumble piñatas to select influencers, with a note to encourage them to share opening it on their social channels with the right campaign hashtags.
Mal Chia shared how the Ryderwear team focuses on reaching out to influencers who were influential in their local market. Working with local influencers resulted in local clusters of Ryderwear customers. They judge influencers based on a combination of reach, engagement and revenue via promo code redemption.
Consider the part of the customer journey you're engaging the influencer for. For example, an influencer has reached 10,000 users and attracts 100 interactions on a post. Those reached by the post may be exposed to the brand for the first time. Who knows, maybe that's the spark they needed to begin their customer's journey with your business.
Social ads have a role to play at each stage of the customer journey
When developing your social media ads, consider all stages of the customer journey. You can think about it as an upside-down funnel.
If the person you're targeting has likely never heard of you or perhaps doesn't even know they have a problem to solve, don't start with a salesy message. Try introducing yourself, your team or your business like you would when you meet someone for the first time.
Once the person has engaged with the ad, you can then retarget them with further information to assist them in the research phase. If they then visit your website without making a purchase, you can then share a sharp offer or add urgency to action. Here's an example.
People Not Aware of Problem
Audience: People located in Adelaide, SA, with an interest in Marketing.
Ad copy: Welcome to Refuel Creative, here to steer your digital marketing efforts in the right direction.
People Aware of Problem
Audience: People who have interacted with Refuel Creative on Facebook and Instagram.
Ad copy: Looking for help to optimise your website for search? First we'll audit your website, then make the technical improvements and optimise the content for search.
Information Gathering Mode
Audience: People who have interacted with Refuel Creative on Facebook and Instagram and visited the website.
Ad copy: What are you waiting for? Book your exploratory call now.
Marketing automation does not replace marketers
Marketing automation drives personalisation on a mass scale. It allows marketers to get the right message to the right person at the right time.
By personalising your marketing, you'll increase the chances that people will engage with your marketing. You can ensure your content is relevant to the people you're targeting, and you'll provide an excellent customer experience. This leads to:
improved open rates
improved click-through rates (CTR)
improved conversion rates
improved ad spend efficiency
improved return on ad spend (ROAS) and
improved visibility over results.
Martech tools on the market, like HubSpot, have amazing features, where you can tailor email, ad or website content. As a marketer, you are still needed to:
Work out your audience segments into lists.
Write the email/ad variations for different audience segments.
Consider any follow up or nurturing workflows based on actions taken.
Ultimately, martech helps marketers to dedicate their time to developing strategy and customising communications based on the customer journey stage.
Data, data everywhere, but not a drop of insight
We're surrounded by data, mountains of it. Data is full of potential insights, but if we don't take the time to unpack it, we may as well not have it.
Data strategies are vital to understanding how data is going to be managed, reviewed and queried. Don't look at your data in isolation, look at the whole picture. There's no point in having all the tech tools if you don't have the right people in the right roles with clearly defined responsibilities. It's vital to allocate a person who is responsible for reviewing the data against business goals and marketing objectives.
Data visualisation tools like Databox can help to bridge the data silos. Connect your data sources (e.g. Google Analytics, Facebook Insights) and build dashboards that combine the metrics on one screen. Regularly spend time analysing the trends or hone in on outlying stats.
Consistency is key, as is SEO
Be consistent in your marketing and communication, make a sustained effort. It's more expensive to start and stop your activities.
Search Engine Optimisation is a long game, which requires you to continually optimise your content. Here's a few quick tips you can implement today:
Use unique page titles and meta descriptions.
Use redirects to prevent 404 errors.
Write alt tags for images.
Optimise and compress images.
Use heading tags to signify important content.
Stay tuned for news on 2022 Social Media Day X Digital Adelaide
Social Media Day X Digital Adelaide will be returning in 2022! Keep up with all the news by subscribing to the Refuel newsletter, following the event on Facebook, Twitter, Instagram or LinkedIn, or subscribe via the event website.
We're also looking for speakers for 2022! So if you can contribute knowledge or case studies to the event, consider responding to our call for speakers.