The fallen social media platforms of the last decade
Ryan Jones
15 August 2020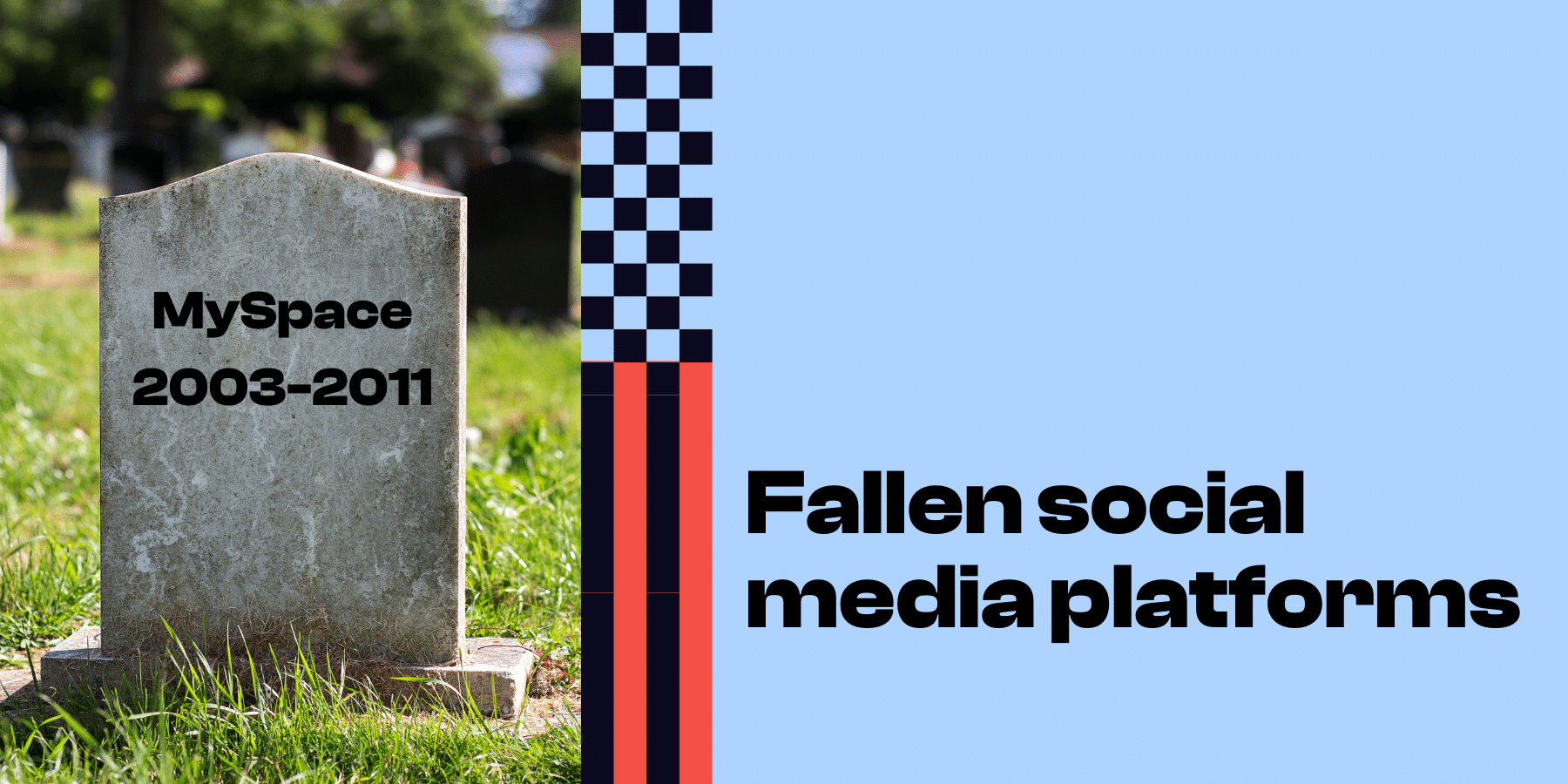 The last decade saw the death of some hugely popular social media sites from the early 2000s. Platforms like Facebook, YouTube, Twitter and Instagram grew in popularity and drove their competitors out of business. We often forget about the platforms that paved the way for our current favourites and that, for many of us, were our first tastes of online social networking.
The kids of today barely know any social media before Facebook or TikTok. They'll never understand the pain of trying to write a DM on a tiny Nokia screen and recording radio songs to set as their ringtone.
If we could go back and look at our flip phone photos, horrible haircuts and cheesy bios that undoubtedly clad our profiles, we'd remember a simpler time. A time when 'TikTok' was a song and not a video-sharing app for children (or data harvesting tool for the Chinese government).
Before social networking meant smartphones and apps these old social media platforms were mostly desktop based. All bar one made it to the app era before failing with thousands of users mourning the loss of their past profiles.
The opportunities that people now have on social media are all thanks to the people behind sites like MySpace and Vine. However, social media platforms like Instagram and Twitter can be so curated and polished; they don't always reflect reality. These platforms of the past didn't have all the pressures of modern profiles and were made to fulfil the simple purpose of connecting with others.
So, let's throw it back to our younger years and reminisce on the history of social media.
DailyBooth
DailyBooth was the Instagram of 2009, although its longevity proved much less than IG. It seems to be an ongoing trend that if celebrities like something, so does the rest of modern society. DailyBooth was no exception. Ashton Kutcher and then-wife Demi Moore were major investors in the site and frequently posted on it which attracted other celebs and young users.
It was designed for people to post photos of themselves with captions every day to document their lives. Your 'live feed' would be filled with people you follow and their photos from that day including captions and the ability to comment. It helped to launch the careers of some pretty successful influencers and was very much a template for the original Instagram app.
The site didn't progress much past these capabilities. The developers were not fast enough at bringing their platform onto mobile and to make it a serious contender for other social platforms. DailyBooth eventually died in 2012 and the team behind it was acquired by Airbnb, so it's not all bad.
MSN (Windows Live Messenger)
Similar to AOL's AIM messenger, MSN was one of the original basic messenger platforms. Primarily used as a desktop application, MSN profiles weren't much more than a list of online friends, a username and a bio. It was a hugely popular platform in the late 90s and early 2000s, just ask any millennial.
It eventually evolved to include profile pictures, albums, emoticons, 'nudges' and 'winks' - which were animated GIFs that you could send to friends (similar to Facebook stickers). MSN kept up with trends quite well and allowed people to play games with their friends, post photos and videos as well as leave comments. Eventually, they even added video chatting where you could use your webcam to see the other person AND message them at the same time. Mind-blowing!
Skype and Facebook came along to crush MSN's chances at evolving much further and after 15 years, it was shut down in October 2014. MSN now primarily exists as an email and news site powered by Microsoft.
Fun Fact: the first social media site was a website called Six Degrees founded in 1997. Users could make a profile and make friends with other people.
Vine
One of the first social platforms to launch in an app-only format, Vine created a never before seen comedy culture that didn't exist on other platforms. The app was originally designed as a video sharing tool where people could share 6-second snaps of their lives. The videos looped, similarly to a gif, which wasn't prevalent on any other platforms at its inception in 2012.
The app hit its peak in 2013, following the introduction of front-facing camera video capabilities. Users grew dramatically with the videos achieving a crazy 100 million viewers per month. It quickly became a hugely successful creative outlet which founded the careers of many influencers who have gone on to become celebrities.
In mid-2013, Instagram released its 15-second video feature and subsequently Snapchat began to gain traction. These platforms didn't completely trump Vine straight away, especially as the Instagram video feature was back-facing camera only and Snapchat was still in its initial stages.
Unfortunately, with such a small team operating in a different city its parent company Twitter, Vine just couldn't keep up with competitors as the years went on. Their biggest creators jumped ship to platforms like YouTube and Instagram and bought their audience with them which saw the app go into administration in 2017. This doesn't discount the fact that Vine bought us some of the best memes to ever exist and helped catapult video sharing as we know it. RIP Vine, you're dearly missed.
MySpace
A haven for musicians, entertainers and their fans, MySpace was created for the entertainment industry and evolved into a social media platform. It was purchased in 2005 for an (at the time) insane $580 million by Rupert Murdoch's News Corp. At its peak in 2006, MySpace was the biggest social network globally and reached over 200 million accounts by 2007.
MySpace allowed people to curate their own profiles where you could customise the colour and post photos, videos, blogs and even music. The premise is that you would have friend connections, but then also be able to see their connections, namely 'extended friends'.
The premise was to make it easier for entertainers and C-grade celebs to find industry connections and share their music through a free platform. However, like all good things, other people, mostly young adults, wanted in and thus it became a social space. MySpace profiles were one of the first opinion outlets that teens had to share their likes and dislikes with others.
Similarly to Vine, MySpace's inability to keep up with competitor Facebook meant that it quickly declined into a less favourable platform. The platform shut down as a social network for good in 2011 not long after the founders left the company. A version of MySpace still exists but it isn't very popular.
Bebo
Bebo is of the MySpace era, having started in 2005 a messenger website. Users could join chat groups about topics that interested them, chat with friends and share photos and videos. Similarly to MySpace, you could customise your profile to reflect your personality and interests. At its peak, it amassed over 10 million users which is a measly amount compared to current figures of social media users across the most popular platforms today.
To be frank, this platform doesn't get much more interesting than that. Arguably Bebo was destined for an early demise in 2013. Its parent company made bad decisions and couldn't keep up with fast-moving technological advancements.
These platforms set the scene for digital marketing to emerge over the last decade and allows agencies like ours to do some pretty cool stuff for our clients. I know I'm grateful that the failed platforms of this century allowed players like Google, Facebook, Instagram and Twitter to prevail. Not to mention, that they allowed most of us to get a taste of social media before it became the all-consuming force it is today!
Modernise your social media
If you're interested in using social media to propel your personal or professional online presence, book a free exploratory call with our team! We're happy to discuss digital marketing options that suit your needs.