Understanding Your Online Performance & Website Value
Ryan Jones
04 December 2018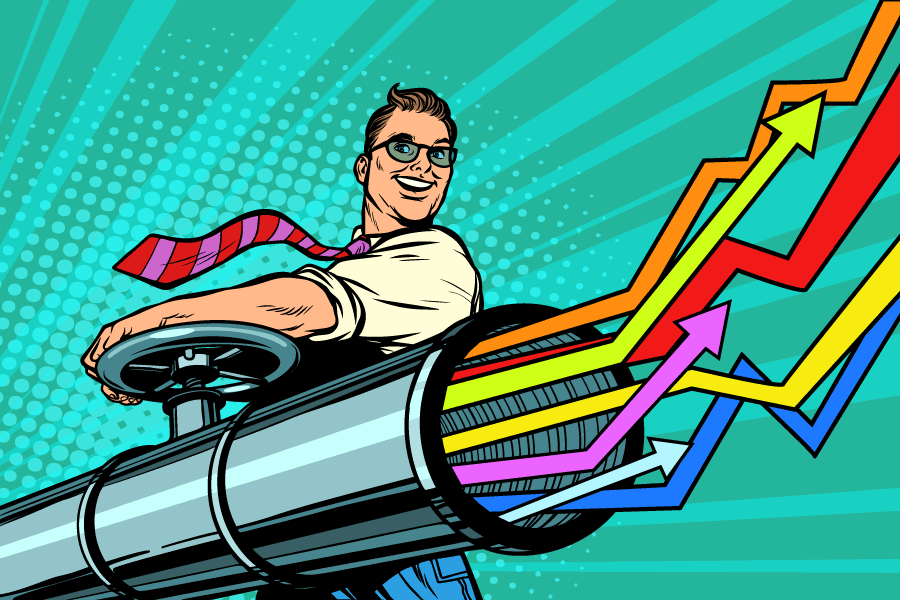 One of the first things we do when we start working with a client is to ask them what their goals are.
We all have goals and KPIs for our organisations. Whether we've set them ourselves, or they're passed down from a board, or management, these goals help us understand if we're succeeding, if we're winning our marketing battle.
We aren't talking about so-called 'vanity metrics' here either, like 'we want to increase our page likes on Facebook'. We're talking about actionable smart goals for digital marketing, just like you would set as part of your digital marketing plan, that support your business goals.
The issue is, online performance metrics can be foreign to those not used to digital marketing. CTR, CPC, Sessions, Bounce Rate, how do you know what is important, which affect your online business, and more importantly what is a good value for these metrics?
Are you seeing increasing traffic? Are you attracting your target audience? You need to smart insights to understand whether you're achieving your desired results.
Obviously, sales are one of the most fundamental measurements of success for any business -- but aside from that, what metrics should you be looking at to understand what works, what doesn't and what is going to drive long-term growth?
From page speed to traffic, to social media engagement, and more, there are literally dozens (if not hundreds) of metrics to follow. Accurately gauging your online performance helps you set benchmarks and make a cohesive effort toward improvement -- which is why, in our pursuit for digital excellence, understanding how your website is performing online has never been more crucial.
How we measure
How do you measure how you're tracking against your digital marketing strategy? There are a few key tools we use to assess client smart goals and marketing objectives. These include:
If you do not have Google Analytics on your website, go and install it RIGHT NOW. Stop reading, and go and sign up.
Seriously.
It's free and provides comprehensive data on all your goals.
Digital Marketing Key Performance Indicators
Here are a few web analytics you should definitely be following to know if your marketing efforts are working online:
User Retainment
Knowing how your users interact with the content you put online can give you the opportunity to improve user retention and promote your online presence at the same time. Website visitors should be able to engage meaningfully with the content you create and publish, both to benefit your customers and to ensure your business thrives.
High-performance sites often have blogs where they can share goings on within their company with their audience - this helps build confidence in your company and lets you build stronger ties with your customers. Another way to build that company/customer relationship is to promote and engage with customers through social media. This gives your audience a chance to interact with you online, share your business and let you know what they want to see more of from you.
Ensuring positive user experiences that result in user retention goes beyond the social level of customer loyalty building. For instance, successful user retention often involves improvements to and considerable effort put into eCommerce, ensuring sales go smoothly, products are restocked in a timely manner, shipping is fast and reliable and much more. All of these elements help keep users coming back again and again.
Achieving this involves specific and purposeful examination of how your site performs beyond simple search engine results. Building a site with performance in mind drives user growth and user retention. Pinterest, for example, spent much of 2016 improving their site performance, which lead to a 40% decrease in user wait time, a 15% increase in SEO traffic and a 15% increase in conversion rate to sign up. Needless to say, building for performance with user experience in mind works.
So which metrics do we look at for user retainment? A few key metrics:
Average Session Duration
The average amount of time that a visitor spends on your website each time they visit (or per session).
You can find this in Google Analytics by going to Audience > Overview.
How long is a good average session duration? Well, how long does it take for a user to complete the task you want them to complete, e.g. read the average blog post, place an online order, sign up for a trial?
In general, the more time is better, but only to a point. If users are constantly spending 10 minutes on your website to complete a task that should be completed in 5, are they finding it too difficult to complete?
Bounce Rate
The percentage of visitors who visit the site and then immediately leave without completing any tasks.
You can find your website wide bounce rate in Google Analytics by going to Audience > Overview. If you go to Behavior > Site Content > Landing Pages, Google Analytics will show you the bounce rate of each 'landing page' - the page a visitor first visits when coming to your website. This will show you actionable data - rather than looking at the site as a whole, you can drill down into the specific pages that have high bounce rates and could be turning your visitors away.
What kind of bounce rate should you be aiming for? In general, the lower the better.
It used to be that a 30 to 50% bounce rate was considered the ideal, but now we know a lot more. For example, if you run a directory website, you should expect higher bounce rates as visitors get the information they need off the first page they visit. If visitors come in to read a blog, they may not read any of your other content or take any other actions on that visit.
Number of sessions per user
How many times do your users return to your website?
Conversion Rates
Retaining users also serves as an important factor in improving and increasing conversation for your site, and again, it all comes back to site performance. Conversations around your business will not grow if users don't stick around and eventually purchase your product or services. This means that an essential part of ensuring your online performance is as good as it can be is to incentivise your audience to get them to return and convert.
Give them a reason to return, give them a reason to share your site with friends, family, colleagues and other business owners, give them information that will compel them to return to your site again and again and use their money on your products.
How do we measure Conversion Rates? A couple of key ways:
What is a good conversion rate? The higher the better in this case. The average conversion rate is currently 2.86%, with variations for different industries and countries. That said, 10-20% is possible if you're prepared to put in the work.
Measuring your digital marketing goals
Stay on top of your digital marketing campaign goals with a marketing dashboard. At Refuel Creative, it's part of our job to help you understand and improve your online performance, and make your digital channels cost effective.
We work closely with our clients to understand their business, help set smart goals, and build a marketing dashboard to measure success. This ensures we can align our services to achieve our clients' performance goals and objectives. If you're looking to know more about your online performance, contact us online or give us a call!