All about content management systems (CMS)
Ryan Jones
10 January 2020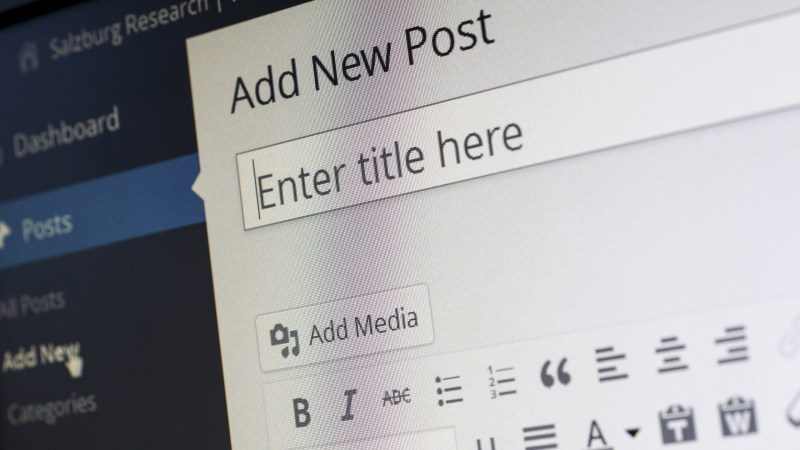 If you're not 100% sure what a content management system (CMS) is, we're here to demystify it for you.
More than 60% of all websites use CMS or have CMS capabilities. Chances are, you're using a content management system (CMS) and didn't even realise.
What exactly is a CMS?
A CMS is an online platform where you can upload, store and publish content you create, such as blog posts, images, videos, text, web pages and offers. Most are designed for ease-of-use, so even a novice can learn the ropes of a CMS and create a website to publish content online. (Which probably explains some of the strange and wonderful websites out there!)
You'll usually have some basic templates to get you started, which can be modified to reflect your own style and branding. Once your content is loaded into your CMS, you can review, re-organise, rejig, rewrite or redesign your website whenever, or however, you want.
Unless you want to do something very unique or complex, you generally don't need any coding skills, which makes content management systems a great, low-cost option. They can be updated by pretty much anyone, so there's no need to rely on a web developer to make changes.
But, not all content management systems are created equal, so it's important to know what to look for before you choose what CMS to use.
Which CMS should I use?
When choosing your CMS, consider how you'll be using it. Will you be selling products, or generating leads? Do you want your website to rank in search engines? (Hint: yes!!)
Check how each CMS is structured when it comes to setting up web pages, blogs, SEO, apps and plug-ins, external software integrations, etc. Ideally you want a system that's easy to learn and customise, but has the ability to scale as your business grows.
There are loads of free and paid CMS options, so you don't need to sell a kidney to get started. That said, it's worth remembering that even free options will have costs. You'll still need to pay for hosting, your domain name, and potentially the plugins, themes and security updates to achieve the look, feel and functionality you're after. Many of these options are included in the fees of a paid CMS.
You should also think about whether you're willing to build, maintain and update the site yourself or if you'll rely on a developer. Will they be there when you need help? If not, how easy is it to find someone familiar with your CMS to step in?
Well-supported content management systems
Great for:
B2B businesses
Consulting
Large businesses
We're not being biased because we're HubSpot Platinum partners - we're also HubSpot customers. It works exceptionally well in our industry and most of our marketing efforts are done through the HubSpot software. With lots of bells and whistles, it makes content management an almost flawless process.
Built to manage marketing, sales and service through your website, HubSpot can not only integrate with most web hosting platforms, but also provides CMS functionality. You can design a website, build landing pages, create chatbots and so much more.
Together with HubSpot's marketing and sales tools, you can easily create personalised content by including details like their name or business in content relevant to their stage of the sales cycle.
As a paid CMS, hosted by HubSpot, everything is taken care of for you. There's no need to worry about annoying software updates or patches that can interrupt your workday. Our own website is built using HubSpot, and we haven't looked back.
Great for:
Service-based businesses
Bloggers/writers
Sole traders
Not-for-profits
eCommerce
SEO focused businesses
WordPress is a very popular, versatile CMS powering millions of websites across the globe thanks to its user-friendly interface and strong developer support. Some of the world's biggest companies use WordPress as it can be optimised for almost any volume of traffic.
Wordpress is free to use, but to make the most of it, you're likely to need paid, premium plugins and themes. Once you've selected a WordPress theme (free or paid), you can add photos, pages and colour schemes until you've achieved your desired level of awesomeness.
Plugins can be downloaded for extra features like forms, call-to-actions and more advanced design elements. However, don't fall into the trap of installing too many plugins on your WordPress site. They might offer loads of cool options, but can seriously slow down your site!
While WordPress has many quality site builder themes like Divi to customise the way your pages are built, if you know your way around HTML you can add or change any elements you like. This flexibility for novice to advanced users is why WordPress is so immensely popular with small businesses. It's no surprise that the vast majority of our clients are WordPress users.
On the downside, compared with some other CMS, WordPress websites are more vulnerable to security issues. Your website must be frequently updated manually to ensure your customer details aren't stolen, and your site isn't spammed.
You'll also need to find somewhere to host your website. Refuel Creative provides a managed WordPress hosting service to make using WordPress as safe and simple as any other option out there.
Good for:
Personalities
Businesses/companies
People building their own website
Wix is a super simple CMS designed to make it easier for non-web developers to build attractive and informative websites.
The Wix editor is drag and drop, making website design a piece of cake. If you don't have the time or inclination to faff about building things from scratch, there are more than 500 templates you can use. These can be tweaked to easily add brand colours, scroll effects and media galleries. Plus you have access to unlimited fonts which is not usually something included with free CMS software.
Wix makes it effortless to add pages and posts to your site and organise your menus so people can quickly and easily find your info.
Great for:
Portfolios
Businesses
People building their own website
Squarespace is the perfect tool for people on the go who are concerned with the aesthetics of their website. It's a very functional CMS with a fantastic drag and drop editor and easy editing, but it's definitely made to create 'pretty' sites. The templates are ultra-modern, and even the basic ones are pretty flexible when it comes to style editing.
Like most CMS, you can add content and mould the site to fit your needs. The backend is user-friendly and well-categorised, allowing for super-easy editing, making it a favourite of many.
What about other Content Management Systems?
There are countless content management systems on the market which generally fit into one of two categories.
SaaS CMS
Software as a Service (SaaS) content management systems like HubSpot CMS, Wix and Squarespace, make it relatively easy to build your own website. They host your site and provide maintenance, free themes, security updates and basic functionality. Other SaaS platforms include BigCommerce and Shopify, among others.
With SaaS CMS, there are two key questions to ask your provider:
Can I install plugins?
You have limited permissions to modify SaaS CMS code, so check you have all the functionality you need, or a plugin/extensions library for extra functionality. HubSpot and BigCommerce have thought of this now and offer more advanced options for users.
Where is my data stored?
You should always know where your data is stored. It might not seem important, but from compliance to natural disasters, it's useful to know what might affect the integrity of your data. We believe it's better to keep data closer to your customers, which is why we use Australian hosting for Australian clients, but do your research before making your decision.
Hosted CMS
CMS platforms like WordPress, Drupal, Joomla, Magento, Craft CMS and many others are often open-source and free to use. But before you get too excited, there are still some things to consider:
Who will build your website?
If you choose a less-widely used CMS, you might find you are limited to your original website builders for ongoing support and maintenance.
How well supported is the CMS?
You may have limited support for themes and plugins, leaving you to develop and maintain your own at a much higher cost.
Who will host your website?
Even if the CMS is free, there will still be an annual or monthly fee to host your site. You should always know who is hosting the site, and where the hosting is based.
Key Takeaways
If you're tech-savvy, you'll probably find it pretty easy to pick a CMS you like and build a basic website. On the other hand, if you're not as sure where to start, you'll find loads of resources by searching Google and watching YouTube tutorials to walk you through most platforms.
But if the learning curve still seems a bit too steep, the Refuel team is here to help. Whether you need a full build and ongoing maintenance, or just some training-wheels, our expert team can put a plan together for you.
Why not give us a call to explore your options?