Why Inbound Marketing is the new Outbound Marketing
Ryan Jones
20 January 2020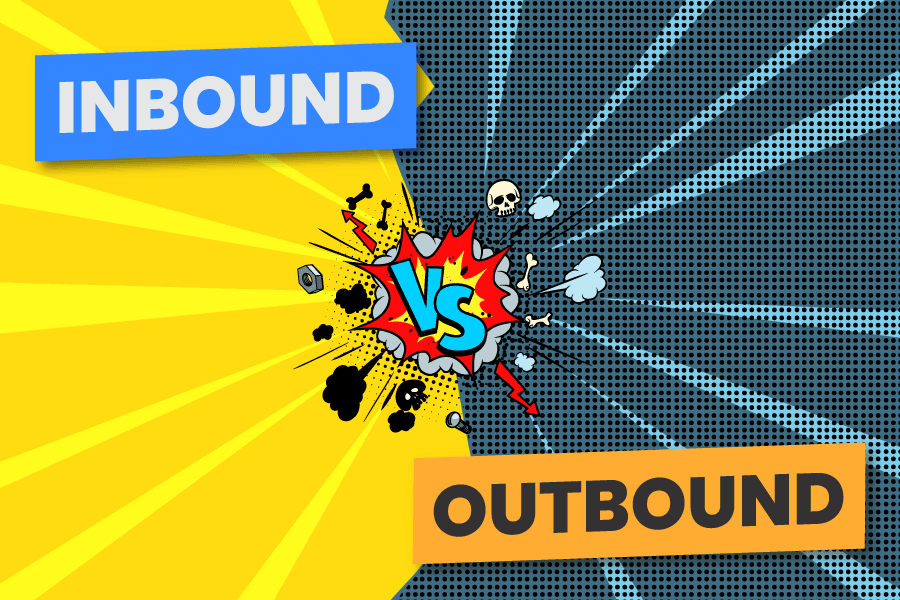 No one enjoys being "sold to" and studies have shown that consumers in the internet age are less trusting of marketing and sales tactics than ever before.
Clearly, traditional marketing tactics alone aren't enough. Enter: inbound marketing.
Inbound marketing means connecting with potential customers by engaging with them on their own terms, in the online "places" where they already spend their time. Inbound marketing focuses on creating brand awareness and attracting new business through value-driven strategies such as content marketing, blogs, events, SEO and social media.
Inbound marketing builds customer trust by attracting, engaging and satisfying people in a way that seems more human, in other words, attract, convert close and delight. Inbound efforts are a better way to market, a better way to sell and, overall, a better way to serve your customers. In order to better understand Inbound Marketing, we'll break it down for you like this:
The Popularity of Inbound Marketing
The Three Stages of the Inbound Cycle
Types of Inbound Marketing Strategies
Conclusion
What is Inbound Marketing?
What's the difference between inbound and outbound marketing?
It's all in the name!
Inbound marketing is all focused on bringing leads to you on their terms. You put the information into the world, and the customers come 'in' to your company when they are looking for your service.
Outbound marketing is about older marketing and sales methods, where we go out to the customer. These outbound tactics are what many clients have used to great success over many years, but in this world of constant communication and notifications, outbound marketing becomes another interruption.
Why is Inbound Marketing So Hot Right Now?
The short answer? Inbound marketing took off because marketers realised that people weren't responding to outbound tactics. Cold calls and mass email campaigns just don't create the same return as they once did. Inbound marketing has stuck around because it truly is an effective alternative (At least when it's used properly, but we'll get into the specifics a bit later)
The reason why inbound marketing is so powerful is because inbound tactics tend to supply potential customers with things that they truly want. Case in point: people want access to information 24/7 and they want to be able to find what they are looking for in convenient, quick ways. Content creation is just one effective way of meeting this need while piquing interest in your brand. If you're reading this blog, you may be living proof of that fact.
Thanks to the internet, buyers are more empowered today than ever before. Anything with "www." in front of it can provide instant information gratification with just a few clicks. Likewise, social media encourages users to share and compare every aspect of their buying experience, wherever and whenever.
As Inbound & SEO Marketing Consultant Joshua Gill cleverly said "Inbound Marketing is so powerful because you have the power to give the searcher/consumer exactly what answers they are looking for at the precise point that they need it. That builds trust, reputation and authority in whatever niche you are practising this form of marketing in".
Three Stages of Inbound Marketing (Attract, Convert, Close)
Truly successful inbound marketing campaigns can create a powerful positive feedback loop by encouraging a customer lifecycle that ends up creating a brand advocate. Of course, first thing's first: you need to find ways to attract customers to begin with. And that's where the three-step cycle of inbound marketing begins:
Much like love at first sight, the first step of inbound marketing is to attract potential customers from the moment they end up on your landing page. Through blogging, social media, keyword and search engine optimisation strategy, you can attract the right people to your website.
A targeted audience is likely to be interested and ready to buy what you're offering. Once you have brought them to your site, if you can help them connect with your brand, then you should be in a position to convert those leads at a much higher rate than would be possible through traditional outbound marketing techniques. Which brings us to our next point…
Step Two: Convert
Once you've attracted your customers and captured their attention, it's time to convert them into a qualified lead, using magnets, landing pages and conversion optimisation. This will be the time where you'll want to create conversations with your leads to build a long term relationship and brand loyalty. The use of conversion tools, such as CTAs, forms and lead flows, will help your business capture the information of prospects visiting your site so that you can keep the conversation going.
Step Three:Close
Closing qualified leads requires a lot more than luck - in fact, it also requires more than just good sales skills. By using the right tools, you can drastically improve your close rate. We recommend using online marketing automation tools such as lead scoring, closed-loop reporting and lead nurturing. Pair these tools with lead follow up best practices and sales tactics, and you'll be well on your way to transforming those leads into new business.
(Bonus) Step Four: Delight
We said there were three steps to inbound marketing, but there's really four (and sometimes it gets overlooked). Once you've closed the deal with a lead, you don't want to forget about the "!". Continue to publish and share content with your new customers that helps them to better use and understand your product or services. This will help keep them engaged - and it will also help inspire them to share your content and (hopefully) spread your message to new potential customers!
Best Practices of Inbound Marketing (Where to Best Attract Leads)
As most marketing agencies will tell you, the beauty of inbound marketing is that there is no one single answer or strategy that works. Instead, all these tactics need to be used in a cohesive manner.
Inbound Marketing Agents CEO, Bill Faeth, said "Inbound marketing can't be segmented into separate categories, with each section holding independent power. While we rely on SEO to draw in visitors from organic search, that SEO doesn't work if there's no content. Without social media, blogs don't reach new, interested people. And SEO, content and social media are all completely useless without a lead generation process in place".
In order to have a successful inbound marketing campaign, you must try to include all or parts of the following:
Using effective keywords, to be sure your company's name pops up at the top of search results is a key part of an effective inbound strategy. If customers can't find you within the first few scrolls of their web browser, how do you expect them to buy your products or services?
Blogging
Never underestimate a good blog. The power a blog has to drive traffic to your site and nurture leads is incredible. This is one of the more common forms of inbound methodology and you really don't want to miss out on it.
Social Media
With over two billion users on Facebook, one billion users on Instagram and 326 million users on Twitter, there should be zero excuses as to why you're business isn't targeting customers using social media marketing channels.
Final Thoughts, Our Call to Action for You
While digital marketing, content marketing and outbound marketing are all fine to use, inbound marketing really aims to attract your customers on a more personal level. In order to be successful in inbound marketing, businesses need to implement a disciplined and well-structured approach to content creation.
Introduce marketing automation tools that can help nurture and score leads, and optimise how those leads flow through the sales pipeline. In order to create the ultimate marketing machine, you'll want to install all of these tactics into your business plan as quickly and neatly as possible. Don't be left out of the loop of being a successful business whose customers know they care about them.
Looking for Some Additional Help?
We understand that implementing a new marketing strategy can be difficult. That's why we're here to help! At Refuel Creative we seek the best and most up-to-date marketing strategies and technologies to give you the most helpful advice we can.
Need help with marketing, advertising, websites, branding, technology or video? We've got you covered! There's no need to go at this alone, and we would be more than happy to help you get started.