Understanding conversational marketing & Drift chat bots
Ryan Jones
01 October 2018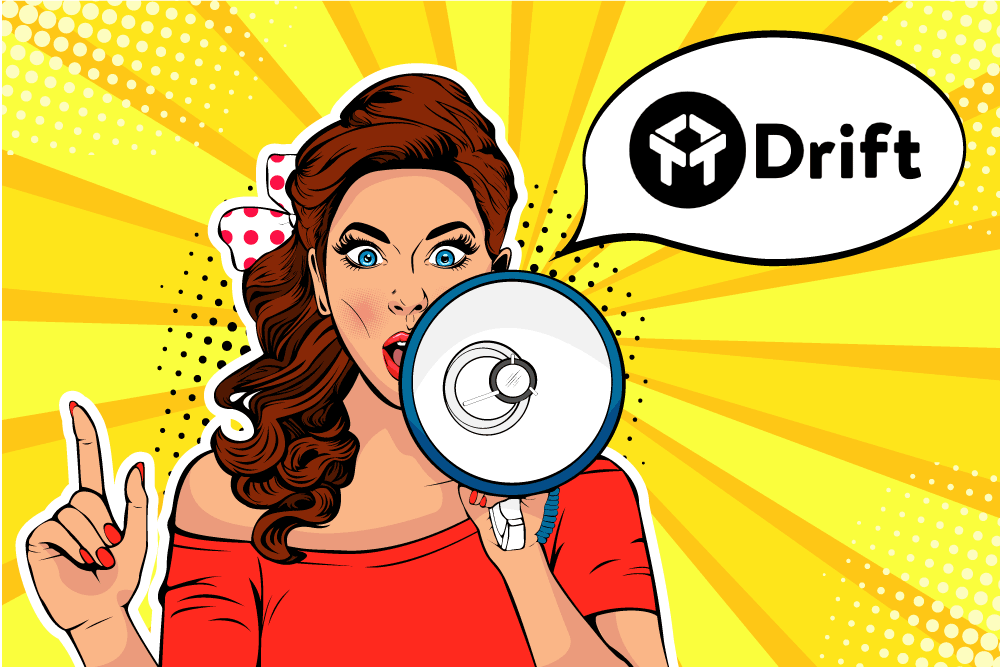 With the rise of online shopping, more companies can reach customers from around the globe. But, this cuts out the immediate gratification that we're used to getting from customer service people in traditional stores. If you need help with something, you have to fill in a form, and wait 24-48 hours for a response. For many B2B companies, this wait time is even longer!
The internet creates a sense of distance and customers tend to feel disconnected from the companies they are dealing with. This was recognised as a serious issue that was hindering the potential for eCommerce businesses to gain more trust and thus close more sales.
Conversational marketing aims to supplement that human interaction you get in a store. Companies that are embracing it are reaping the benefits. Site visitors can speak to humans or bots in real-time, making it so much easier to convert leads and keep customers engaged.
Just like customer service representatives in malls who approach you to ask if you need help, so can chatbots! They can be scripted to pop up on their own accord and grab any details that are relevant to your business. They can also be used to provide service to visitors, directing them to the resources they need.
Conversational Marketing
Conversational marketing is a one to one marketing tactic that gives the customer a much more personal experience. Unlike traditional marketing tactics, conversational marketing uses targeted, real-time messaging to engage with website visitors.
Chatbots do most of the work for you by grabbing the initial lead and providing answers to and resources for their queries. They allow visitors to interact with your business when it is most convenient for them. Bots are active on your website even when you are asleep. The 24/7 Drift live chat feature makes customers feel like they are always cared for by your company.
You're not entirely in the clear though, there will be instances when chats will need to be answered by a human. Chatbots can be programmed to be assigned to a customer service person after a certain number of qualifying questions are answered. The beauty of the chatbot, however, is that it won't assign the chat to a person outside of designated business hours. So you can still gather contact information from site visitors and follow up with them at a convenient time.
Conversational marketing is more than just a live chat feature (or messaging app) on your website. Face to face meetings, phone calls, or email marketing exchanges are also forms of conversational marketing.
Answering peoples' questions and listening to their feedback will make them trust you, and in turn, do business with you. Websites put a wall between the consumer and the sales or customer service people in the business. Conversational marketing breaks down the wall in real-time.
Chatbots have proven to increase conversion rates, vital for your lead generation campaigns. You can setup call to action buttons on your website that link to a chatbot script. This way you can display a particular bot when needed, capture your lead's information, and instantly route the lead to a human if needed.
If a conversational strategy sounds difficult, know you don't have to do it alone. We are industry experts and can lead you on a path to success.
Utilise Industry Leaders
We have partnered with Drift and HubSpot; the leading conversational marketing programs available! We're highly experienced in implementing highly effective chatbots and have done so for many of our clients across various industries. There is always a way to make conversational marketing work for you.
Drift
Drift is one of the world's first conversational marketing platforms. Their expert marketers have boiled conversational marketing down to a science.
Drift bots are fully customisable to achieve your desired results; we build playbooks to design the chat flow. You create a hierarchy leading from the initial greeting to the end goal of the conversation. The chat responses can vary from web page to web page or depending on the responses from the customer.
You can now access all of the benefits of Drift through Refuel Creative. Our partnership with Drift will extend our reach even further with a focus on customer success. By accessing Drift's proven tools, we can increase your conversion rates, growing your bottom line.
HubSpot
HubSpot is hugely popular marketing software which has chatbot capabilities included similar to Drift. They're built in much the same way and can be customised to fulfil different purposes on different pages. HubSpot also allows you to trigger chatbots from CTA's, so you can have people arrange meetings, answer questionnaires or refer them to a resource. The opportunities are endless!
One point of difference with HubSpot is their fully integrated approach to chatbots. You can use a chatflow on your website or on Facebook Messenger, providing a consistent experience regardless of how someone contacts you.
If you already use HubSpot for your digital marketing, then you're all set to roll out your chatbots. Otherwise, we are happy to help get you set up on the platform. HubSpot has many capabilities that make managing your marketing easier than ever.
Conversational Marketing Benefits
Drift developed 5 conversational marketing practices that can help your business grow:
Real-time
Scalable
Focus on engagement
Personalised
Built-in feedback.
Instead of having customers fill out a form, conversational marketing captures leads in real-time via online conversations. These conversations can be either person to person or person-to-chat bot.
By offering chatbots, your customers have someone to talk to any time of the day. Chatbots can answer your questions while you sleep.
One on one conversations are not a new marketing concept, but in the past, they weren't scalable. With the rise of chatbots, your sales team can talk to every lead that lands on your site.
Chatbots can qualify leads so that sales reps focus their energy on those most likely to convert. This eliminates the need for lead capture forms and ultimately enhances the customer experience.
Conversational marketing has a high focus on engaging with the visitor. It typically relies on the customer reaching out to your marketing and sales team. Instead of passively collecting contact information, your company is encouraged to have actual conversations with leads.
This can help you understand what products and services they are interested in. So when you send them an email follow up, you can personalise the information you are sending.
One of the main benefits of conversational marketing is talking with customers. Since you are having detailed conversations, there is always a chance to personalise the customer's interaction with your company.
Even if you haven't spoken to a visitor before, you can send different messages. These can be based on all kinds of criteria, including:
the page they are on
the country they are visiting from
how they got to your website
or more.
These can be phrased as qualifying questions to open the conversation and get the visitor talking.
For example, you can send a message on a product page asking "Hey, did you know this is available in red?"
If you have interacted with the customer in the past, you can send messages based on their previous buying experience. This includes things like using their first name or sending a "welcome back" message with your greeting.
While chatting with your customers, you can gather instant information about their experience with your company. This feedback can help your company make important decisions about your products, content, and marketing strategy. With content marketing, this vital feedback will not get lost in the sales pipeline. Instead, it will be available for your company to make real-time changes.
Integrations For Businesses That Mean Business
When you work with Refuel Creative, you aren't just getting a fantastic conversational marketing strategy from our team. We are Gold HubSpot Partners and Drift Partners, allowing us to combine both tools for your success.
Drift's conversational marketing tools integrate with HubSpot to help you achieve better sales conversations. When you combine Drift bots and HubSpot workflows, you get leading conversational marketing tools with a CRM. You can talk to potential customers while they are on your site, and see their activity on HubSpot's contact timeline.
This allows sales reps to reach out to qualified leads about a specific activity. If a potential customer looks at your pricing page, you can send personalised emails about your pricing. This can include a follow up from conversations they had with your live chat. This gives every prospect a personal touch.
If you are using Salesforce or other CRMs, these also integrate with Drift. You can even use Drift on its own and use Drift email marketing to reach prospects.
Test Drive Drift
If your business wants to expand, you shouldn't get stuck in the same old sales cycle. By taking advantage of conversational marketing, you can quickly turn leads into sales.
With conversational marketing, customers are already looking at your website. There are no costly outbound marketing tools needed. Instead, you are just putting the human touch back into your business.
By answering customers questions in real-time, you are impressing them in their first connection with your company. You're also reducing your sales cycle, and collecting valuable data to automate follow up and help your business thrive.
Contact me today and book your free exploratory call (using our Drift live chatbot!).