Our top 6 HubSpot integrations for marketing
Ryan Jones
07 February 2022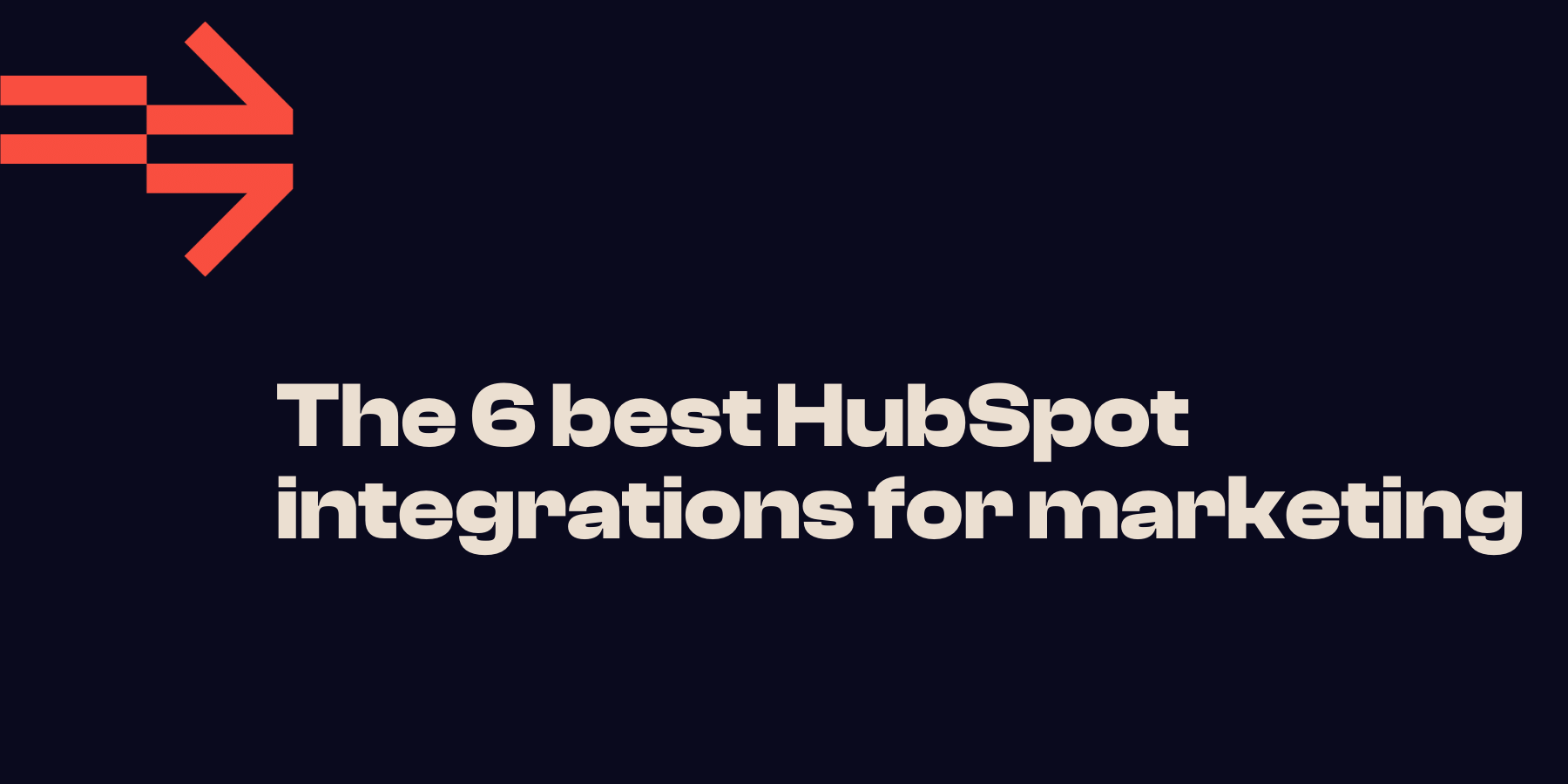 💬 When used effectively, HubSpot can add significant value to your marketing campaigns. The more connected and integrated your marketing, the more visibility you'll have across customer journeys. This will help you understand your return on investment of your marketing strategies.
While HubSpot is great at what it does, there are also some things it doesn't do.
A few years ago, HubSpot made the decision not to try and do everything, but to become an 'all on one' platform. The platform that every tool integrates with. This way, you can use the best software, but still connect with HubSpot and have the benefit of a centralised CRM.
This is a business decision that originally drew us to HubSpot. When many marketing platforms refuse to integrate with other tools, this makes our lives much easier.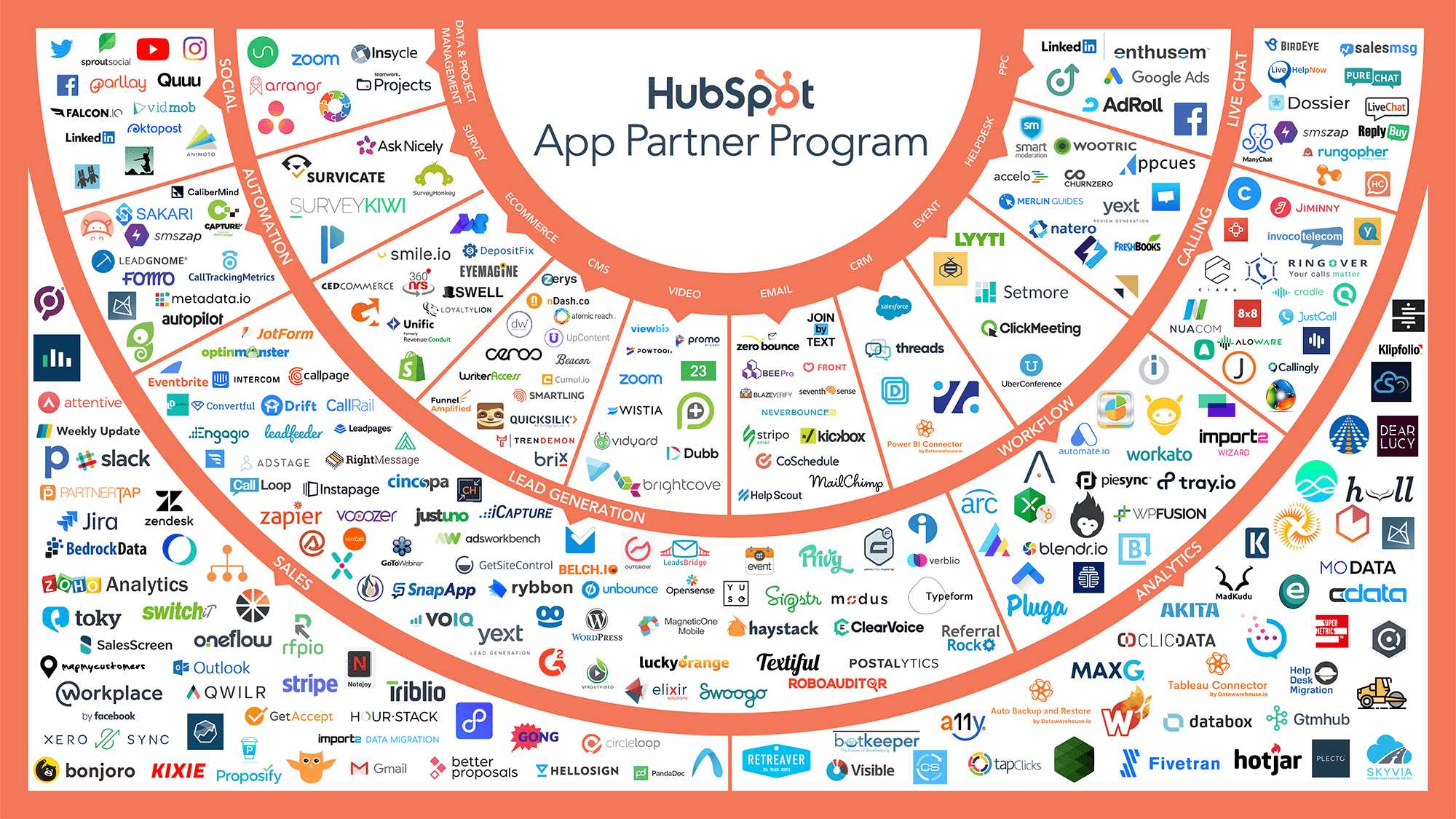 Adding the right integrations will ensure you have all your contact information at your fingertips. Having this information in one place helps you take action from it. This supercharges your marketing efforts.
Here are 6 of our favourite marketing integrations for HubSpot to help you make the best of your HubSpot subscription.
Looking for marketing and sales integrations? Check out our guide to our top 5 sales integrations for HubSpot.
📊 Databox
To make informed decisions about your marketing campaigns, you need to be able to understand and interpret data. But with so much data available, trying to organise your data is everyone's least favourite marketing chore. We've even had clients that took two days to complete end of month reporting before we came on board!
Here's where Databox comes in. It is an analytics platform that pulls all your data from different sources into one place or dashboard. This allows you to track performance in real time, and provides you with crucial insights into customer behaviour.
Databox enables you to create dashboards that represent the metrics that are most important to your needs. It can integrate statistics from a range of data sources, which are nearly endless. These can then be displayed on the same dashboard to show a specific goal.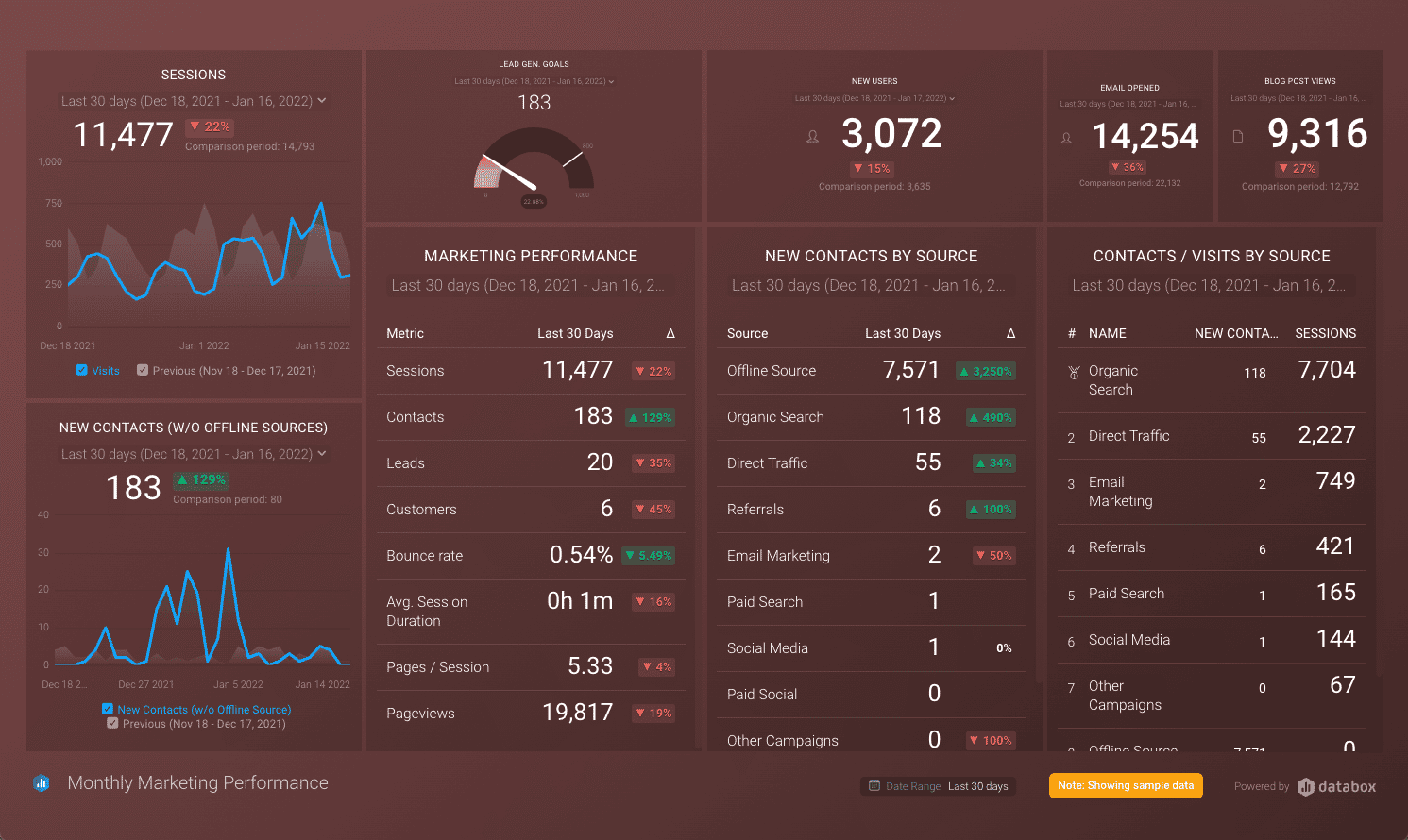 Databox is one of Refuel Creative's favourite visualisation tools. For one thing, it has greatly reduced our reporting time. It also allows us to incorporate data from multiple ad platforms. This allows us to provide our clients with a greater understanding of their marketing performance.
If you're spending too long on your reporting, you should definitely consider Databox as part of your marketing tools arsenal.
Here's what Databox can do for you
Allows you to pull in data from multiple sources and display it on one dashboard.
Increases productivity. You'll spend less time manually entering information and more time analysing data.
Customisable. You can track any metrics that are important to your organisation.
It provides a real-time snapshot of your performance through daily and weekly reports.
Setup custom alerts, sent via email or Slack.
A great mobile app with alerts.
It matches the same metrics tracked in HubSpot & can send alerts when a particular event occurs.
It makes visualising data easy - reports can be displayed in a variety of graphical styles.
🧠 Seventh Sense
In a nutshell, Seventh Sense gets your content to the right people at the right time.
Seventh Sense's artificial intelligence analyses when your contacts open emails. It can then optimise the email send times to each individual contact in your database.
It. Is. Genius.
With this personalisation comes improved deliverability, better engagement and higher conversions. We have seen customers re-engage with over 20% of their email lists just by sending emails at the right time.
In today's cluttered inbox environment, Seventh Sense is an invaluable resource to have in your kit!
Refuel Creative is a Seventh Sense partner, and can offer you special pricing, so get your free trial today!
Why you'll love Seventh Sense
Maximises the effectiveness and ROI of your email marketing, saving you valuable time and money.
Allows true send time personalisation - get your email to the right customers at the right time.
Allows you to pause campaigns, make changes and spread the load of your campaigns by not sending them to everyone at the same time.
Reduces subscriber email fatigue.
It provides reliable insights into your contacts that can be shared with your whole team.
Increases conversions and conversion rates.
📹 TwentyThree
Videos tell stories and help you to connect with your customers. With 50% of website engagement coming via video, it's smart to add video marketing software to your tool stack.
TwentyThree offers video hosting, publishing and editing, and empowers you to stay on top of your video metrics. It allows you to track video activity on the contact timeline, and take action when contacts interact with your video content.
With TwentyThree, you can gather viewer information, and incorporate it into your lead scoring. It can even automatically update lead scores for contacts in HubSpot.
Ultimately, with TwentyThree there are two main benefits:
You can clearly understand how engaging your video content is, assisting you in planning future content.

Gain a greater understanding of your customers, making improvements to future marketing activities.
For example, let's say you're creating a new landing page and want to feature video content. By using HubSpot and TwentyThree together, you can test variations of your videos in your landing page tests. When reviewing the performance, you can easily report on the best performing variation.
TwentyThree also has an excellent webinar tool, requiring no downloads! That alone is a huge win against corporate IT departments banning webinar downloads.
You can easily add contacts from campaigns, form submissions or more to your webinar attendee lists. This helps you control the signup experience and your customer data in HubSpot.
Here's what TwentyThree can do for you
Host and embed videos on any website and your marketing emails.
Track the performance of your videos across multiple platforms.
Profile your video audience and view detailed data about individual viewers.
Collect leads via forms in your videos.
☎️ Cradle
We've talked before about Cradle, the phone system for HubSpot. I won't go on too much about why we love Cradle because you can read all about it here.
What I will say is it integrates brilliantly with HubSpot to close the loop on your marketing campaigns. Track calls from people who have interacted with your marketing campaigns. Send them SMS using Sakari.
It's a great value add, even for marketing, to help track the effectiveness of your campaigns.
Here's what Cradle can do for your marketing
Track phone calls from campaigns and multiple sources to best measure campaign return on investment.
Send SMS (with Sakari) when someone calls in, or their call is missed.
📱 Sakari SMS
Text messaging has instant delivery, open rates of over 90% and read rates that are 5 x higher than those for email marketing. With these high engagement rates, SMS can do wonders for your inbound campaigns.
While HubSpot has internal SMS capabilities, sending SMS messages to your team members and salespeople, it can't send SMS to customers. If you need HubSpot SMS, you need Sakari.
Sakari SMS helps you to integrate messaging across your platforms, fast and accurately.
You can send individual, two-way SMS to customers. These messages are logged to the HubSpot contact record, keeping everything in one place.
You can also run SMS campaigns with tailored messaging to your lists. Being able to integrate SMS into workflows in HubSpot means you can trigger new actions automatically based on responses.
SMS has a range of uses. You can promote a sale, answer survey questions, update contact records, or enrol in a workflow.
One of our favourite features is that Sakari integrates with Cradle. You can set up a dedicated mobile number for Sakari, but if someone calls it, that call goes through to your main business phone number.
With Sakari SMS, you can create campaigns, send notifications, alerts and follow-ups, and talk to your customers in real time. It's the perfect solution!
Why choose Sakari SMS?
Easy to set up.
Send mass messages to unlimited contacts, from anywhere, at any time.
Manage everything on one dashboard.
Reach your contacts faster with two-way text messages on the HubSpot contact record.
See a complete history of all sent & received messages within each contact's profile.
💬 Facebook Messenger
Everyone knows Messenger, but did you know Facebook Messenger has become one of the most used communication channels on the planet? In fact, every month, businesses worldwide exchange more than 20 billion messages with people on Messenger!
While many people think of Facebook as a purely B2C social media platform, it also plays an important role in B2B marketing.
Messenger can be a highly effective way of providing live chat support. With Facebook Messenger support provided on all HubSpot product tiers, there's nothing standing in your way.
Through HubSpot, you're able to create a chatbot welcome experience on your Facebook business page. The bot stays online 24/7, but allows you to qualify customers based upon urgency, workflow capacity, and customer history.
You're able to create a more personal experience with your customers, communicating through your HubSpot Inbox. Chats can be tailored to your customers based on their history with your company. You can gather information from customers, without forcing the sales team to manage Messenger 24/7.
You can even automate problem-solving with customers, using Service Hub to provide them with help documents.
Management can analyse conversations, measure response times, make internal comments and delegate chats.
Why integrate Facebook Messenger with HubSpot?
It's free!
Centralise your customer service on HubSpot, with your live chat, Messenger, and email support in one easy to manage place.
Create a chatbot welcome experience on your Facebook Business Page.
Report on chat volume through Messenger in HubSpot.
Make internal comments, assign chats to other staff, create tickets, and use templates.
Send mass messages to unlimited contacts.
Personalise messages with tokens, emojis and website links, just like you would on Facebook.
Stay in the loop with real-time conversation tracking.
Get started with Refuel
Let's supercharge your digital marketing today! We can connect you to an impressive list of tools designed to propel your campaigns ahead of the competition.
Refuel offers a free HubSpot Portal Audit to help you get the most out of HubSpot. We review your HubSpot portal, look for things to fix, and opportunities to improve. This includes integrations you need to remove, and integrations you should add.
Book your HubSpot Portal Audit with our team today!