HUG Recap: Crunch your HubSpot Topic Clusters
Sam Hutchinson
22 February 2022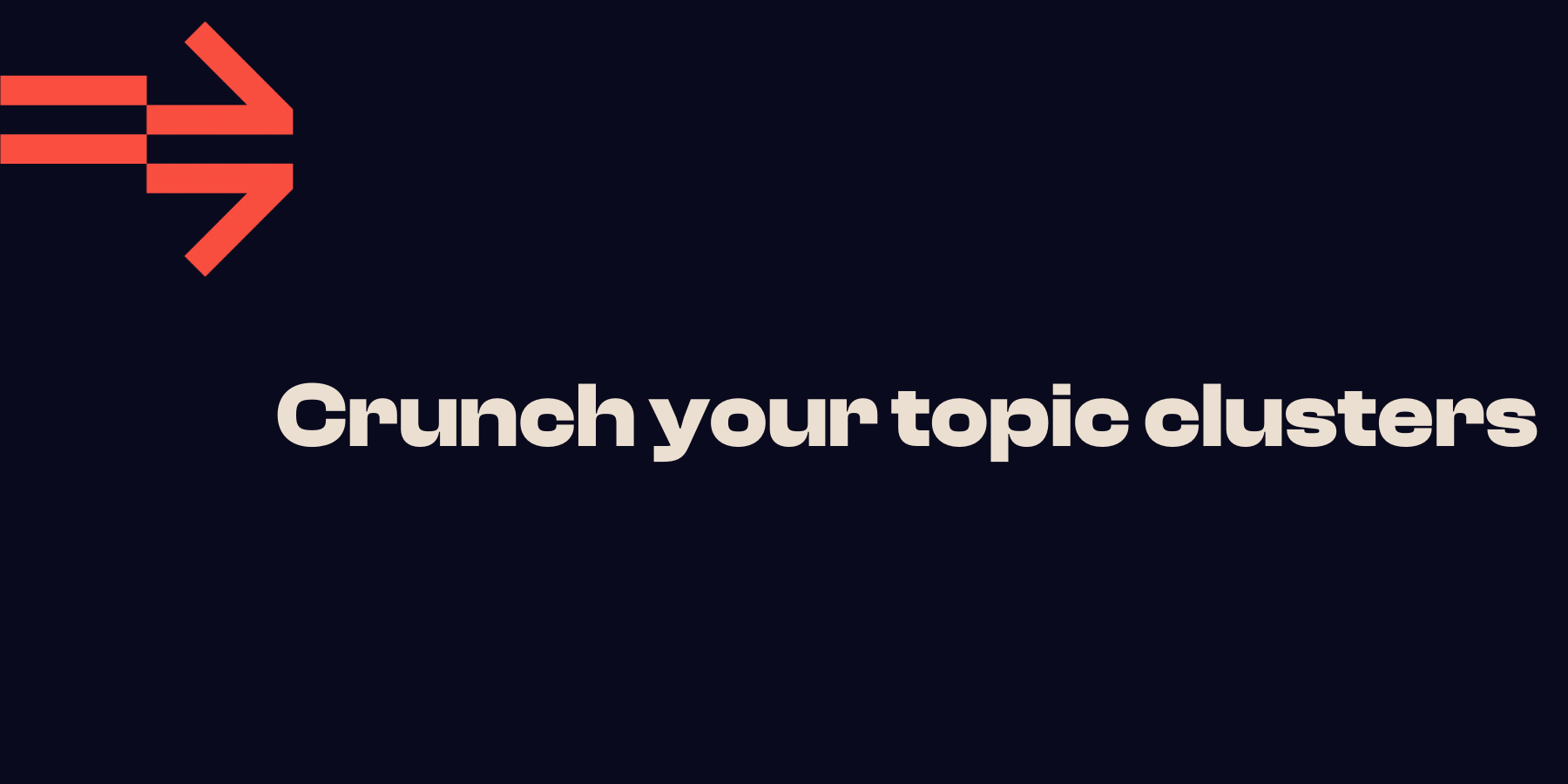 Missed our HUG event or did you just want to take a deeper dive into topic clusters? Whatever the reason, we've got your back.

In our first HUG event for 2022, Ryan and Ollie from our Refuel team joined forces to show you how to get an innovative SEO strategy by using HubSpot's incredible topic cluster tool.
---
Want to get the info directly from Ryan and Ollie? No worries, check out the full recording of our HUG event below:

Understanding search engines
The landscape of SEO is largely dependent upon the whims of the Google algorithm. While the early days of Google mainly focussed on a few choice keywords, over recent years the algorithm has changed to focus more on relevant, trusted content. In short, if you want to rank on Google, then you need to produce high quality, authoritative content that will solve a searcher's query.

This is where topic clusters come into play. In a nutshell, topic clusters are groups of content arranged around a pillar page into relevant blocks. While topic clusters will be explained in more detail later, the arrangement of content into a cluster makes it easier for search engines to recognise and crawl relevant content, because it helps human visitors find the content they are looking for. Remember, crawlers are designed to mirror human behaviour, so by making navigation easier for humans, you make it easier for search engines too!

That's why we'll need to cover the basics of SEO before we get to topic clusters.
The basics of content SEO
Before you start creating an SEO ready content strategy, you need to understand the needs, goals, and problems of your consumer base. This helps you find the specific topics you need to target that will help bring high quality leads to your website.

To get a good understanding of your consumer base, you should be using buyer personas. These are semi-fictional representations of your customers based on existing data. HubSpot has a free tool you can use to build out detailed buyer personas.

While knowing your buyer personas doesn't solve all of your problems, it does help you understand the goals of your content. This helps you focus on what your targeted audience is actually looking to get from your product or service.

For instance, if you own a wine shop, you may find a lot of searches for 'which wine pairs with X food'. Building content around this will give consumers the information they're looking for and bring them to your website.

Using free tools such as Answer the Public, Google Trends, and Google Alerts, helps you get an understanding of what people are searching for and this can fuel content ideas.

Using Google analytics helps you gain an understanding of what people are searching for and allows you to understand the problems potential leads are facing. This lets you shape your content marketing around these problems, setting up your content to solve these problems in the process.

HubSpot has a free course for content planning, so make sure to check this out!
Don't forget to optimise on-page SEO
Before you jump onto topic clusters, you need to make sure that your web pages are ready to be crawled by search engines.

HubSpot has an optimisation tag that makes this straightforward, but essentially you should make sure each webpage has:
A title tag

A H1 tag

A meta description

Images with alt tags

Internal links
This information helps inform search engines (and the reader) about your content, allowing it to be found and crawled by Google other search engines. Read more about optimising your pages for search engines in our blog here.
How to use topic clusters
The topic cluster model is straightforward. You begin by choosing a topic to focus on based around specific keywords. Then you link more specific subtopics to your main topic, and you link relevant content for each subtopic to your main topic by creating a pillar page. This allows for internal linking that helps your content rank higher on Google.

The topic cluster structure makes it easier for search engines to crawl your content, for humans to browse it, and for both to identify relevant material. In addition, the link building between subtopics and the pillar page helps to build authority that also impacts your search ranking.

Once you have a data-driven topic cluster content strategy in place, you can start planning your topic clusters. If you already have a bank of content in place on your website, you can run a content audit and start organising your existing content into topic clusters. HubSpot's topic cluster tool makes this super easy.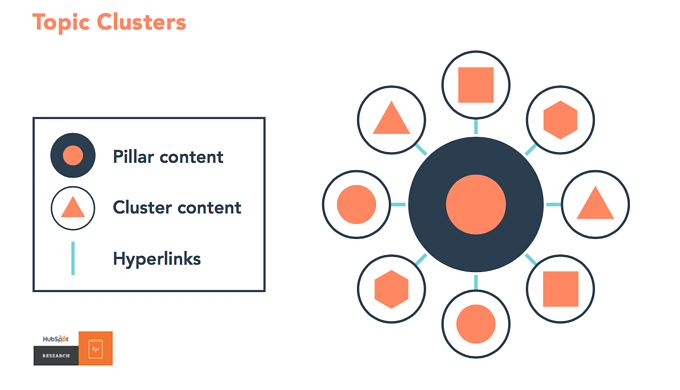 As Ollie showed in the HUG event, building your topic clusters in HubSpot is simple. Simply head to the topic section under the marketing tab and begin building out your clusters. If you have Google Console connected, you can even see the monthly searches for your target subtopics.
As per the image above, you will know your clusters are set up correctly when you see green hyperlinks between your pillar page and your subtopics.
Get ready for advanced topic clusters
Once you have started building out your topic clusters, you can begin taking your content strategy to the next level.

Broad topic clusters are the next stage of your cluster strategy, these clusters focus around a broad topic that takes the shape of a resource content pillar page.

The goal of this page is to be a helpful resource in connecting the reader with the most relevant information on a broad topic. It has multiple sections, each related to a specific subtopic, a short blurb (or bullet points) about that topic and a link.

Those links connect to a series of 10x content pillars for each subtopic. A 10x content pillar is a comprehensive guide of the subject, in a format similar to an ebook, and conversion-focused. Each of those 10x content pillars connect to a series of subtopic content assets, like blog posts, website pages or videos.

This structure is great because it means that subtopic content assets promote and increase authority for the 10x content pillars, and because those connect to each other and the resource content pillar, all pages benefit from the growth of awareness and increase in authority of each component.
TL;DR
To do SEO well, you need a data-driven content strategy plan. Before starting on your topic clusters, take a deep dive into your content strategy. Explore your buyer personas to drill down into the problems your target audience is facing. Then, start building content based around these problems.

Once you have the content, you can start arranging this content into topic clusters. Arranging your content into topic clusters helps make it easier for search engines to crawl your content. Constructing topic clusters helps make your website an authority on the topics you choose and this improves overall search ranking.

Looking for help with your SEO? Get in touch with us today for a data-driven, transparent SEO strategy.