What is the best ecommerce platform for your business?
Ryan Jones
30 September 2020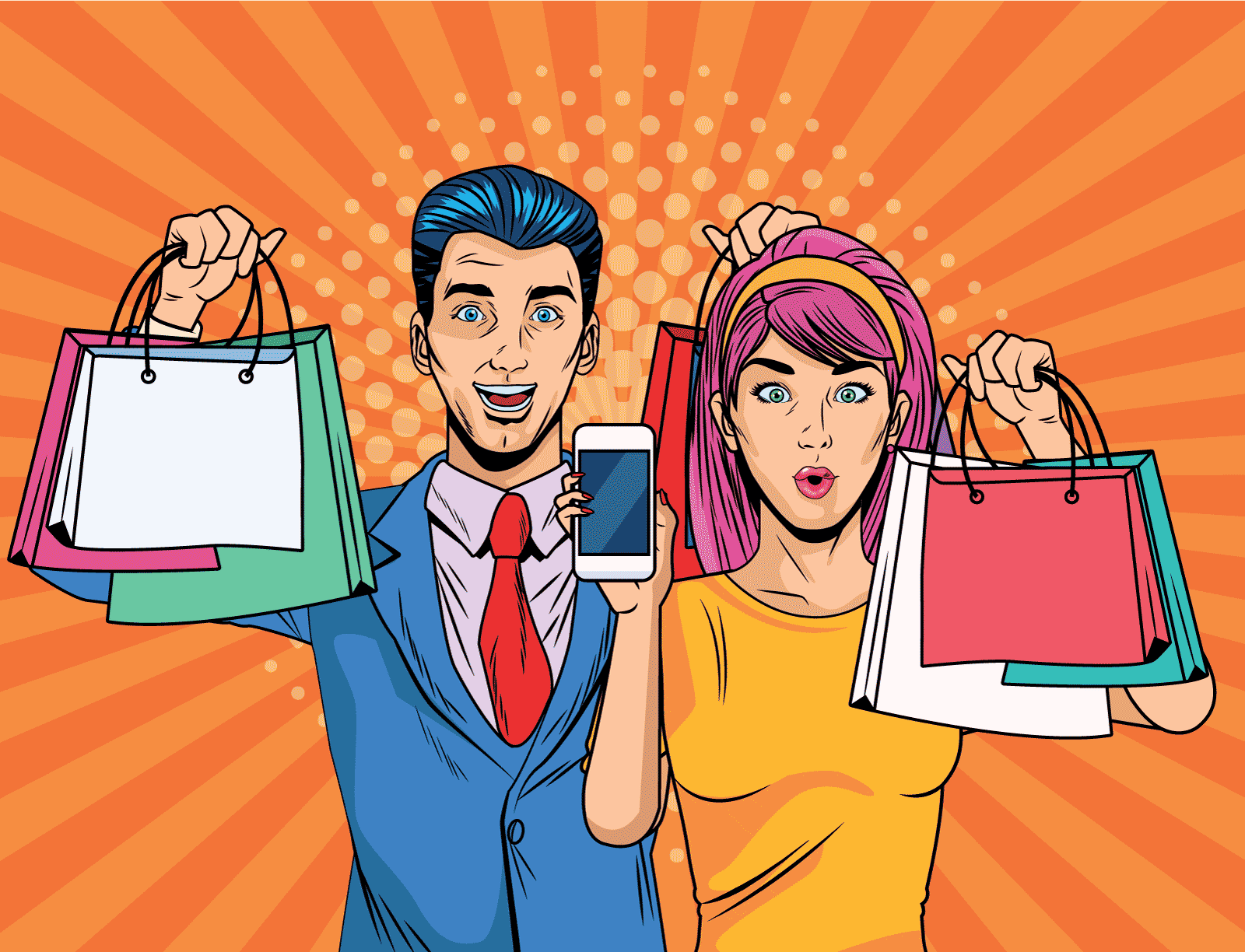 WooCommerce, BigCommerce and Shopify are three of the biggest and most popular online selling platforms. So if you're ready to sell online, how do you decide which platform is the best fit for your business?
Previously we've given you 7 questions to help you choose the right ecommerce platform. Now, we've done the hard work for you by comparing all three ecommerce solutions to give you our thoughts. Let the showdown begin!
Essentially an add-on for WordPress, WooCommerce is one of the most popular ecommerce platforms on the market. A tech-savvy person can set up a WooCommerce store 'free', but it takes investment to get the most from it.
The biggest benefit of WooCommerce is that it's designed to plug into an existing WordPress website. This makes it a great option for businesses with an established website who want to add ecommerce functionality.
In the right hands, WooCommerce can be a cost effective solution that complements your WordPress website and gets you selling online.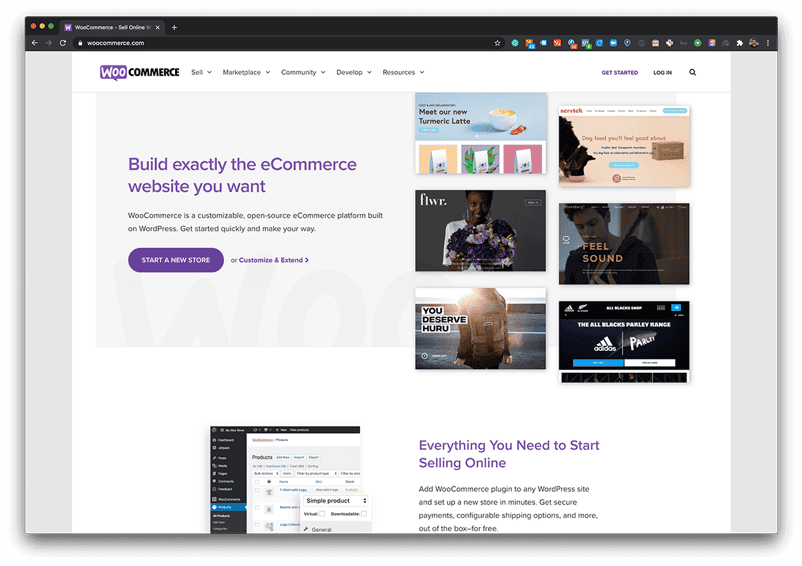 Integrations
WooCommerce offers well over 350 extensions to integrate with your store. These range in price from free to $299 per year and include payment gateways, shipping and inventory management, marketing and more.
If there's a function you need, there will be an option available in the extensions store.
Support
Documentation - You'll find an extensive selection of documents, reference materials and FAQs to guide you through customising WooCommerce.
Community - With more than 5 million active installations around the world, there's a huge amount of information and guides online. There's also an active WooCommerce forum where you can submit questions to the community.
Direct communication - If you can't find what you need, you can email or submit a ticket. WooCommerce lacks live chat or phone support to speak directly to a representative.
Customisation
Hosted on WordPress, this open-source platform provides a huge amount of flexibility. There are WordPress and WooCommerce plugins designed to add functionality to your website.
WordPress and WooCommerce are very common platforms for websites, and as such there are many experienced developers who can help you. This also means you can develop custom solutions using WooCommerce too.
Make sure you choose a hosting company that can handle larger amounts of traffic and can provide emergency technical support.
Security
WooCommerce is essentially a WordPress plugin, rather than a cloud ecommerce platform. While WooCommerce is regularly updated to maintain strong security, using an open-source platform can expose your site to vulnerabilities. This can happen if you're installing supporting themes or plug-ins from unverified sources, or not maintaining your website.
The WordPress website can help you find WooCommerce plugins. You can check how many downloads a plug-in has, how often it is updated, and reviews from users. Often paid or premium versions provide greater security measures.
WooCommerce also offer their own recommendations for ensuring your site is secure as it can be. Other integrations, such as payment gateways, have their own security measures to safely collect and store your customers' information.
If you follow precautions when setting up your store and keep it up to date, WooCommerce will provide the security you need.
Ease of Use
If you're not familiar with WordPress, then you may find WooCommerce a little challenging. Unlike some platforms, it's not a drag-and-drop, WYSIWYG set up. Nor is there a dedicated support team to set things up and take care of all the techy stuff for you. That said, WooCommerce has partnered with developers and freelancers who can provide support in various price ranges if you need it.
Pricing
There's no base cost to use WooCommerce, or WordPress, but there are costs involved with WooCommerce. You'll need to pay for:
Hosting and additional online storage space
Domain name and emails
Premium themes, plug-ins and extensions
Development costs if you're not tech-savvy
Backups and security updates
You will also have to pay transaction fees on your credit card transactions, depending on the payment option you use.
WooCommerce offer a 30 day money back guarantee for any of the WooCommerce subscription options you do buy.
Depending on the features you need for your business, these costs can add up substantially. Most people will also need a developer to help you get started.
A robust platform designed to grow with your business, BigCommerce is a great ecommerce platform for startup businesses and enterprises alike. With a global support network and library of extensions, BigCommerce is a great investment for a growing online store.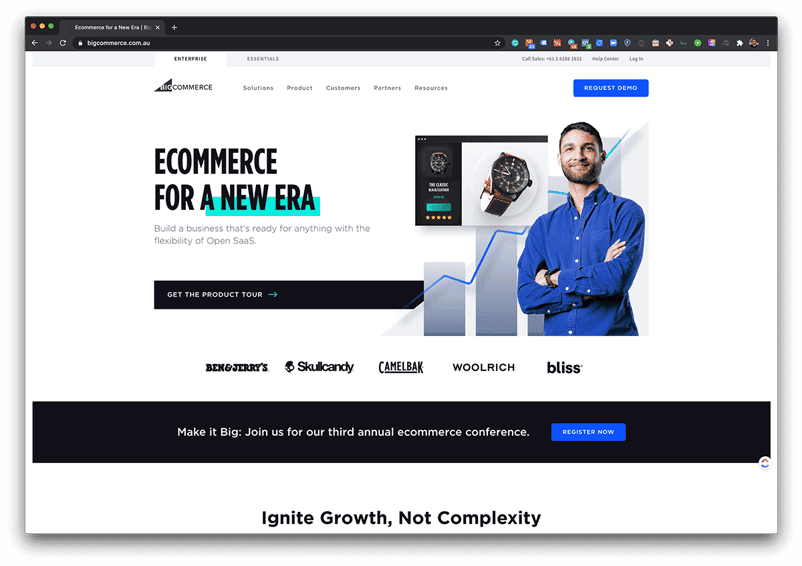 Integrations
One important thing to note is that BigCommerce has more built in functionality than most competitors. So typically, you will need less integrations with BigCommerce, saving you time and money.
The BigCommerce app portal houses a comprehensive selection of well over 800 apps and integrations across 20 categories. You'll find some great free options, along with plenty of paid options to meet your needs. This makes selling on multiple platforms such as Amazon, eBay or Pinterest a breeze.
You'll have peace of mind knowing that BigCommerce have verified and approved the apps and integrations on their app marketplace.
Support
Documentation - BigCommerce provides articles on common topics, along with user guides, documents, FAQs, and how-to videos.
Community - There are plenty of groups providing help on integrations, marketing, SEO, or even for a site critique. You can also submit ideas for BigCommerce if you can't find the solution you'd like.
Direct communication - BigCommerce provides 24/7 live chat, email and phone support to help resolve your burning questions in a timely manner.
Customisation
BigCommerce offers out-of-the-box templates designed for online stores of any size. With many modern and professional design templates to choose from, you'll be building beautiful websites in no time.
Even though there are great templates, you have full control over the look and feel of your website. There are also BigCommerce partners who can design your store so it's set up for you.
BigCommerce templates are all responsive by default, to ensure your site looks amazing across all devices. The BigCommerce page builder visual editor allows you to easily change things without any coding experience needed.
Security
Security is something BigCommerce takes seriously. They provide multiple layers of security and are ISO/IEC 27001:2013 and PCI DSS 3.2 Level 1 certified. You can be assured your website is monitored around the clock, with personal information, hosting and payment in safe hands.
As a cloud-based, software as a service platform, BigCommerce takes care of everything. You don't have to worry about patches or updates, they'll happen automatically.
Ease of Use
The volume of advanced features and technical language can make BigCommerce appear a little daunting at first glance. However, customers report the onboarding tutorials and documentation are very useful and make the process easier.
If you find yourself feeling a bit lost, BigCommerce has a consultation option where you can book training with an expert. You can also choose from a list of Design Partners to consult on your project.
Pricing
You can try before you buy with a 15 day free trial to see which plan will be best for you. There are four pricing tiers depending on the features and functionality you need (prices in USD).
Standard: $29.95 p/m
Plus: $79.95 p/m
Pro: $299.95 p/m
Enterprise: price on application
BigCommerce doesn't charge transaction fees for sales made through their platform. If you opt to pay annually, you'll receive 10% off Plus and Pro plans.
This pricing with the built in functionality makes BigCommerce possibly the best value ecommerce platform.
Shopify delivers excellent value for money with a range of integrations and apps, fantastic learning resources, and a huge online community.
Shopify is truly the one stop shop to get your online store up and running. It caters to the absolute beginner user, right through to advanced businesses looking to consolidate on one platform.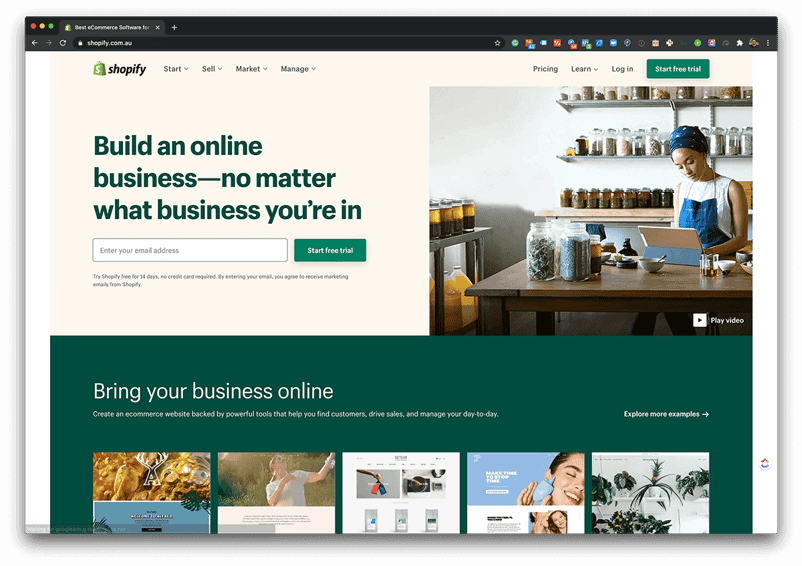 Integrations
Shopify gives you access to thousands of apps to customise your online store. Half of these are free to use or have a free trial option, so you can easily try them out.
Each app has a rating, so you can check out what other Shopify customers think before you install anything. The opportunities to grow your business are endless!
Support
Documentation - Shopify has a huge library of content including webinars, ebooks and video series. Some of this is about more than setting up your store, so you can get stuck right into selling.
Community - You'll find an active online forum which is used by Shopify and customers for updates and support.
Direct communication - To access customer support, you'll need to have an account. There are loads of helpful info in their support section to answer almost any question you might have.
Customisation
Whether your store is big or small, you'll have access to over 70 themes to get started. If you're completely new and have no branding or images - never fear! Shopify has a nifty name generator to give you some business inspiration and get those creative juices flowing. You'll also have access to Shopify's free stock images, which are a great starting point for new businesses.
If you want a custom design, you can engage a Shopify Partner (like us!) to bring your website dreams to life.
Security
All websites are hosted by Shopify in the cloud, so you don't have to worry about updates and downloads. Shopify does this for you.
Credit card information is kept safe. Shopify is level 1-PCI compliant, and your online store is SSL encrypted to keep personal information and business data secure.
Ease of Use
With Shopify you have everything at your fingertips to get started selling online.
Shopify also has its own payment gateway to make it super easy to start making sales. This means that you'll skip the often lengthy set up process and just turn it on. Shopify Payments works just like other payment gateways, including Apple Pay and Google Pay options available to use right away. Of course all payment data is encrypted and PCI compliant.
Pricing
Shopify starts off at US$29 per month, with a 14 day free trial and no lock in contracts. Where the cost can increase quickly is with add-ons, which are charged on a monthly basis.
There are also transaction fees depending on the payment gateway you use.
Shopify have their own payment gateway, Shopify Payments, which charges a reasonably high 2.9% + US$0.30 per transaction fee. If you want to use your own payment gateway, charge a 2% transaction fee. This includes buy now, pay later services like Afterpay.
What is the best ecommerce option for you?
Each of these three platforms have strengths in different areas, so which is the best shopping platform for you?
The soloprenuer: Shopify or BigCommerce
If you're starting your first online business, either Shopify or BigCommerce will suit you. You can build your own website fast using templates with both, and have the basics you need to start selling online.
Shopify gets points over BigCommerce for having abandoned cart saver functionality on its entry level plan. It loses points for having transaction fees on non-Shopify payment methods.
BigCommerce gets points over Shopify for the amount of included functionality, ensuring you'll need less addons and subscriptions than Shopify. Advanced reporting is also available on its entry level plan, plus there are no extra transactions fees on your payment methods.
The diverse business: WooCommerce
If you do more than just online sales and/or have an existing WordPress website, WooCommerce is a good fit. It will let you 'bolt on' a store to your existing website, and sell a variety of products in one place.
Plugins let you sell access to content on your site, sell memberships and courses, physical products, event tickets, and more.
If you're implementing WooCommerce, it's important to have professional support to assist you with updates and maintenance. This isn't required with Shopify or BigCommerce, so keep that in mind.
BigCommerce also now offer a 'headless' plugin for WordPress. This lets you run a WordPress ecommerce store powered by BigCommerce.
Business ecommerce: BigCommerce
If you're running a business of any size with ecommerce at its core, BigCommerce is your best option. This is especially true for business to business, where BigCommerce's order forms and advanced, faceted search are big winners.
The built in functionality compared to Shopify is a big win. The cost of adding on these to Shopify adds up fast.
Choice of payment processor also makes BigCommerce the best ecommerce platform for medium businesses.
Need help with your ecommerce plans?
That's where the Refuel Creative team comes in. We're a Shopify and BigCommerce partner, but also have extensive experience in WooCommerce. This knowledge and experience helps us determine the right platform for your business.
Book a free call today to help shape your ecommerce journey.