10 quick wins to improve your SEO
Ryan Jones
13 May 2019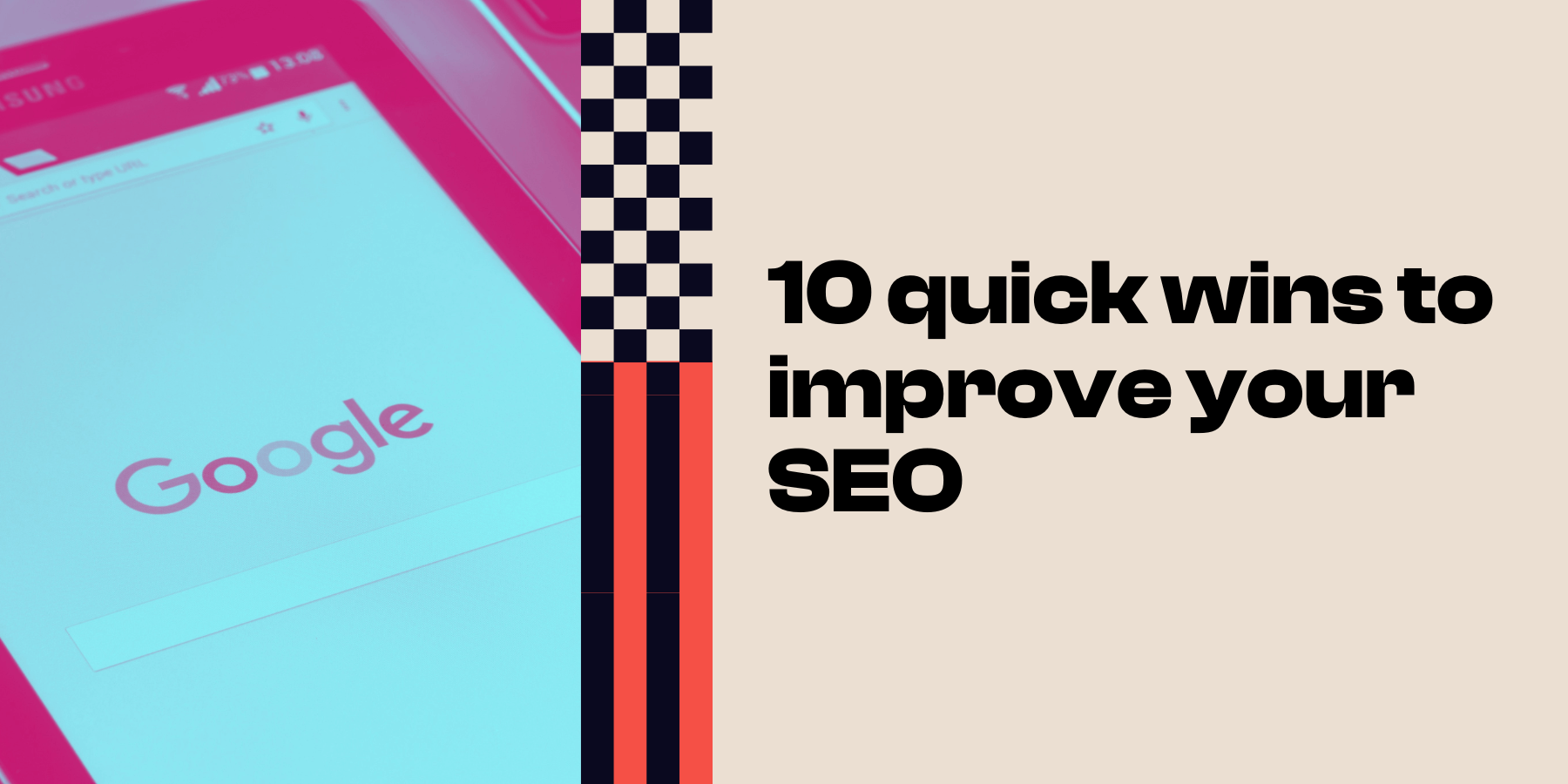 You've already heard a lot about Search Engine Optimisation (SEO)? You know it's important. You definitely want your website to show up as high as possible in search results. But what are the best ways to fully optimise your site and snag some quick wins along the way?
To make your website attractive to search engines, there are loads of details to think about. Here, we'll explore some simple and effective ways to start boosting your search engine rankings.
1. Give structured data some love
Structured data is just data that's been organised in a standardised way that is recognised by search engines. It plays a big part in SEO, as a tidy structure helps search engines understand your web page content better, and makes it easier for them to understand what a page is about.
When a search engine crawls your site, it collects and saves data. This categorises your page to show to relevant users (or potential customers). If your data is well-structured, search engines can better grasp your content and its relevance. This increases the odds of your site being seen as trustworthy and popping up at the top of search results.
Why add structured data? According to Google, it's had some big benefits to some websites you might be a regular visitor on:
Rotten Tomatoes added structured data to 100,000 unique pages and saw a 25% higher click-through rate for these pages when compared to pages without structured data.
The Food Network converted 80% of their pages to enable search structured data, and saw a 35% increase in visits from Google Search.
Bonus: Structured data doesn't just help with SEO. It also creates a better user experience, boosts website rankings, and drives more traffic to your site.
If you're using a Content Management System like WordPress, with a plugin like SEOpress or Yoast SEO it's very easy to add structured data. If you're using a platform like HubSpot CMS or Shopify, this is included out of the box, you just need to make sure you add the data.
2. Squash those 404 errors
A 404 error pops up when your website can't find the page a user wants to access. If you've made changes to your site or web page, you might have some 404 errors lurking around. These pesky errors can deter people from sticking around on your site, and search engines aren't fans either. Fixing 404 errors by regularly analysing your site is essential for not just SEO but also making your website user-friendly.
Depending on the content management system you're using, there may be an existing report that will help you here.
If you don't have a report, we like the Screaming Frog SEO Spider tool, which will go through your website, find every page, and tell you the status. It makes finding 404s a breeze. You can then either redirect the link to the right page using a 301 redirect, or publish a page at that URL so the link works.
3. Polish your existing pages
Don't just focus on new content. Your old gems deserve attention too! If you have content you're proud of that hasn't been optimised yet, now's the time.
For instance, you can revamp blog posts with keywords that convey relevance and authority, which will help boost search rankings over time. This is one of the simplest SEO practices and works wonders for improving your search engine rankings.
Focus on your quality content that is getting traffic and could be getting more - if it's getting no traffic, it may not be worth updating.
To quickly improve existing content, do some keyword research and insert keywords where they fit. Don't forget to enhance meta descriptions and backlinks, and make sure all your content loads properly and swiftly.
4. Tidy up your local listings
Your local listings rely heavily on accuracy, even more so than general SEO practices. If your site has outdated info, you might be missing out on valuable local business.
To help your local listings, double-check your 'Google My Business' details are accurate and up to date. Be sure you've verified your listing and can make changes as needed. This is a great time to review who has access to it, and make sure the right people can edit your listings.

Also, make sure your business is listed correctly. Are you an Italian restaurant mistakenly listed as a café? Some basic improvements in how your community and local search engine rankings perceive you can make a huge difference in your search engine rankings.
Want to know more about local listings? Check out our blog on using Google for local businesses.
5. Go mobile-friendly
We've been saying this for years. Your site should look great and function seamlessly on both desktop and mobile devices.
While desktops still matter, mobile devices are becoming the most popular way of accessing a website, even in B2B industries, so having a mobile-friendly site is crucial. Ensure your site looks good, loads smoothly, and is easy to use on mobile devices. Make sure you test it on actual phones too, not just in your browser.
6. Embrace link building
If you haven't heard of link building before, it's simply getting other websites to link back to yours. This not only increases the audience for your content but also tells Google that it's worthwhile to link to your website.
Link building might sound complex, but getting started is easier than you think. A simple way to kick off link building, especially backlink building, is to create content on multiple channels and link that content on each channel.
For example, write a blog post about a topic and make a related video. Share the video on social media channels with links to your site, creating backlinks to your site.
7. Snag low hanging keyword fruit
Use keyword tools to find search terms relevant to your organisation, with low competition and high search volume. This helps search engines categorise your content better, encouraging them to rank you higher. Many companies miss out on easy-to-use but crucial keywords that ensure their site gets noticed.
When targeting keywords, be aware of how competitive a keyword is. If you choose an over saturated keyword, your chances of being seen drop. Finding the right keywords and using them correctly is one of the simplest ways to boost your SEO. The SEO tools we've covered in previous blog posts can show you how competitive each search term is.
Make sure you use the tools we've covered! It's a common mistake to target terms that you might think are really popular, but keyword tools show that very few people search for them. When you're looking for keywords, you want keywords that balance competition with volume, so you're getting in front of as many searches as possible.
8. Eliminate duplicate content
You may have heard that Google penalises duplicate content. Duplicate content, or content that appears more than once on a site, doesn't give you a penalty but it does cause search engine crawling issues.
When a search engine crawls your website and discovers duplicate content, it struggles to decide which version to include when indexing. It can't determine which version is most trustworthy and relevant, and as a result, can't decide which to rank for search engine results.
If a search engine can't decide what to rank, it may either rank the wrong content or not rank it at all. Making sure your content is unique and in one place is key to ensuring top-notch Search Engine Optimisation.
So there isn't technically any duplicate content penalties, but the penalty is that Google ranks the wrong content.
We've recently seen a website with significant volumes of duplicate content miss out on having 60% of it's content indexed because Google interpreted it as duplicate content. That's the risk if you don't tidy up duplicate content.
Make sure you:
Create quality content, that's unique and relevant to your audience.
Have no duplicate pages.
Each page has a unique meta title, meta description, and heading 1.
Review content regularly to make sure no duplicate content has snuck in.
9. Boost site speed
How quickly a page loads now greatly influences how long a user will stay on your site and how highly it will rank in organic search results.
Page loading time depends on a number of factors:
The hosting provider you choose for your site. To avoid slow speeds, find a host that fits your budget. Spending a bit more may be frustrating, but in the eyes of consumers and search engines, a fast site is always better.
The size of images you have on your website. Make sure they are optimised and compressed so they'll load quickly for your audience.
Your website template and design. Make sure it is optimised to load quickly, and test using tools like Google Lighthouse.
Improved site speed benefits SEO as well as dwell time and the user experience, which keeps visitors on your site longer and increases the likelihood that they will buy something or become a lead.
10. Optimise internal anchor text
Anchor text is a clickable link that appears as text, like this one: anchor text. To optimise your anchor text, make sure it's short and to the point, the link works, and the link is relevant to the content and keyword density.
The last point refers to how often the same text is used as anchor text for links. Basically, overused keywords lose their authority and decrease SEO.
Don't create links like here, search engines and people with disabilities using screen readers can't understand their relevance and don't use them.
Got any SEO tips for us?
Know any other SEO quick wins to improve SEO rankings that we should add to the list? Share your thoughts in the comments below.
If these quick wins have left you with a burning desire to review your SEO strategies, schedule a meeting with one of our SEO specialists now. The team at Refuel Creative are here to help boost your search rankings today.
Last updated: 23 March 2023