How To Plan A Website Redesign
Posted by Liina Puusepp on Jan 20, 2020. Reading time: 13 mins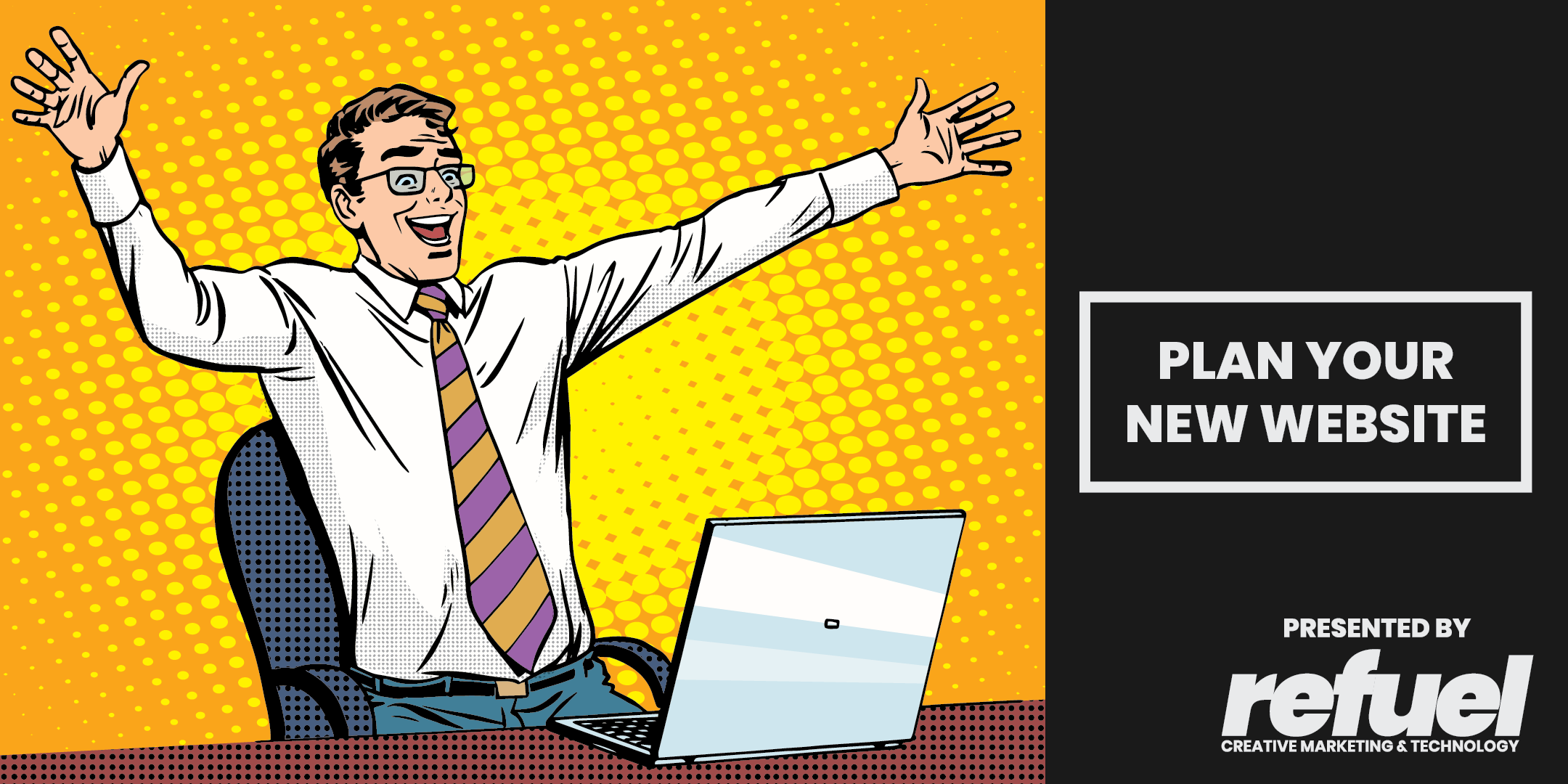 For many of us, a website redesign is one of the biggest and most important projects we undertake for our organisation. Your website is your main shopfront. It's the way you sell your products and find your customers. So it's vital to get it right.
Launching a site that is hard to navigate, cluttered and unfriendly gives the wrong impression. It makes people less likely to interact with you. Instead, you want your website to be a bright t-shirt or a sleek business suit that makes visitors want to connect with you.
If your website isn't bringing in leads, it's time you planned a redesign. Websites need some key elements to make them work. Much like us humans, sites should be conversational, have a clear message or focus and be a reflection of you or your organisation.
No matter who you are or what you do, planning is everything. Let's look at some good website design and development ideas you should look at in the research phase of your redesign.
Step 1: Aesthetics
Websites feature many elements, but the visual presentation of those elements is what makes them work.
Using concepts like colour psychology, site architecture and content formatting, you can create an easy to use website. The most important thing to consider is your site's user experience design process. This is how the information appears on the site for ease of navigation.
There is no umbrella solution to finding the best web design practices. Still, concepts like growth-driven design and user design help a lot. We would create a wireframe of the site to map out the look and feel for the design elements before full-scale production.
Tip: User experience design has many names, like UX design process, user design or customer experience. Keep this in mind when looking for your resources!
Revisit your branding
Redeveloping your website is a perfect opportunity to revisit and update your branding and logo design.
With traditional web design methods, you'll keep the design of your website for a couple of years, so think about updating. If you're ready to update, we can help with that.
You have a logo and colour palette that you apply across your marketing material. This colour palette is an identifier for your business and will feature on your website. The best way to make sure of this is to have a style guide which details your primary fonts, font sizes, colour codes and the appropriate uses for your logo.
Consider your audience
You want to look at your competitors and your audience.
If you're a finance broker, your audience will likely be adults between say 25-55. Your competitor's websites will probably be neutral, clean and professional to reflect what this market is looking for in a broker.
If you're a 12-year-old girl blogging about horses, your target audience is other 12-year-old girls who like horses. Chances are there will be a lot of pinks involved.
See where we're going with this?
It's important to note that your competitors won't always be the ideal benchmark for your new site. You may be an industry leader, or want to become the leader, and create something competitors will envy you for. You would bring new ideas to your industry.
Never assume that what competitors are doing is worth implementing unless you can back it up with evidence. If you need website design ideas or some design inspiration, it's always good to use sites you and your customers like as a guide, but not a template.
If in doubt, ask. You can reach out to a small sample group of clients to get their feedback.
Get on a 15-30 minute call with a customer and ask them about your website. How easy is it for them to navigate? Ask some set questions based on your priorities and assumptions. It'll be amazing what you learn.
Get the right colours
Consider your colour combinations. Please, I beg of you, do not go putting white text on a yellow background. You're basically asking people to squint at their screens when you do that.
Truth is, some colours don't work together, no matter how hard you try. You also have to consider that some of your audience may be colourblind or vision impaired and they won't be able to see some colour combinations.
It's best to avoid using certain combos, no matter how much you like fuschia and Fluro green together.
You don't want your site to be an eyesore because of your personal preference or branding restrictions. There are always ways to incorporate colour in digestible ways or replace them with more appropriate options.
Step 2: Navigation
Every good web plan requires a sitemap. A sitemap is a hierarchy that outlines your site navigation. It shows the pages and the subpages that will be in your menus.
You can use platforms like Lucidchart, Google Slides or even Microsoft PowerPoint to build your sitemap with ease.
While you're developing your sitemap, consider what the purpose of your site is.
If you're a blogger, you want people to read your blog posts.
If you're an eCommerce store, you want visitors to buy your products.
If you sell services, you want people to read about them and book an appointment.
Your most prominent menu item will be the category that benefits your audience most. Any secondary information will appear after. This links in with the user experience we touched on before. It's all about catering to the audience and what they'd be most interested to know.
A website menu tends to have the 'product/services' page first, then your 'about us' page, a 'blogs' page (optional but recommended) and a 'contact' page.
Depending on your business, you can add any pages you need. This includes your portfolio, clients, team, donate, etc. Your keyword research can help with this.
The pages your audience need most should be centre stage on your navigation bar, and secondary resources should branch off of them.
If you are redeveloping your current website, you can use your Google Analytics data to inform your sitemap. Review the traffic each page receives, and compare it to the importance you place on the content. If your quote page is your most important page and gets no traffic, you need to factor that into your information architecture.
Navigation is something that you can change over time. An experienced web developer would do user research before launching a redesign, but you may not know where to start. Get user feedback as a way to better understand your audience and their needs. You can do this through your talking to customers, your chatbot, a pop-up survey, a questionnaire or content offer.
If you're doing all internally, it's understandable to do your user testing after the fact and update your design and content. You never know, you might nail it on the first go. But you should have access to a range of data, and it's essential to use it to your advantage.
Step 3: Content
Content is one of the most crucial features of your website. It has a significant impact on your visibility in search engines and your conversion rates.
There are a few considerations that come into play here. You don't just want your content to be meaningful and on-brand, but also serve a purpose.
SEO
Search Engine Optimisation (SEO) allows you to make your site content more accessible in search engines like Google and Bing. It's essential to plan your web content around its relevance to your site.
At Refuel, we plan SEO into every website build. We build a solid technical base according to what the search engines are looking for. We optimise all content for the best search engine rankings, for the keywords our clients are targeting. There is no point in building a website without doing keyword research and having a solid strategy because then no one will find it.
You want your content to be relevant to your site but make sure you're discussing keywords that your target audience will be searching for
As an example, we write blogs on marketing related topics and include keywords and themes within them that our audience is looking for. We link every piece of content back to the business and our services while appealing to other marketers and potential clients.
Images & Video
Sticking to a theme with your website imagery and video content will not only help you keep your site on brand, but also search optimised.
High quality, consistent content is golden when it comes to websites. Video content is one of the easiest ways to engage visitors.
People perceive video content faster than web copy, so you can get your message across with ease. It also increases conversion rates and is fantastic for SEO; there is no downside. You can use video to draw in viewers, and they can conveniently absorb your content.
Strategise ways that you can use video and photos in your design phase. This may even influence your web design inspiration!
Can you use image headers on all your pages?
Do you have the capacity to make videos for your blog posts?
Can you introduce your business through video on the home page?
Step 4: Forms & Chatbots
Every website should have a way for visitors to contact you. Chatbots are a more engaging alternative to forms. These elements make your site conversational and help you better engage with visitors.
Whatever information you would ask a client for in person you can now grab through your site. You can plan out the critical form fields that you want on your website to get the information you need. And don't forget about the email capture or booking forms that you sprinkle across your site.
Chatbots need a bit more effort as they follow a flow depending on the responses from the site visitor. Your bot can display greetings specific to the page your visitors are on and to give different answers depending on the conversation.
It is easier to plan this flow out in advance for the page you're applying it to. When it comes time to build, the process is easy-peasy. A hierarchy map is an excellent way to plan this out with different branches. You can read more about conversational marketing in this previous blog.
Key Takeaways
Make your site functional and visually appealing for your audience.
'On brand' isn't always what looks best, if something isn't working, use the data to make adjustments.
Keep to a theme.
Make it friendly.
Plan your content for search engine optimisation.
Modern sites are customer-centric.
You can use personalisation to address the viewer.
We understand that planning a website redesign is not the most straightforward feat if you aren't experienced in web design. Luckily, we have a team of marketers and website developers to do the work for you.
We serve clients all over the world to bring their website dreams to life. Book a free call with us to find out what we can do for you!

Written by
Liina Puusepp
Marketing and Design Assistant at Refuel Creative