Free tools for SEO research
Ryan Jones
28 May 2019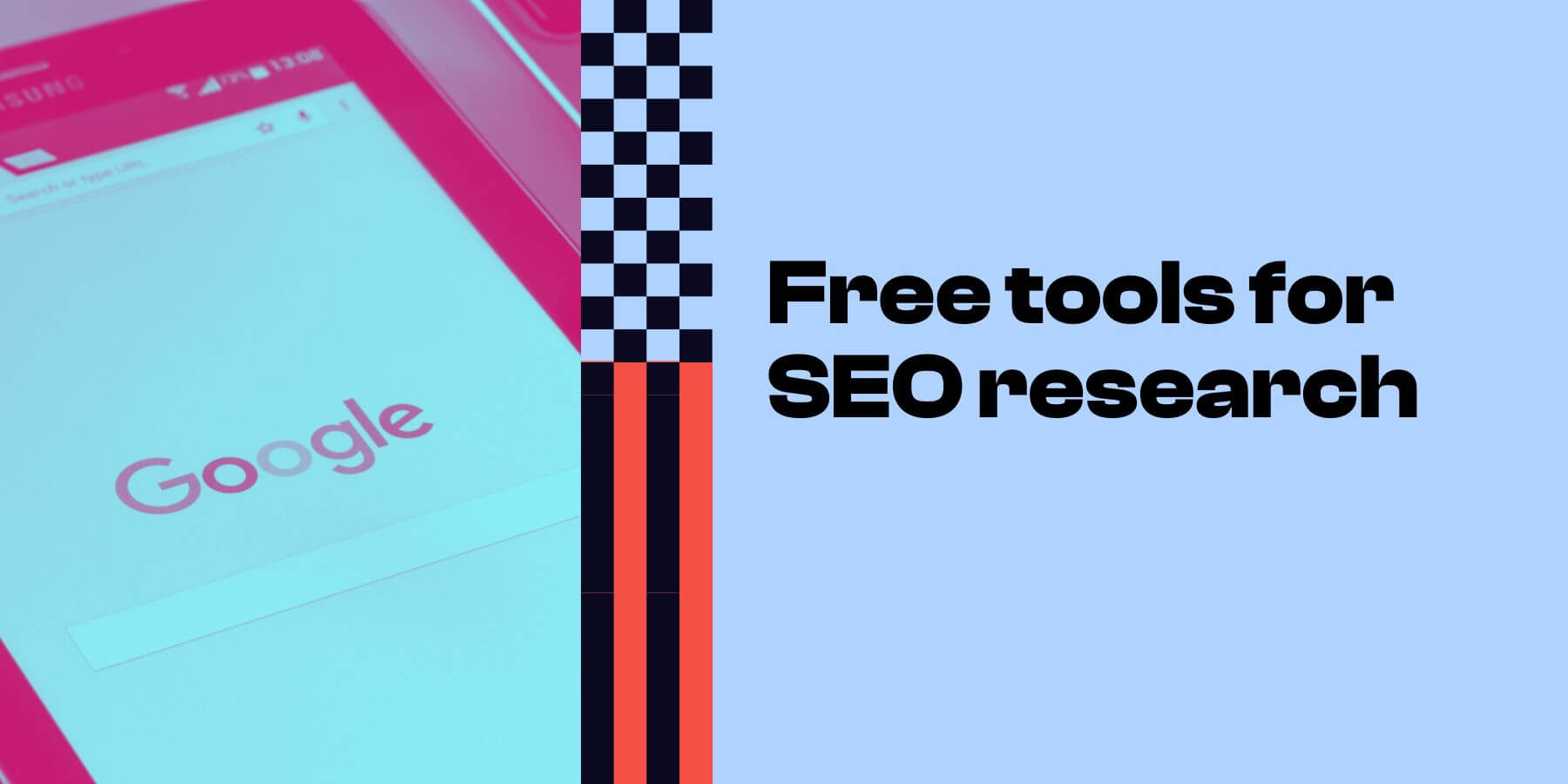 You have quality content. Excellent, helpful, well-written information with splashy, relevant images you just know people will love. However, if your fabulous web pages and blog posts languish somewhere down on page 20 of Google's search results, nobody will ever find you.
Search Engine Optimisation (SEO) is a set of tactics and tools designed to help your ideal customers find your content.
Often, SEO is about understanding what the keywords and phrases your customers are using when they go looking for the information you offer. Being visible, so customers can find you, is an essential piece of your online marketing strategy, but you won't generate consistent, useful results without doing your homework.
Research is key to successful SEO
To boost your online presence, you need to be researching what your clients are searching for and understanding what your competitors are doing well.
When you make a search relevant to your business, why is it that your competitor pops up near the top of the list?
What are your competitors doing right, and how can you learn from their efforts?
Where do you spend your budget to get the most return for your investment?
How do you find and use the best target keywords to deliver the right visitors to your website?
There are all kinds of handy SEO tools out there to help you. Some tools are pricey and complicated; some tools are free. Often these are dead simple to use and can point you in the right direction. You can better understand how best to make use of your content marketing efforts and push your web pages to the top of search engine results.
Understanding and using keywords and phrases to your advantage is one of the most essential SEO strategies you can master. This focus ensures that you are driving targeted traffic to your website. You need to use focused keywords for this, and sometimes you need keyword suggestions to understand how many searches your customers are performing for those terms.
The best visitors are those most likely to engage with your content, sign up for your services or make a purchase, and this optimisation helps make sure you are reaping the most from your online marketing efforts.
Let's look at some free SEO research tools available to help you figure out what keywords your clients will search for.
Google Ads: Keyword Planner
One of the biggest advantages of using Google Keyword Planners is that the information comes from the source. Google is right at the top of the list for search engines, so it makes sense to start here when you are looking for information about keywords.
You'll need a Google Ads account to access this tool. Apart from the money you spend on your Google Ads, Keyword Planner is an otherwise free keyword research tool.
Once you select 'Keyword Planner' you'll be able to find new keywords based on Google suggestions. This will give you access to metrics and forecasts for your keywords. This data can predict how many clicks and impressions you'll get by using different search terms and combinations of keywords.
This tool also provides information about your competition, what keywords they are using, and how much it will cost to bid on those keywords to target them with Google Ads.
Find out more about Google Ads Keyword Planner >
Ads and SEO Keyword Permutation Generator
This is a simple free keywords generator that mixes and matches keywords. Just enter some keywords into the series of three boxes. The more keywords you enter, the more key phrases are generated.
You will need to spend some time reading through the list of combinations provided. You will find some different search terms you wouldn't have come up with on your own.
As always, consider which phrases your customers are most likely to be using. Use this measure as your guide for which keywords and phrases to include in your copy.
Google Correlate
There's nothing like seeing precisely what your customers are searching for. But wouldn't you like to know the related terms they are typing into the search engine?
Google Correlate provides a fascinating peek into the minds of customers by showing you what else people are looking for. For example, if you enter the term 'strawberry ice cream' into Google Correlate, you'll discover that people are also likely to be looking for 'chicken and broccoli casserole' or 'cake layers'.
Understanding what's on your customer's mind can help you craft meaningful, helpful content in your next blog post.
This tool can be handy if you are trying to generate a long list of blog post ideas to populate your content calendar. Google Correlate can help you break free of limiting preconceptions about what content consumers will find useful and relevant.
Check out Google Correlate here >
IMforSMB Bulk Keyword Generator
IMforSMB Keyword Generator is different to many keyword explorers. Some have a broad application, like Google Trends. IMforSMB Keyword Generator is better suited for more specific, niche business areas. In this case, the target business is someone with a local service company.
The list of keywords generated is tightly focussed, making good use of a local and regional focus. This data is specific to certain business categories, such as electricians, landscaping and interior designers.
Though the specific terms relate only to the businesses included in the various lists, use the same logic to think about your own business, particularly for zooming in on a regional focus.
Have a look at IMforSMB here >
Keyword In
Similar in the way it works to Ads and SEO Keyword Permutation Generator mentioned above, this keyword generator allows you to add more keywords in your initial lists. Keyword In also provides some additional options like using broad, phrase or exact matches.
You can add columns, so it's easy to generate long-tail keywords. Quick and intuitive to use, it's easy to generate keywords and phrases that will help bring you traffic.
Soovle
When you are next trying to come up with a great blog post title or keywords relating to whatever subject you are writing about, take advantage of Google's smart thinking auto-complete feature.
To try this out, type "What's the best way to…" in Google's search bar. The results are often entertaining and distracting, but this lies at the heart of Soovle's functionality.
Start typing keywords in your subject area and Soovle provides you with a treasure trove of related ideas and search terms. The results aren't just from Google, but also from YouTube, Amazon, Yahoo and Bing.
It's easy to save the best keywords and download for future reference. You can create lists of subject areas perfect for populating your content calendar well in advance.
Ubersuggest
From generating keyword ideas to checking out your competition, Ubersuggest offers a range of great functions.
It's easy to see who ranks in search results based on organic traffic and specific keywords. You can also see who among your competitors are spending how much on PPC. It's even possible to have a look and see what wording other websites in your field are using.
When planning where to put your paid advertising budget, it's helpful to know how much keywords are costing and whether it's worth trying to go after organic traffic based on top keywords and phrases.
It also includes negative keywords and filters which make Ubersuggest a powerful tool to add to your SEO toolkit.
SEMRush
SEMRush analyses what your competition is doing well. You can plug in your competitor's website and analyse what's working for them, or you can start with a keyword and find competitors from there. SEMRush provides you with a look at how well your competitor is attracting organic traffic and how much that traffic is worth based on Google Ads CPC.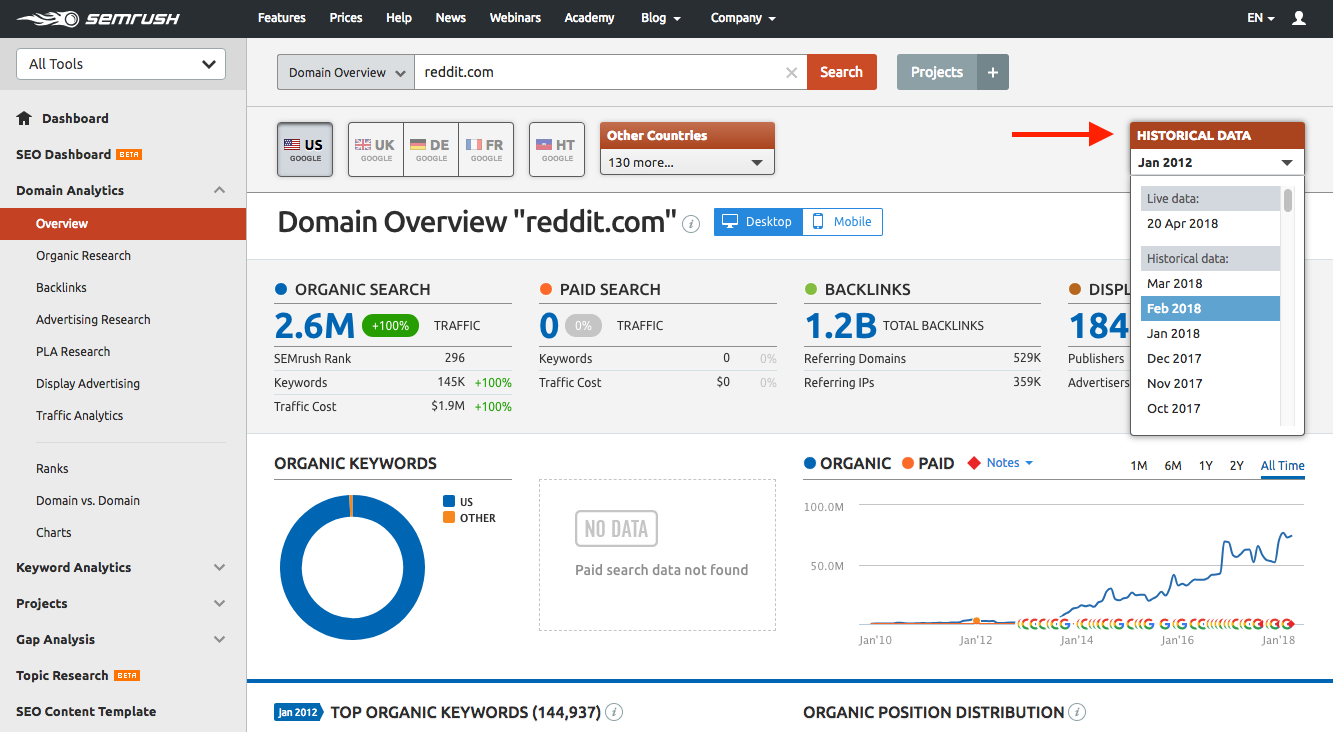 Dig around in the data and have a look at the lists of keywords that are driving traffic to a particular website and discover long-tail search terms that include your seed keyword. Check to see what other competitors are showing up on the first page of search results and what keywords and search terms are driving traffic.
SEMrush post tracking and SEMrush content audit tools will help you find which content is performing well and identify the content that is letting you down so you're constantly working to get the best results.
SEMrush is not free. Is SEMrush worth it? We think so for some users.
If you're wondering how to use SEMrush for free, you can use their free trial. Sign up for a free 7-day SEMRush trial, to explore what SEMRush offers before signing up for a paid plan.
Wordtracker Scout
This handy Chrome plugin provides you with a quick and easy analysis of any website. Drawing on keyword data from Wordtracker's massive database of search terms, it's possible to analyse your competitors' websites to see which keywords were used by site visitors en route to each web page.
Using this plugin for your Chrome browser couldn't be easier. Just visit a thriving, busy webpage in your field to identify the keywords used by customers to get to the information.
An excellent way to boost your ROI, it's a snap to discover the actual search terms used by motivated customers. Choose those keywords that perform the best and then use those to drive targeted, profitable traffic to your website. It's helpful to know much competition there is for those keywords you find so you can plan and budget.
Fast, easy and effective, Scout has several levels of subscription but is also available on a free trial basis. Install the add-on and try it before deciding which subscription level might be right for you and your business.
Download the Scout Chrome extension here >
WordStream Free Keyword Tool
WordStream's free introductory package allows you to test and experiment while you become familiar with this keyword tool. After you enter your keyword, WordStream returns a list of related keywords and their relative frequency.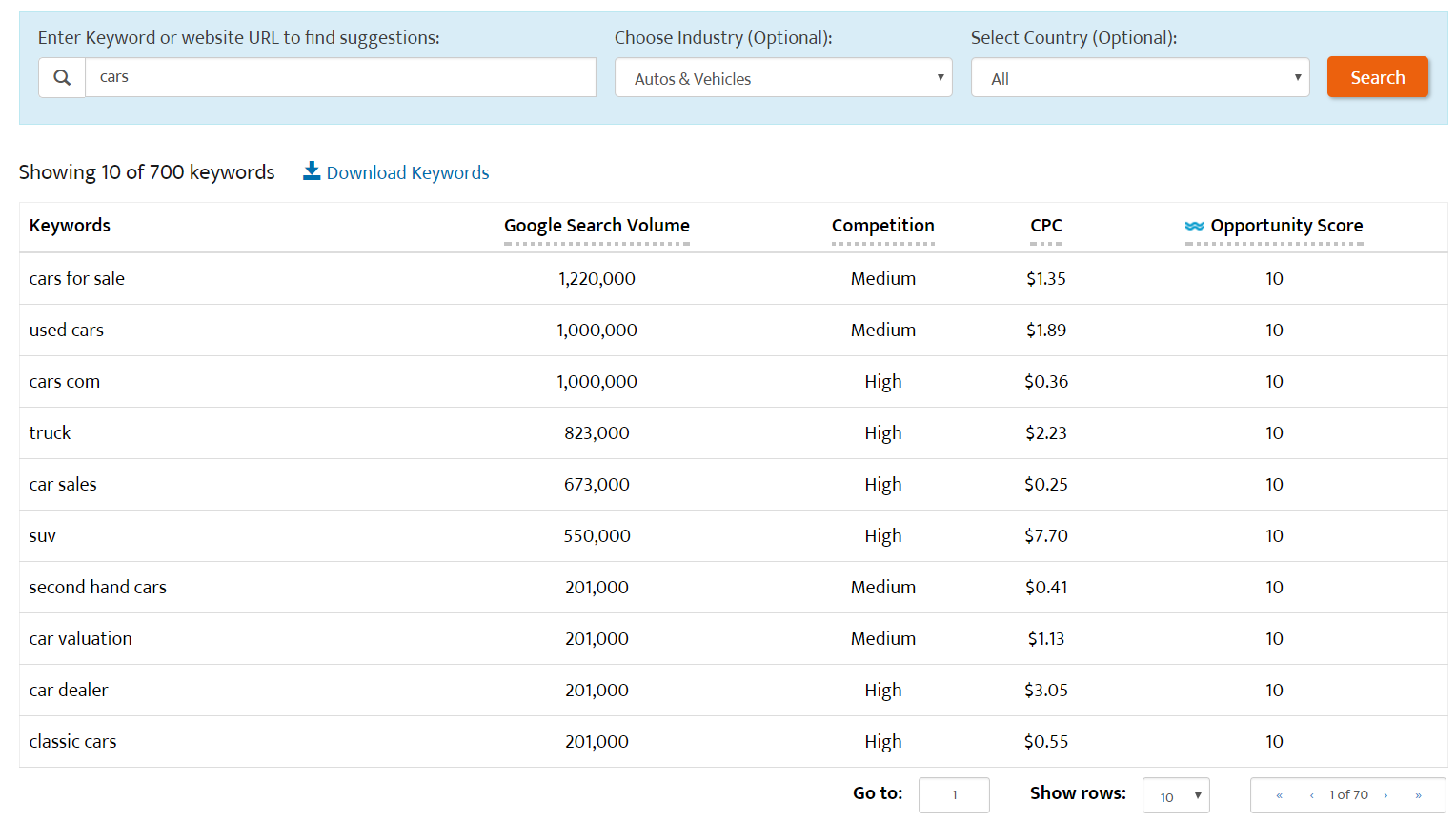 WordStream's tools extend well beyond providing keywords for your consideration. Streamlined reporting tools grade the performance of your keyword terms and phrases, analyse your conversions and help you increase your click-through rates.
Tools include:
Negative keyword tool
A keyword generator and grouper
Niche finder
PPC research
Keywords by industry
Conversion rate optimisation
Keyword values
SEO Chat Suggestion Keyword Finder
With several levels of results to choose from, SEO Chat Suggestion Keyword Finder can provide a super simple set of keyword results, or you can dig deeper and explore Levels 2 and 3 for specific, sometimes unexpected suggestions.
Ahrefs Keywords Explorer
Taking the time to drill down and understand data tied to specific keywords can pay big dividends. Ahrefs identifies search volume and how many searchers click on a particular result along with an estimate of the CPC.
'Keyword Difficulty' is a handy feature which provides a numeric value that tells you how many backlinks you need to push your search results to the top of the Google rankings.
Try Ahrefs Keywords Explorer >
Google Trends
In the world of SEO, it can feel like you are always playing catch up. Google Trends is an excellent tool for identifying and tracking keyword trends. Google Trends also pulls data from YouTube, which can provide a different look at what's new and what's not so relevant.
Investigate related queries, identify top terms and those rising in popularity and see how different regions compare for interest in a particular search term. Seasonal changes in search trends are also useful to understand for identifying the best timing for specific campaigns.
Get started with Google Trends >
Other tools to consider
There are many tools available to help you find the best keywords. We just wanted to show you that you need not spend a lot to get started and give you a basic toolset to start.
Though many of these tools have certain similar functions, it's surprising how often there are differences in even the most basic results returned. Once you start slicing and dicing the data and drilling down to see what your competitors are up to, you can see how much your ads are likely to cost and what the specific returns are likely to be.
It's worth playing around and experimenting with different tools, rotating through them to make sure you are getting access to the most robust and relevant information that's available.
Need help with your SEO strategy?
If you find yourself unsure of how best to tackle keywords and SEO, give us a shout here at Refuel Creative. We are SEO nerds, and offer SEO Audits and supporting services to get you started. Book a free Exploratory Call to get started today.