An Introduction To Virtual Phone Systems For Business
Posted by Alessia Marrapodi on Dec 26, 2019. Reading time: 7 mins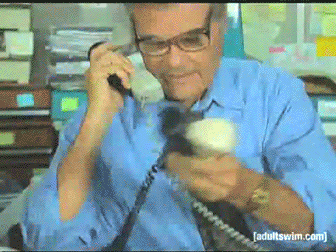 Having a business phone used to mean getting an IT professional to come out and install a fancy, expensive phone with a bunch of confusing buttons. There's a huge capital expense to set it all up (upwards of $10,000 in most cases).
Then you'd have to pay for alternative business numbers and program in extension codes for your staff or departments, which are then too hard to change when staff leave. It's time-consuming and inefficient! God forbid there were any power outages because that meant starting back at square one.
To make matters worse, these days we find clients who set these up end up leaving them collecting dust on their desk, as staff prefer the flexibility and mobility of a mobile phone. They hand out their mobile number, often their personal number, and everyone calls that number instead.
In my first job at a department store, we had two of these phones at the till. If someone missed the main phone, it would divert to a second phone that was just metres away.
We had to have the extension codes for each department memorised to transfer the call to the right team member. There were at least 7 phones around the store all with individual 4 digit codes. It was an extremely tedious part of the job and it took me at least a year to memorise them all.
This system just isn't a feasible or responsible use of time and money, especially for small businesses. In a day and age where everyone has a smartphone in their back pockets wherever they go, it doesn't make sense to use clunky, immobile telephones for business calls.
Introducing Aircall; The Cloud Based Office Phone System
To solve this common pain point for our clients, we have partnered with Aircall as their first Australian partner
Aircall is a convenient and affordable solution to the 'game of phones' situation many businesses still consider "effective". Technically, Aircall is a cloud-based PBX phone system, which is a techie way of saying your old office phone system is now in the cloud instead. Instead of having a phone on your desk, Aircall's cloud phone system allows you to make and receive calls on your mobile phone or on your computer.
The possibilities are endless with this fabulous app; there is a solution for every single phone call dilemma. They have flexible plans for all business needs and the phone call software is extremely simple to set up without employing the help of an IT guy. It's a cloud-based phone system so you can access it no matter where you are or what device you have handy.
As a business owner, there is a lot of benefit in switching to Aircall but if you need convincing, read on.
Revolutionise Your Phone System
You know in movies when there's a corporate scene of a CEO is yelling into the phone receiver at their personal assistant? Yeah, that kind of behaviour doesn't happen with Aircall. It's built on the premise of fostering friendly relationships between callers, the business and its staff. You can have your staff use it on their smartphones or their desktops, whichever suits them best!
Transferring calls within a business is quick and easy with Aircall as you can save your users numbers under their names or departments in the app. Once you save any important numbers in your virtual call centre and transfer calls anywhere - even across the globe!
When you need to pass a call along simply click transfer > the person's name and the call will be sent off to their device. You won't keep people waiting or on hold until someone gets back to their desk to take a call. Your phone can come with you during your workday so you'll never miss a beat.
Call routing allows you to assign certain types of calls to specific team members by customising your distribution and setting 'ring rules'. For example, certain client calls can be automatically assigned to their respective account manager.
Another helpful way to direct calls to the right person is through the Interactive Voice Response (IVR) smart directories. It's the classic "press 1 for…" kind of prompt that you get from almost every service-based company, but it works. Plus, you can make it as dull or as fun as you want it to be!
Call conferencing is a great way to skyrocket your productivity. Instead of making a mental note to ask someone about that thing you talked about in that phone call, you can just add them into the call with you. This is great for meetings as you can have up to 5 people on the call.
You can instantly create toll-free numbers with your local area or country code to keep your personal and business life separate. You don't want to make the mistake of giving your personal number out to clients or staff, trust us!
When using Aircall, your incoming business calls will look different from your personal calls, so you can prioritise them. This also means that you can choose not to answer business calls outside of office hours instead of being deceived by unknown numbers. If you're in a meeting or OOO and can't take calls, simply set your Aircall to auto or unavailable.
Possibly the most helpful feature to help separate your home life from your work life is the set business hours on Aircall. You can set the available business hours in the app so that your phones close outside of 9-5 hours, for example.
Convinced yet?
In one last attempt to get you excited about our friends at Aircall, let's talk integrations.
Integrations
Aircall integrates with almost all of the best business based software available. For example, our Aircall is integrated with our teams Slack so everyone can see when the phone lines are opened, closed and when calls have come in, in real time. We also integrated Aircall with HubSpot to keep track of caller data during a call and save it to our client records. Aircall can integrate with:
Your CRM software like HubSpot or Zoho to automatically record records you've had with customers and prospects. No more manual call logging!
Your support platform like Zendesk or Freshdesk to automatically show history with a customer
Zapier, so you can integrate with other platforms as you need.
Shopify or BigCommerce to get order information about your customer in the Aircall app while you're on the phone.
Re:amaze to keep your customer service team well informed while they're on a call.
Integrations are very beneficial to business owners who want to streamline their outward communications and keep staff accountable for their calls.
Talk To The Refuel Team
Refuel are Bronze Aircall partners which means we use this software every day and love it enough that we lend our services to helping other businesses get involved. If you're curious to learn more about Aircall or need help setting it up - you can book a free exploratory call with us. We're more than happy to give you some extra insight into the amazing-ness that is Aircall.

Written by
Alessia Marrapodi
Alessia is Refuel's Marketing Content Writer.