7 Easter marketing tips to boost sales
Sam Hutchinson
15 March 2023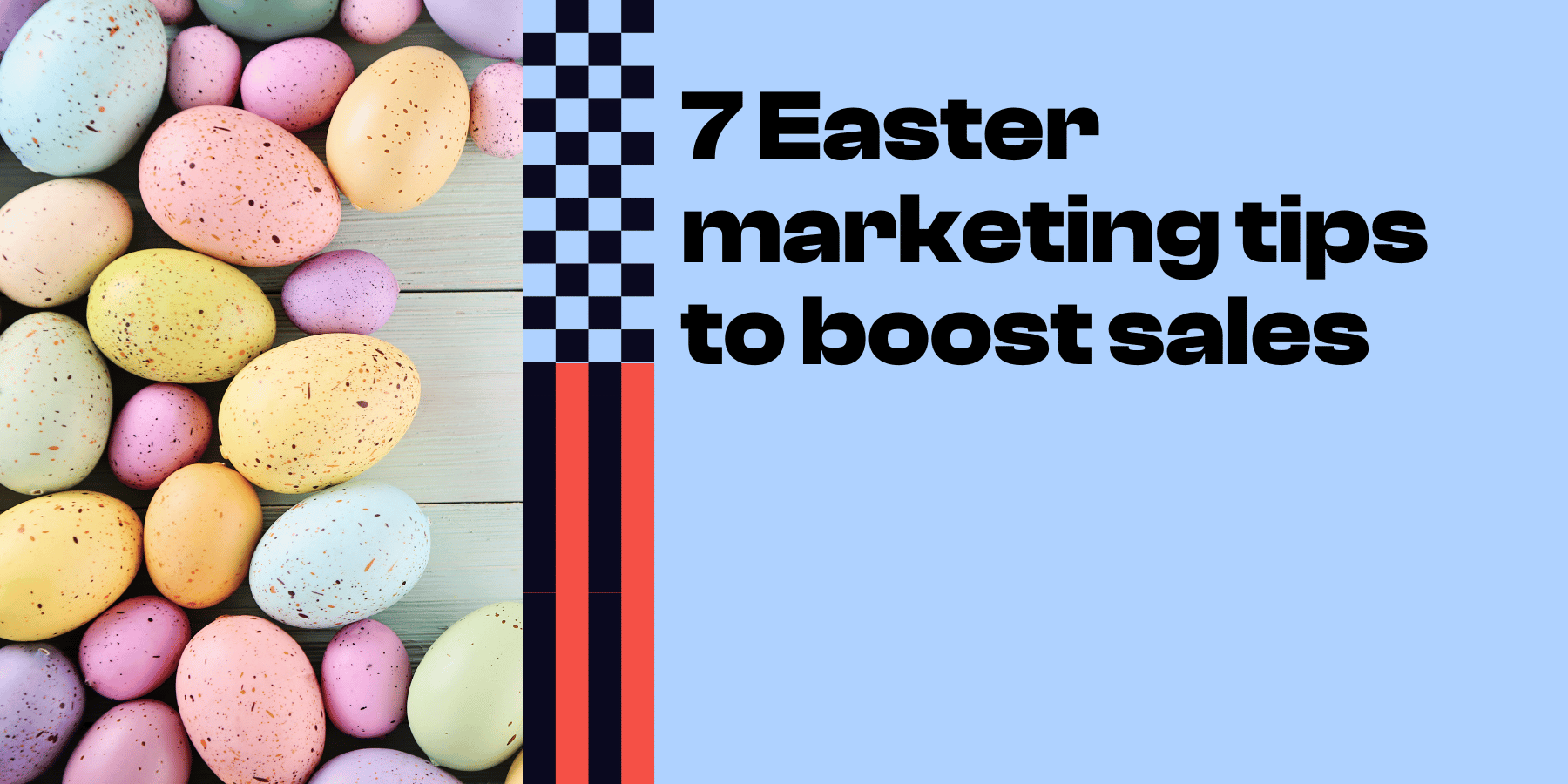 It's almost Easter time, but it takes longer than three days to get your Easter marketing on track to resurrect sales.
As Easter approaches, businesses everywhere are gearing up for the holiday season by launching marketing campaigns that capture the spirit of the season and appeal to their target audience. With so many brands vying for attention, it can be challenging to stand out from the crowd and create a campaign that truly resonates with your audience.
That's why we've put together this list of the top 7 Easter marketing ideas to help you get inspired and make the most of the holiday. Whether you're a small business owner or a marketing professional, these ideas are designed to help you connect with your audience and drive sales during the Easter season.
From creating eye-catching social media campaigns to launching email marketing campaigns that deliver results, we've got you covered.
Easter promotion
While Easter may not be as big of a holiday as Christmas, it's still a great time to offer exclusive promotions that encourage sales and increase profits. The key is to create an Easter campaign that resonates with your customers.
Have you considered offering seasonal promotions? Customers are always on the lookout for a good deal, so why not capitalise on that by offering promo codes and discounts when they sign up on your website? This not only helps to expand your email list but also increases the chances of converting leads into sales.
It's important to make your offers visually engaging as well. Use eye-catching graphics and designs that will catch the attention of potential customers and encourage them to take advantage of your Easter promotions. After all, who doesn't love a good deal during the holiday season?
Change up your website
Websites serve as the virtual home of your business, and they're an ideal place to host Easter marketing campaigns. Your company has more control over its website, making it one of the easiest places to go all out on for Easter.
The first step in using websites for Easter promotion ideas is to gather all the necessary assets. From the home page to specialised landing pages and purchase "thank you" messages, everything can be adorned with spring colours and Easter eggs. However, proper planning is essential to ensure everything matches.
Creating Easter assets yourself can be time-consuming. If you're pressed for time, outsourcing asset creation to a virtual assistant or graphic design professionals could be a great way to save time.
Once you have the Easter marketing campaign assets, you need to schedule the launch carefully. Updating websites takes time, and you don't want customers to visit an unfinished website. Schedule the launch during the time of day when your website sees the least traffic or set up the website assets beforehand and redirect the links.
Competitions or giveaways
Feel-good Easter marketing ideas often include giveaways, and you can leverage a combination of social media, direct mail, and email to your advantage. This strategy allows you to reach a wide range of existing and potential customers across multiple platforms. Hosting an interactive Easter giveaway with special prizes can help boost your brand awareness, attract followers, and gain insight into your customers' preferences.
Some ideas for prizes include a box of chocolate Easter eggs, an Easter egg decoration kit, chocolate bunnies, candy, and special Easter gift cards. Hosting a virtual Easter egg hunt is also a fun way to kick off a giveaway and generate excitement among customers without requiring them to spend any money.
Additionally, you could create an Easter basket filled with your products and traditional Easter gifts. Select some of your best-selling items from your business as the giveaway prize and add Easter eggs for an extra touch.
User generated content
It's crucial to recognise the significance of customer relationships for both local businesses and multinational corporations. Cultivating and nurturing these connections is essential and based on customer loyalty, trust, and authenticity.
Moreover, user-generated content (UGC) is an excellent method of showcasing authenticity. Integrating social media posts with UGC caters to a specific niche and provides an incredible way of demonstrating your business's authentic nature.
You can leverage holidays and special events to advertise and interact with your customers via social media, which helps to foster rapport. It's vital to have a prominent social media presence where your brand can be shared and seen in an authentic environment. Being visible on platforms like Facebook, Twitter, TikTok, and Instagram leads to increased engagement and holiday sales.
By infusing Easter's themes and traditions with your business and social media, you can capitalise on the excitement of the day. However, remember that the most crucial part of your Easter campaign is the prize. Gift baskets, gift cards, chocolate eggs, and other Easter-related items make excellent prizes for your Easter promotions.
To maximise your lead generation, share a direct link to your Easter contest on your social media platforms. This will undoubtedly help you convert your followers into actual leads.
Easter email campaign
Email marketing is still one of the most effective marketing channels in 2023. It's versatile, multipurpose, and easy to personalise. Plus, customers choose to participate in this channel, which makes them invested.
Regular email newsletters may be a mainstay of your business. In the case of Easter email marketing campaigns, you can up the frequency of your emails as you would for other sales periods. You can also create more Easter-style branding, special subscriber links, update your email signature, and more.
Easter social media campaign
Just like your website, you can add Easter elements to your cover photos, profile pictures, and posts on social media. Additionally, you can direct your Easter promotions to all users on the platform, not just your audience.
Most social media platforms offer a post-scheduling feature that allows you to plan campaigns well in advance. By doing so, your Easter campaign idea will require less attention during the busy Easter season.
Easter PPC marketing
PPC, or Pay-Per-Click, is a form of digital advertising that targets specific customer personas by using specific demographics and keywords. Unlike targeting your existing audience, PPC is aimed at reaching new potential customers. It is often the starting point for many marketing funnels.
When strategising Easter marketing ideas, adjusting your PPC spending can greatly impact your success. Prior to the Easter season, it's a good idea to compile or commission a list of Easter-related keywords in your niche. Analysing this list can help you identify the best keywords to use in your campaigns, potentially leading to a higher return on investment.
These Easter-related keywords can also serve as inspiration for your Easter campaign ideas. For instance, if the Easter egg hunt is more popular than the Easter sale in your industry, you might want to consider creating a marketing campaign focused on that topic.
Need marketing support?
As a small business owner or sole marketer, running a full marketing campaign can be a real challenge. Check out the blog below to see if your business could be improved by working with a marketing agency.