This big Meta targeting feature has disappeared
Sam Hutchinson
26 May 2023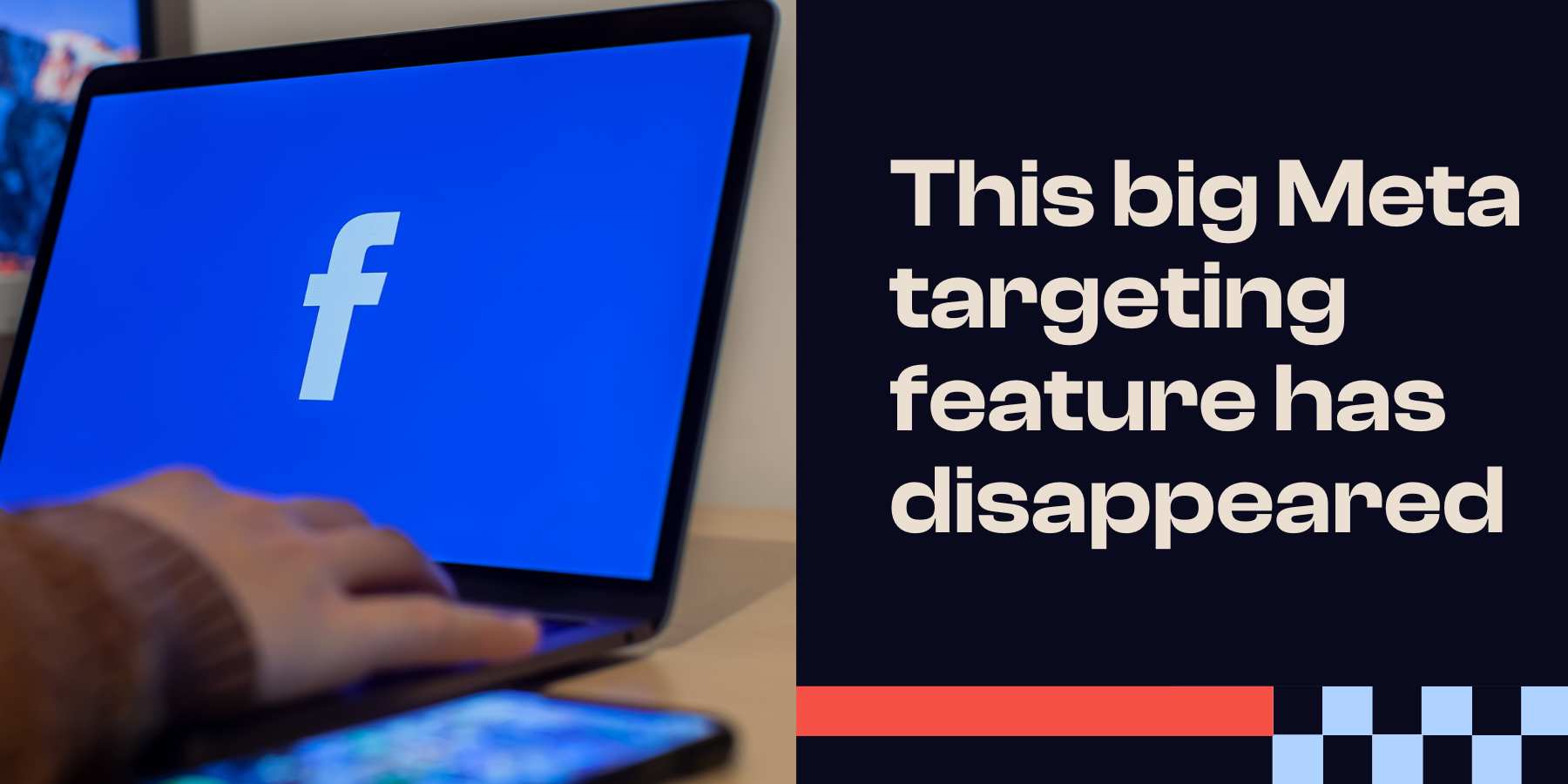 Meta have changed how their location targeting works for Meta Ads. From now on, you will no longer be able to limit location targeting to just people living in a certain area or people travelling in a certain location.
In this blog, we're going to dive into the changes, explain how things used to be, and why this matters for businesses across the globe.
The good old days
You may be one of the lucky few to still have access to this feature, but if not, let's take a quick walk down memory lane.
When it came to targeting locations, the default option was "Living in or recently in this location." This meant that if you didn't make any changes to the drop-down menu, your ads would reach people who either currently reside in the selected locations or have recently visited them, even if it's not their permanent home.
However, you had the flexibility to choose from a total of four options:
People living in or recently in this location
People living in this location
People recently in this location
People travelling in this location
These options allowed you to fine-tune your targeting based on specific location parameters and reach the audience that aligns best with your campaign objectives.
The less good present days
This is one of those aspects that often goes unnoticed by many advertisers. However, it's important to pay attention to location targeting, especially if you have specific preferences.
Now, the dropdown menu has been replaced, and it only displays "Living in or recently in this location." It's evident that this is the sole option available, and the other choices for location targeting have been removed. This update simplifies the process, eliminating the need to select a specific type of location targeting.
Interestingly, I couldn't find any exceptions mentioned for campaign objectives or optimisation. The campaign objective plays a significant role in your Facebook ad, impacting various options, including optimisation and delivery.
It's essential for advertisers to stay informed about these updates to ensure they adapt their strategies accordingly.
Why this change matters
For many advertisers, this change may seem inconsequential, and some may not have even been aware of this option.
However, it's important to acknowledge that this change can have significant implications in certain scenarios. Let's explore a few key cases where this change becomes relevant:
Shipping limitations
If your business is restricted to shipping within a specific location, such as the US, targeting people who were "recently in" that location may lead to wasted ad spend on individuals who recently visited but aren't eligible for shipping.
Politics, government, and schools
Consider topics that hold significance for residents only, like voting for local officials or enrolling children in local schools. Paying to reach individuals who are visiting a city but lack the relevant residency context would be an inefficient allocation of your advertising budget.
Homeowner services
Many service-based businesses cater exclusively to local residents. Visitors wouldn't typically require services such as roofing, plumbing, painting, or flooring. It's crucial to target only those who reside in a specific area to ensure your marketing efforts are reaching the right audience.
Tourism
If your business caters to tourists, you likely relied on the "Travelling in this location" targeting option. However, with the removal of other location targeting options, you may now be forced to reach everyone who is in the area or was recently there, including locals who may not be your target audience. This can impact the effectiveness of your advertising efforts.
Why did Meta make the change?
In the absence of an official statement, we can only speculate on the reasons behind this change. Here are a few possible explanations:
Low usage
While it's true that some advertisers utilised this feature, Meta has a history of removing features that are only used by a minority of users (as seen with the removal of the Inspect Tool and Conditional Formatting). It's possible that the usage of this specific location targeting option was relatively low.
Privacy concerns
There could be concerns regarding the perception of advertisers being able to target individuals based on their immediate location rather than relying solely on the information provided in their profile, such as their home city. Given the ongoing scrutiny that Meta faces regarding privacy, this change may align with their efforts to address these concerns.
Algorithm optimisation
It's plausible that we might be overthinking this change. Similar to how broad targeting can sometimes yield better results than targeting by specific interests or lookalike audiences, the algorithm could be designed to figure out the most relevant audience based on various signals. While you may no longer have the ability to explicitly target local residents, the algorithm may adapt and recognise the importance of this characteristic for your ad's performance. However, you may not have visibility into the algorithm's optimization process.
In reality, it could be a combination of these three factors that influenced the removal of this location targeting option.
How will this affect current campaigns?
Any currently active ad set that customises location targeting should be unaffected by this change. However, if you duplicate such an ad set, the new one will adopt the new location settings without a drop-down menu. Additionally, any new ad set you create will automatically reflect the new method.
Presumably, there will be a deadline for existing campaigns that utilise the old location targeting method. This is typically how similar changes have been implemented in the past. For now, everything should continue running smoothly, but it's likely that ad sets using the old method will cease to function unless updated to the "Living in or recently in" option by a specific date.
This doesn't necessarily mean you need to rush and make immediate changes. However, it's crucial to be aware of this potential requirement and stay informed. If this is indeed the case, I'm confident that Meta will provide an official update at some point in the future.
Need support with your Meta ads?
The world of Meta advertising is constantly evolving and it can be hard to keep up to date with every change Meta makes.
As Meta Partners, we're here to keep all of our clients in first place with their Meta advertising, regardless of any changes made on the platform.
Learn more about our Meta ad services in the link below.