Essential consumer trends in 2023
Sam Hutchinson
24 February 2023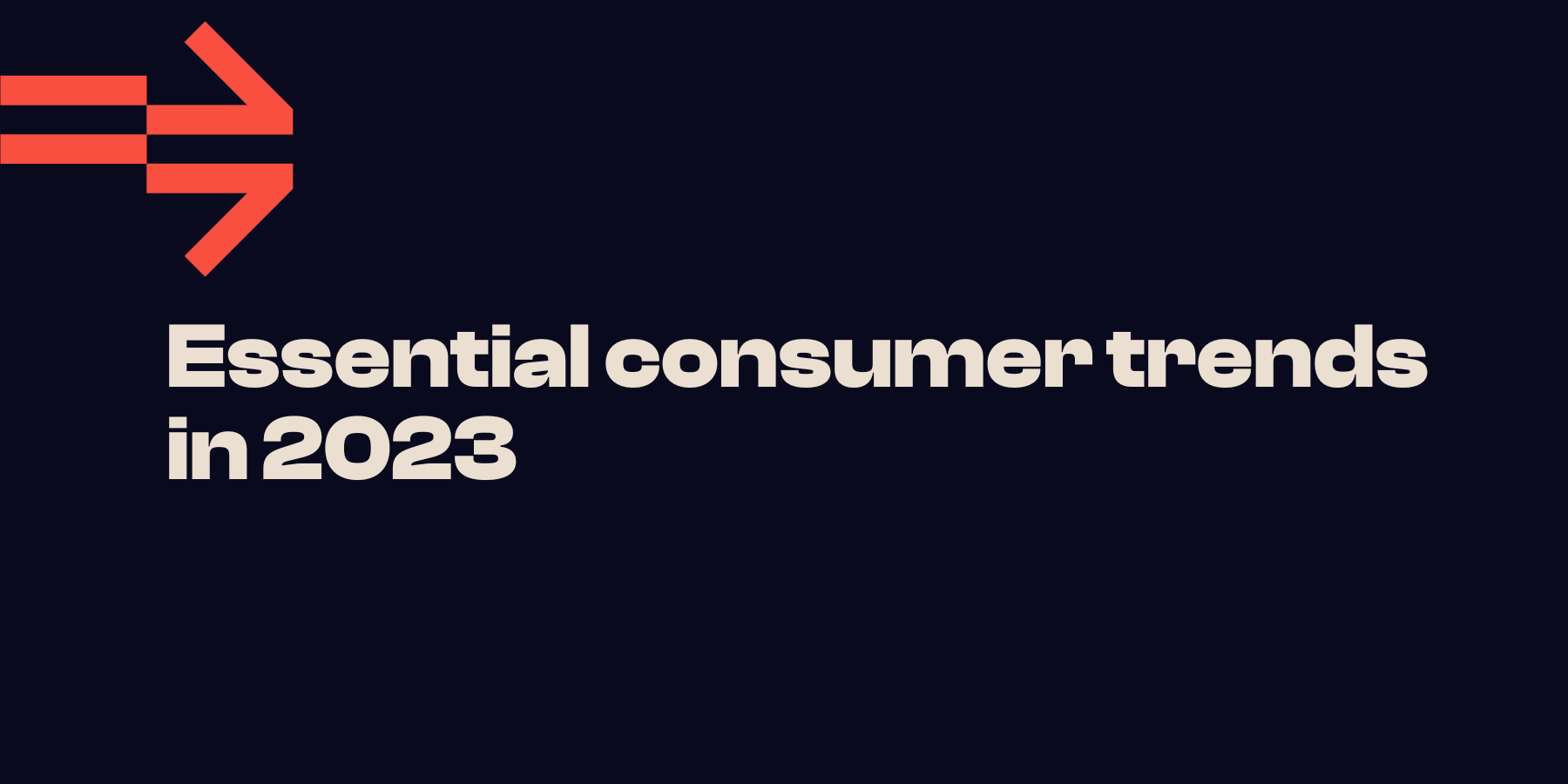 Rising inflation is affecting how we shop, not just in Australia, but across the world.
As customers continue to grapple with the cost of living crisis amidst the highest inflation rates in 40 years, they have opted to adopt new tactics in an effort to, not only save money, but also choose where they actually do their business.
To continue attracting customers onto your websites or into your store, you'll have to adjust and adapt to the current landscape.
In other words, your marketing must change to match the impact of inflation on consumer spending.
How does the perception of inflation affect people's buying behavior?
According to recent research from Yahoo, inflation has had a huge impact on how people do their shopping on a regular basis.
Consumers are noticing a rise in prices across the board, but especially when shopping for gas, meat, and other food items.
94% food items
96% Fuel
92% meat, poultry, and fish
89% household utilities
88% household items
85% travel
83% restaurants
82% insurance & financial services
79% cars and trucks
90% housing (prices & interest rates)
76% clothing, shoes, etc.
76% consumer electronics
As a result, a majority of consumers are already taking steps to respond to inflationary pressures, from purchasing less of certain items to switching to lower-priced options. Yahoo estimates that:
78% are purchasing less of certain items
65% are switching to cheaper brands /stores
58% are holding off on buying certain items
39% are looking for more coupons and deals
Euromonitor reports that the cost-of-living crisis is hurting consumers' purchasing power, with saving money being their top priority. According to a survey, 75% of consumers in 2022 did not plan to increase their overall spending, while 21% would increase their purchase of store brands, and 31% would visit discount stores more often.
Euromonitor suggests businesses should develop solutions that help customers save money, such as payment plans like buy now, pay later, rewards programs, and expanding existing perks.
While trading down to private label products and discounters may hurt some categories, alternative payment methods and affordable assortments can help expand the customer base and stay competitive.
How should businesses respond to consumers' perception of inflation?
Marketing shouldn't stand still.
Your target audience's needs are always changing, as are the platforms and devices they're using to interact with your business. As a result, you need to always be on top of the latest trends and make sure changes to your marketing efforts don't fall behind your competitors. In today's online-first world, if your competitors jump onto online shopping trends of 2023 before you, then it's super easy for customers to make that switch.
So, how do you adapt to inflation rises so you can keep attracting new customers (and keep the old ones coming back)?
To determine how your marketing should change, we first need to determine how consumers are interacting with brands today. The latest stats according to Yahoo show that:
48%: Used coupons, deals, promotions while shopping
35%: Joined a loyalty program for discounts
34%: Searched for alternatives online
27%: Saw lower cost brand online and looked in-store
27%: Noticed ads in-store and made a purchase
21%: Clicked on online ads offering a discount
13%: Scanned QR codes to get coupons
12%: Used Subscribe & Save options to get savings
With these stats in mind, marketers and advertisers have an opportunity take this information and use it in their marketing and sales strategy. Brands can experiment with ad messaging and frequency targeting strategies to accommodate shifts in purchase behaviour, hold on to share of voice, and maximize ROI.
Other consumer habits in 2023
While Inflation is going to be a big factor in how people shop this year, it isn't the only big consumer trend of 2023.
Here's a few more important consumer trends to keep an eye on for your marketing in 2023.
Gen Z marketing
Let's talk about Gen Z, the young and disruptive generation that's making waves in the world of advertising. Gen Z are all about putting themselves out there and standing up for what they believe in. They're resistant to traditional advertising and they want brands to be authentic and socially conscious.
According to Euromonitor, a whopping 30% of Gen Z consumers base their purchase decisions on a brand's social and political beliefs. And get this - 24% will even boycott brands that don't align with their values. It's clear that authenticity and social impact are more important than ever when it comes to marketing to this generation.
As Euromonitor points out, your brand story is what will sell. But it's not just about what you say - it's about what you do. Empty promises or staying silent on social causes can seriously damage your reputation. If you want to win over Gen Z, you need to show them that you're committed to making a difference in the world. That's what builds trust, and that's what will keep them coming back for more.
Buy now, pay later
These days, "sparking joy" has become a major motivator for people when it comes to making purchases. That doesn't mean they're being irresponsible with their money, though. Consumers are still focused on financial responsibility, but they're taking a short-term approach to buying discretionary items.
Retailers that offer flexible solutions are more likely to win over shoppers and expand their purchasing power. One popular option is "buy now, pay later" programs, which saw a lending value of $156 billion last year alone.
Loyalty programs are another way to ease the financial burden on consumers. According to Euromonitor, 63% of shoppers participate in these programs to get discounts and special offers. Another 42% join to earn free products, while 40% want access to exclusive member benefits.
The key to success in this landscape, as Euromonitor points out, is to target consumers at the right time with the right message. By tracking shopping and browsing trends, you can tailor your promotions and communications in real time. Meeting consumers where they are - in the moment - is what will keep your brand top of mind and help you stay ahead of the competition.
The green dollar bill
According to Euromonitor, consumers are increasingly focused on reducing their consumption rather than acquiring more. In 2022, 55% of consumers took action to reduce their food waste, while 43% focused on reducing their energy consumption. As the cost of living continues to increase, this trend toward sustainable behaviour is expected to continue. Consumers are likely to keep seeking out energy-saving products, limiting travel, eating at home, and reducing their use of appliances.
In 2023, businesses can set themselves apart from their competitors by adopting eco-friendly packaging, utilising innovative recycling methods, and investing in renewable energy sources.
Need more marketing tips?
The Refuel team is on the cutting edge of modern marketing. We're always looking to the future to find new and innovative ways to keep our clients ahead of the marketing curve.
If you want to learn about the sharpest, freshest trends in marketing, subscribe to the Refuel blog in the link below.