Debunking the big 6 TikTok business myths
Sam Hutchinson
04 November 2022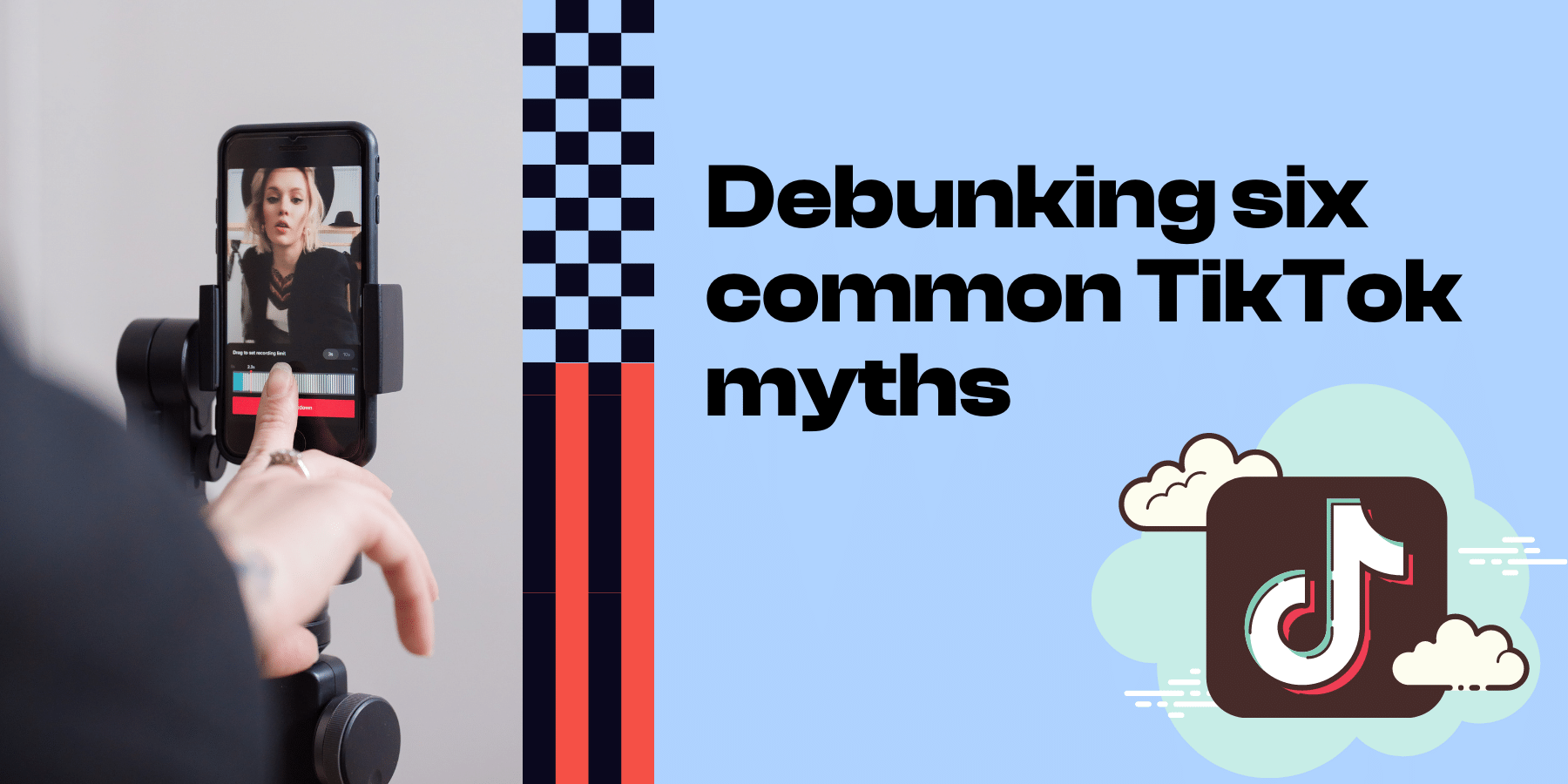 TikTok is one of the most popular apps in the world. Initially released in 2016 in the aftermath of Musical.ly, the app has found success where both the aforementioned and Vine had failed.
Due to the nature of the app and the perceived audience, some people may be led to think that TikTok ads or TikTok for business aren't really ideas that are worth pursuing.
While some may think that TikTok isn't a worthwhile avenue for their business, there are several widespread myths surrounding the app that may be influencing their decisions.
In this blog, we'll dive into six of the biggest TikTok myths and break them down to show you why you should consider TikTok as a marketing platform.
TikTok's only for dancing and lip-syncing videos
While dancing and lip-syncing videos are indeed popular on TikTok, the content is far more diverse today. As TikTok's audience expanded and increased in diversity, so did the platform's content.
Today, you can find almost anything you want on TikTok; beauty tutorials, cooking tutorials, life hacks (to varying degrees of success), and pet videos are some of the most popular videos on the platform.
While most of the content on TikTok is from individual users, brands and larger companies are jumping onboard and achieving success. Woolworths, DuoLingo, and Red Bull are all examples of brands finding success on the platform with unique, entertaining content.
TikTok's audience is too young
TikTok is one of the most popular apps among Generation Z. But brands often think it's just for teens and young millennials. In reality, there are over 200 million monthly active users worldwide, and half of those are ages 35 and older.
In addition, people use TikTok across age groups. For example, 40% of Millennial users visited the app within the last 30 days. And nearly one third of Gen X-ers did, too. These figures show how TikTok is growing up.
TikTok is only for 'funny' brands
Generally, brands who are known to 'do well' on TikTok usually fall on the quirkier side. They jump onto trends and give their brand a unique, fresh personality that's up-to-date with all the trends and memes currently taking the internet by storm.
However, if your brand personality edges on the more serious side, there is still a niche for you to carve out on TikTok.
Just because something is entertaining, doesn't mean it has to be funny or quirky. For instance, TLDRNews is an account that shares updates in the world of politics and news across the globe. The nature of the topics generally means that they are unable to make cheeky gags about the latest happenings across the world. Instead, they condense their information so that it remains snappy, easy to digest, and is presented in an entertaining manner.
When it comes to TikTok, you should be sharing content that is engaging and provides value. Regardless of your brand, these are two qualities you should be able to achieve.
You need to have a following to get views
On TikTok, anyone can become a star. In fact, you don't even need many followers to do well. A study found that people with just 10,000 followers could still rack up over 50 million views. But how did they manage to achieve such success?
The answer lies in the algorithm. TikTok uses an "influencer discovery" algorithm that finds users who are similar to the creator. This helps the creators find influencers who may enjoy their videos. Once the creators send out a request, the algorithm sends the video to those users' feeds.
This method allows the creators to reach a large audience very quickly, without having to spend a lot of money. And because there aren't many restrictions, there are no limits on what kinds of videos can be uploaded, either.
Shorter videos mean less engagement
TikTok isn't just popular because it allows you to make funny memes and lip sync dance routines. It's also one of the most addictive apps out there. Users in the United States spend an average of eight hours per week watching video clips on the platform. And while many people think that the short length of the videos makes the platform less engaging, the opposite is true.
In reality, TikTok has an extremely high user retention rate – over 90% of users return within 30 days. This means that users come back every single day to watch more videos. Furthermore, the average user spends about 10.85 minutes on the app each time they log in. So while some might think that users aren't spending enough time on the platform, they actually do.
TikTok will fall like Vine
TikTok isn't just another app; it's the most popular mobile app in the world. With over 700 million downloads, TikTok is the second most downloaded free application globally behind Facebook Messenger. In fact, according to Sensor Tower data, TikTok is now the third largest global social network, surpassing even Instagram.
This makes sense given that TikTok is primarily used for creating short videos. And while some people are calling TikTok a "fad," there's no denying that the content being produced on the platform is incredibly entertaining.
Of course, just because a platform is popular today does not mean it will continue to be popular. We've seen social media empires collapse in the past, from MySpace to Google+. However, while TikTok might collapse in the future this might be due to other social media platforms rather than the decline of the demand for the content.
Snapchat was dominant in the photo and short video sharing niche for several years, but this popularity was overshadowed when Instagram introduced several new features that mirrored Snapchat, such as expiring photos and stories. The decline of Snapchat among certain groups wasn't due to a decline in the popularity of its services; it was due to Instagram offering these services and, arguably, improving upon them.
The story of Snapchat tells us something about the potential decline of TikTok. Even if TikTok does go the way of the dodo, the demand for short-form, snappy, and entertaining content that's easy to digest on mobile isn't going anywhere. If TikTok falls, it will be due to Instagram, Facebook, Twitter, or YouTube or a new player taking a stronger position in the market.
So, while the audience may jump to another platform in the future, you still need to be making content for your viewers and if they're on TikTok at the moment, you should be too.
To sum up
The world of marketing and advertising is constantly evolving. TikTok advertising in Australia is another example of where modern businesses should be looking to engage with and expand their target audience.
For the modern marketing agency, TikTok is another avenue that allows businesses to connect with their target audience.
Whether you're a small business or a larger organisation, a TikTok marketing strategy can help engage current customers and introduce new leads.
If you need help with TikTok, or video marketing in general, reach out to our team for more information today.