7 Corporate Video Marketing Ideas
Ryan Jones
21 January 2020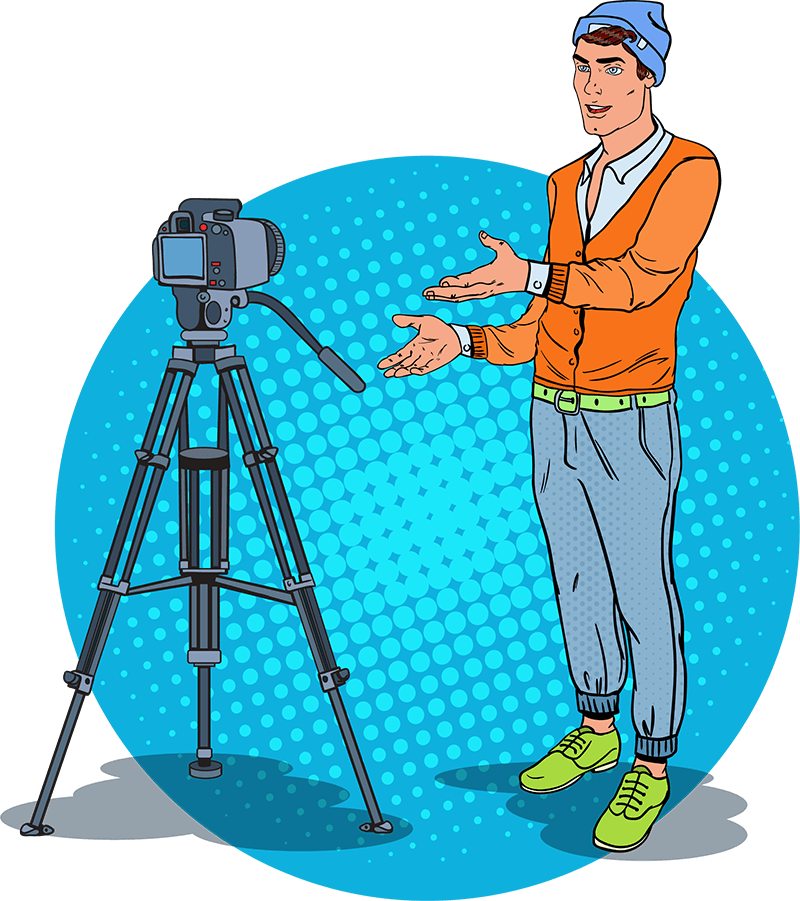 If I had a dollar for every time someone told me their work was too boring to make videos for, I'd be a trillionaire. It can be difficult to think of engaging marketing campaigns while staying on brand. It doesn't seem like professionalism and creativity mesh well together.
But that couldn't be farther from the truth. Companies are moving away from sterile campaigns to align with current customer expectations. People are leaning more towards taking a more personable approach to their marketing.
Video content has the best reach and engagement across digital marketing platforms. 51% of marketers worldwide say video is the content type with the best ROI!
The catch is that you need interesting content to develop an engaged audience. Video allows you to use humour, humility, and imagination to share knowledge in a captivating way to promote your company. You need high quality marketing videos to achieve this.
There's a big difference between advertising and marketing when it comes to video. The aim here isn't to create an overproduced TV ad. We want to make engaging content to expand your audience. If you're looking for casual corporate video ideas to help you achieve more reach on socials, you've found them!
If you're looking for video marketing services, you've also come to the right place for that! Our fantastic team works together to develop a video content marketing strategy and the right content you need. Learn more about our video services here.
Introduce your team
Depending on the size of your business, this may not be an easy task, but anything is possible! One thing that the public rarely sees is the people behind a company and how they contribute to it. Humans are nosey, and we generally find insider information intriguing, especially if we're already a fan of the business.
This can be as simple as asking team members about their roles on camera. This is especially true if you're a not-for-profit or people-centric business. Your social audience and potential customers will want to know that they can trust you.
The most popular content on our website and social media is always the video clips that feature our team.
You can also incorporate humour and ask your team about the business as a whole and why they enjoy working there. You'll never get a negative response when you show that you nurture a happy working environment.
For many people, the businesses they support must treat their staff well. Like this video from the team at Dropbox. Even though most organisations don't have the budget for puppets, this is a great way to introduce the team. It doesn't exclude camera-shy people and uses a friendly approach.
It's nice to highlight the people that keep your business afloat and show them that they're appreciated.
Share your values
Most established businesses will have a set of values that encaptures team spirit.
This is something that can translate well into a video format. It's pretty easy to throw together an interview-style video!
Ask leaders or staff within your business about the team values and their significance on camera. This can highlight your company culture and humanise your marketing efforts. It is also a useful tool to promote how great your workplace is. I see no downside here!
BigCommerce did a great job of speaking about their values in a way that shows their genuine connection as a team.
Make videos to support blog posts
Here at Refuel, blogs are a significant contributor to getting web traffic through SEO. We jazz them up with GIFs and memes and ideally try to put a video in where we can. 80% of marketers say video has increased their dwell time, which is great for blogging!
If your business puts out a blog post, you can create a video to go with it. Highlight the points with imagery or captions and you have yourself a quick marketing video.
We are even seeing blogs and web pages with embedded videos getting the best search rankings.
Day in the life
There is no harm in going full vlog-style in the office and showing what your team does in a day! We already know that people enjoy this kind of content and watch it on platforms like YouTube, Facebook and even LinkedIn. So why can't businesses take advantage of this popular video style? (Make sure your staff consent to having their daily activities filmed)
Have fun with it! Take your camera around the office to snoop on your staff, ask them questions and have a joke around. Like this vlog from Avalanche Enterprise.
Highlight your team wins
If someone in your office does something remarkable or your team has achieved a new goal, capture that moment on camera! There's no shame in sharing the great work your business is doing. This can even include:
attending networking events
winning awards
acquiring new partnerships
even something as simple as a staff birthday.
Explainer
Not everyone knows what your business does. Most people will be completely unaware that it even exists unless you're Apple. But if you were Apple, you wouldn't be reading this blog. 83% of businesses say that a homepage explainer video is highly effective!
Explainer videos are a super simple way to summarise what your business does and the products or services you provide. They're an alternative to advertising a single product or service which doesn't say much about who you are.
You can highlight:
your corporate social responsibility initiatives
how your products work and their benefits
promote your business to the public.
Separate yourselves from your competitors by addressing points that you a better choice. Don't limit your business by defining yourself based on product quality or excellent customer service like many others do.
Live videos & webinars
Many corporations have information worth sharing but no budget to host an event to spread the message. Free platforms like Facebook, YouTube and Instagram allow you to host live videos to your audience. Use this to your advantage and discuss whichever topics you please. Your audience can interact through comments and will receive a notification when your page is live streaming.
If speakers join in from around the world, it's best to use a reliable webinar platform. These platforms are suitable to host scheduled events where you want to address a specific audience. You can invite people to attend at a particular time like you would an in-person event. You can even make it a closed seminar if you'd prefer to speak to a specific audience.
Best Video Marketing Tools (In Our Opinion)
TwentyThree is a one-stop-shop for everything video marketing related. You upload and edit your videos in the program and embed them straight from there. Embed them on your website or link them on your socials with the click of a button!
This allows you to keep track of your engagement analytics inside of TwentyThree. It also has a webinar tool built to host multiple speakers from any location. Your audience can chat with each other and ask questions to the speakers throughout the live feed. Best of all, there are no plugins or programs to download - your webinar is all in the browser.
The benefit of using a platform like TwentyThree is integrating it with your other marketing efforts. With TwentyThree, you can:
Show ads on Facebook or Google to people who have watched your videos
Send emails with further information after someone watches your videos
Alert salespeople when a prospect is on your website watching your demo
This is a small sample of the actions you can take when you integrate TwentyThree with HubSpot or Marketo. You can automate a range of actions and follow-ups based on the way visitors interact with your videos.
Refuel are Gold HubSpot partners and TwentyThree partners, so we know these platforms pretty well. Give us a shout if you would like more information about them!
Vidyard can also integrate with HubSpot and Drift. It has video options for marketing, sales or corporate communications. They have some fun features like interactive videos and instream CTA's, but you can also track their performance.
Vidyard also integrates with Google making it easy to insert videos into emails or documents. Nifty!
Vimeo is another video marketing platform that allows for easy video sharing. It supports live streaming and 360 videos, as well as basic video and sharing capabilities. A bonus is the customisability of videos to match your branding and website design.
If you're looking for something quick and easy, Powtoon can help you create drag and drop animations. These are great if your staff don't want to be in marketing videos, or if you want to create colourful, eye-catching videos that stand out.
Key Takeaways
Video marketing is a successful method for reaching a broad audience
It is easier to achieve higher engagement through video
There are ways to promote your organisation using video without creating an ad
Including your team in your marketing efforts is an easy way to make great content
Video creation doesn't need to be a big budget exercise, anyone can make simple content.
If you're looking for a video marketing agency to help you put in place any of the ideas or platforms we mentioned, the Refuel team are happy to help.
We're experts in all things marketing, including creating powerful videos to fulfil any request! We use the latest tools and tactics paired with our marketing know-how to create compelling content. We also run seminars on how to create powerful online video content to educate participants on how to combine marketing with video.
At Refuel, we produce engaging video marketing campaigns for our clients. We are unique in having our marketers and professional video producers work together to deliver your message. We also use our marketing know-how to show your return on investment.
Want to get started with video marketing?
At Refuel Creative, we understand the value of video and, more importantly - we know how to use video to get you the best campaign results. However, finding and refining those details with a video marketing agency can sometimes be a challenge. That's where we come in!
To help smooth your video journey, we've designed a selection of video marketing plans to suit your business and to help you get the most from your marketing.