What Makes an Effective Video Marketing Campaign?
Carol Cressoni
03 September 2021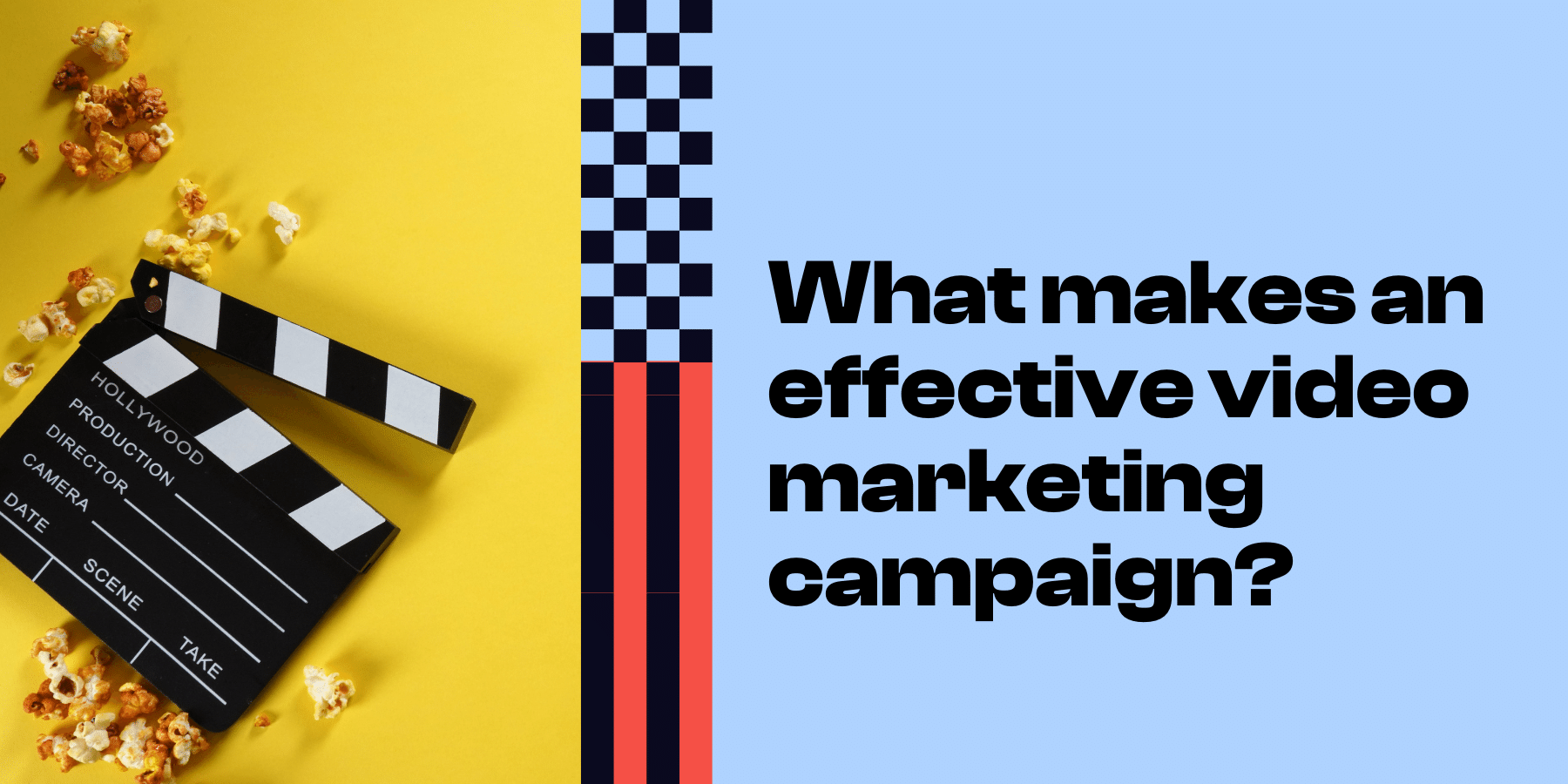 The power of video marketing is undeniable; it's a great way to connect with prospects, build brand awareness and grow remarketing audiences.
We know consumers like video because it's entertaining and easy to digest. Watching a short video is a whole lot easier than wading through reams of text! In fact, it's estimated that by 2022, online videos will make up more than 82% of all consumer internet traffic.
Still not convinced that you need to include video in your marketing strategy? Here are a few compelling reasons why you should:
The average person now spends 100 minutes a day watching online videos.
80% of video marketers say video has directly helped to increase sales.
72% of consumers say they prefer to learn about a product or service through video.
84% of people say they were convinced to buy a product or service by watching a brand's video.
Viewers retain 95% of a message when they watch a video, compared to only 10% when they're reading.


With this in mind, it's vital that you start considering a video marketing campaign today.

Where to start a video marketing campaign?
While you might understand the importance of video marketing, it can be difficult to then deploy a supercharged video marketing strategy straight away.
As with any other marketing campaign, you'll begin by setting your campaign goals. What do you want your videos to do? Considering that many viewers are at the start of their buying journey, a good place to begin would be to create brand awareness.
Before you start shooting, you'll need to choose your video types, pick your platform and carefully plan your content.
Keep in mind that quickly posting a random video does not make a marketing strategy! To reap the benefits, you'll need to set up a publishing schedule. Think of your video campaign as a series - what story can you tell that will enable you to post content over several weeks? The aim is to post regularly and to space out your videos evenly.
Which type of video is best?
Online video ads experience a higher click-through rate than any other digital ad format. This higher rate of engagement is causing more and more marketers to shift their advertising resources towards this marketing tool.
Generally, the five most common types of video used by marketers are:
Promotional videos

are informative and can create brand awareness, or introduce new products or services.

Behind-the-scenes videos give your audience more information on what you do, who you are and how you operate as a company.

How-to videos are educational and demonstrate how a product or service works in a straightforward manner.
| | |
| --- | --- |
| Fun videos are to entertain your audience, and build a sense of community, showing the personality within your team or brand. | Testimonials are reviews of your business or products, and are essential to building trust with your audience. |
Which hosting platforms are best for video campaigns?
There are a wide range of different video hosting platforms you can choose from depending on your target audience and the type of video you're looking to create. As a result, it's crucial you choose the correct hosting platform.
Social media platforms such as Facebook, Instagram, and YouTube will always be tempting propositions, but there are professional video hosting platforms such as TwentyThree that have their own advantages. For more information on the pros and cons of the popular hosting platforms, check out Refuel Creative's blog on the subject here.
What is the ideal length for a marketing video?
First impressions count! You'll have about 5 seconds to hook your viewers after they've pushed play, so your message needs to be short, snappy and to the point.
Consider your audience. Where are they on their buying journey? If your aim is to raise awareness, aim for a video no longer than 2 minutes to gain the most viewer engagement. In instances where you do need a longer video - for example, a how-to-use demonstration - remember that viewers want, above all, to be entertained.
Your content will also need to be informative and easy-to-follow. The good news is that if they can make it past 6 minutes, you'll hardly have any drop-offs in engagement!

What makes a great video?
Right, you're excited and raring to go. But before you start shooting, here are a few pointers to make sure your viewers will love what they see!
Be authentic, relaxed and show your personality.
Focus on stories, not sales.
Connect with your viewers, appeal to their needs and desires.
Keep it short.
Front-load your key message.
Use conversational language; avoid jargon.
Choose a video title that stands out and use relevant keywords, so your video shows up in viewer searches.
Include your URL in your video to gain exposure and direct more traffic to your website.
Just as you would in other content, optimise your video content with calls to action. Video CTAs could include a subscription to your channel, a prompt to like your page, a call to leave a comment, or a prompt to look at more of your content.

Can video be shot using a phone?
Yes! The quality of the average smartphone camera has improved so much that many marketers do. But there's still a certain level of skill required to make sure your video looks professional.
Think about orientation. Generally, it's best to film your content in landscape format; but if you're hoping to post to Instagram or TikTok, vertical formats are vital.
Focus on maintaining your focus area. And make sure there's sufficient light -- remember, viewers want to see. Natural lighting is most flattering, but there are kits available to help create the right light.
It's also important to choose the right setting, preferably one that reflects your brand. And make sure there are no background distractions. Remember, your viewers also need to hear — make sure to shoot in a quiet location and always check sound quality!

Why metrics matter
OK, you've recorded a masterpiece and uploaded it. But, you won't know how well your video is performing without data.
How many views did it get? What were the watch times? How long did viewers stay? How many viewers commented? What is the click-through rate?
If you're posting video on social channels, you can start by checking the in-built metrics. With TwentyThree, for example, you'll be able to see activity at a glance. And you can even break it down by the different platforms your video has been published on. Using a data visualisation tool like Databox will let you create databoards, so you can see emerging trends over time and adjust your content accordingly.
Find a video marketing agency to help
Before you run screaming for the hills, remember to keep it simple. There's no need to overthink the process. However, if you do need help, our team of experts know how to connect with your viewers, tell a great story, and help you to interpret data to ensure your campaign smashes its goals!
To find out more about the potential benefits of a video marketing strategy for your business, chat to us today.
Introducing our Monthly Video Plans 📽
At Refuel Creative, we understand the value of video and, more importantly - we know how to use video to get you the best campaign results. However, finding and refining those details with a video marketing agency can sometimes be a challenge. That's where we come in!
To help smooth your video journey, we've designed a selection of video marketing plans to suit your business and to help you get the most from your marketing.