We're looking for two new additions to our digitally savvy sales team
Ryan Jones
19 January 2022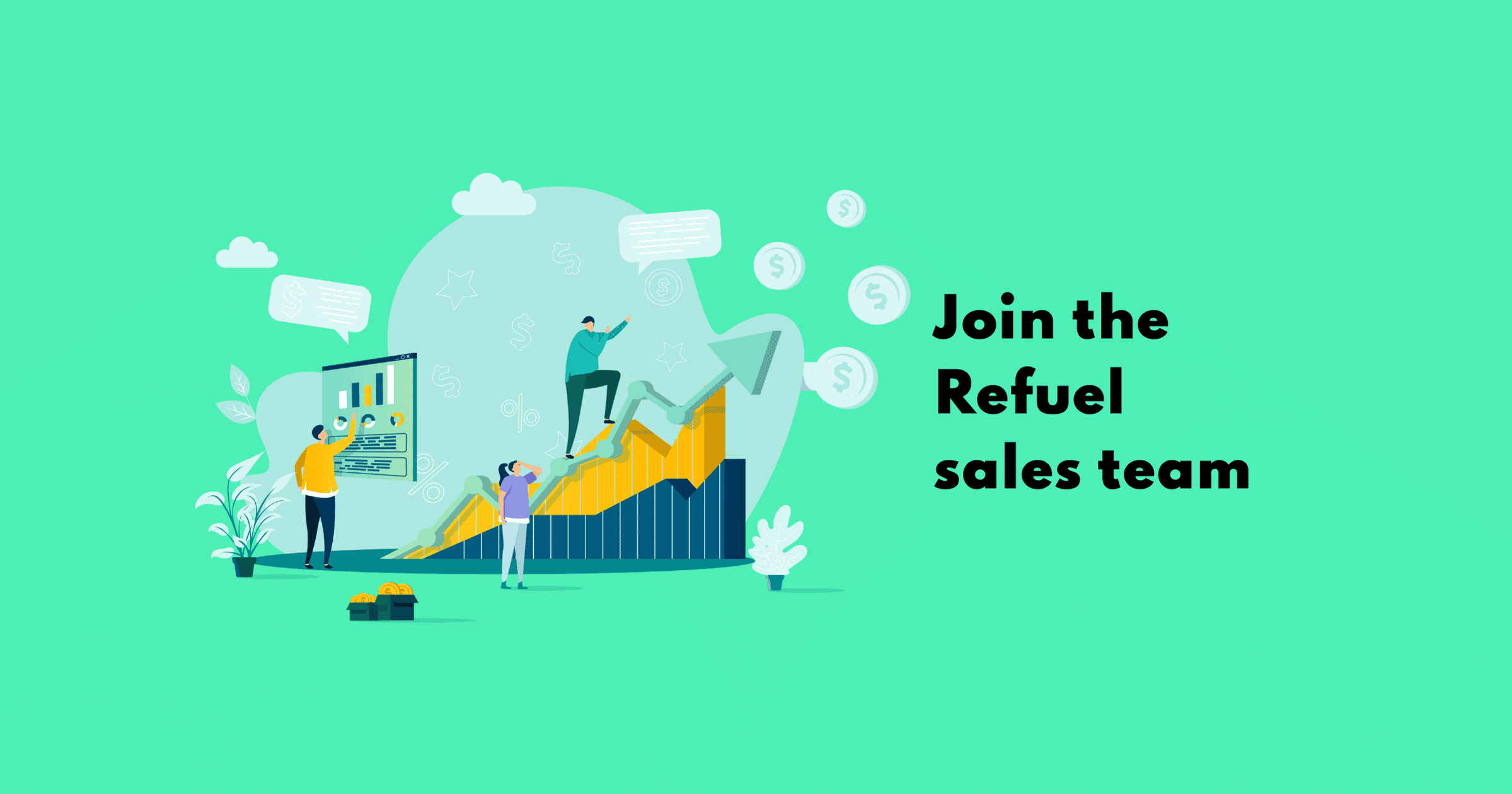 We're kicking off 2022 with a bang, with two new B2B sales and marketing jobs available at Refuel Creative.
We are hiring a Business Development Manager, and an entry-level Business Development Representative. These two roles have different responsibilities but work hand in hand to achieve the goals in our strategic plan.
Digital first sales positions
In 2022, sales need to be done a little differently. The pandemic has forced us all remote, but equally has forced us to find new opportunities to connect. You need to be able to work as effectively over Zoom as you can face to face. Remote sales has been our largest area of growth over the pandemic, and you'll need to be comfortable selling in Adelaide and abroad, face to face and virtually.
At Refuel Creative, you will have an award-winning sales technology stack at your disposal. This is the same technology we sell and recommend to our clients. This helps you work efficiently and crush your KPIs.
You won't be wasting your time on admin, you'll be using our technology to your advantage. This gives you an advantage when selling to potential sales team clients - you're benefiting from the same technology you're selling.
You'll be well-placed to reach more prospects, close more deals, and increase your commission.
Why sales at Refuel Creative?
We do things a bit differently at Refuel, and we want salespeople who can do the same.
At Refuel, you are not just a number. We are on a mission to be the best place to work, and we're invested in helping your career. We want like-minded members on our team. People who are invested in growing with Refuel too.
For an ambitious salesperson, the upside is huge:
Uncapped commissions on services and software. You can drive your own earnings.
We're already doing this! Without a salesperson, we've achieved incredible growth over the last 5 years. This includes being awarded the fastest growing new HubSpot partner in APAC in 2019. Imagine what we can do with the right salespeople to speed up this growth?
Inbound leads. We already have established inbound lead generating pipelines. These leads are waiting to be qualified and converted into clients, making your life easier.
We invest in our people, their training and professional development. If you deliver results, you can and will advance your career here.
Work with our partners, like HubSpot, to develop your sales skills and make our sales process as effective as possible.
A global market. With clients in Australia, the US, UK, Canada, New Zealand and Malaysia, you can enjoy a varied sales role in a range of markets.
An established, award-winning team of marketing professionals at your disposal.
Who do we want for our sales team?
For you to succeed in these roles, you will need:
A high level of digital literacy.
At least basic knowledge of CRM systems like HubSpot.
A drive to succeed and exceed your KPIs.
Alignment with our culture and values.
Experience in outbound sales or B2B sales/business development - 6+ months for a BDR, 3+ years of experience for a BDM.
An ability to close deals as effectively in person in Adelaide as you can over Zoom with interstate and overseas prospects.
A successful track record working with digital marketing and a proven record of success in business development will be highly valued.
What are the digital marketing sales jobs available?
There are two different positions available with different levels of experience.
Business Development Representative
Our entry level sales role is ideal for someone with a bit of experience in sales. Someone who wants to learn prospecting and develop into a more senior role.
As a BDR, your role is to find and engage "good fit" companies through strategic prospecting. Calls, emails, social media, and marketing automation can be used to drive new leads and spark new interest.
You will connect with prospects to learn about their business challenges, determining whether we are a good fit. When you identify a qualified prospect, your goal is to communicate the value of Refuel and gain interest in a deeper conversation with our team.
The KPIs for a Business Development Representative is landing those deeper conversations. You're expected to turn these into at least 8 discovery calls per month. You're also expected to maintain at least 50+ customer touchpoints per day.
An entry level BDR is not expected to close new business, but there are development opportunities towards this goal.
You will be paid a base salary in line with your experience, plus a commission on each discovery call.
This position can be performed in Adelaide, or remote within Australia. We are not currently accepting international candidates for this role.
Read the Business Development Representative position & apply now.
Business Development Manager
Our more senior sales position, the Business Development Manager role is for a more experienced sales or business development professional. You will be leading our sales team at Refuel Creative, and are responsible for achieving our growth goals set out in our strategic plan.
You will be working to close target accounts from our existing lists. You will also meet with and close leads that have been verified by our Business Development Representatives. Your role is designed to provide these prospects with a pain-free sales experience, and close these clients.
This will include taking discovery calls, developing proposals and quoting engagements. Ultimately, you will be helping each prospect understand the value we can provide them.
Likewise, you will need to have compassion and empathy for others. From time to time, you may be required to pitch in to help the team in support of our greater goals. This may include outbound prospecting and other responsibilities of a BDR to achieve your KPIs. We want someone that understands that these activities help you make your commission too, so completes them without fuss.
The KPIs for our Business Development Manager are around total new business generated, and the renewal of this new business.
You will be paid a base salary in line with your experience, plus a commission on successful sales.
We are currently only considering candidates in Adelaide for this role.
Read the Business Development Manager position & apply now.
How do I apply?
You can apply for these positions below. If you want to have a confidential discussion with us about either position, you can book a time here.