New look, same Refuel
Sam Hutchinson
03 August 2022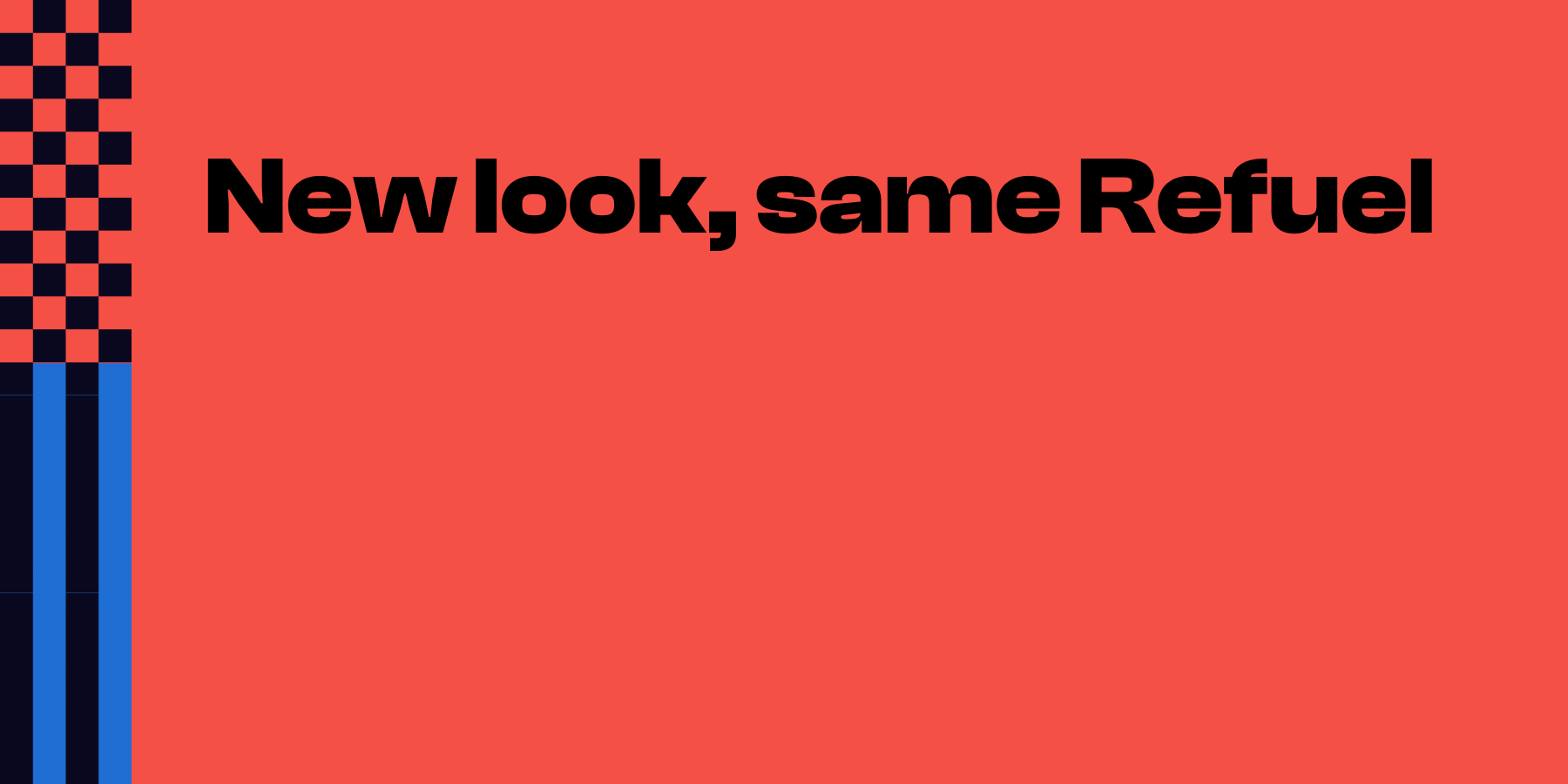 What do you think of our new paint job?

For the past few months, our Refuel team has been hard at work on getting our new brand across the finish line.

We wanted this brand to stand out in a sea of grey, showing our team's personality; but we also wanted it to respect our history.

Here's how and why we developed a new brand.
Why rebrand?
The old Refuel brand was developed with a 'gardener's approach'.

Rather than building a brand from the ground up, we made changes to our brand over time and let it grow organically. While this captured our identity and personality in a way our clients connected with, we felt it was time we updated our brand to capture Refuel in 2022.

When Ryan launched Refuel in 2016, Ryan was the Refuel team. There was no Refuel office and clients were based in Australia, with a couple more in New Zealand.

Today, we're a global digital marketing team of more than 12 people, and we were recently recognised as one of the fastest growing companies in South Australia.

In other words, we've matured as an agency. We needed a brand that captured this maturity and could underpin the next five years of Refuel and beyond.
The brand
Refuel has always had a history with motorsport.

Ryan's passion for motorsport is there for all to see (anyone who's been in his office would know); before Refuel, Ryan carried out several projects with Pure Motorsport, the Australian Rally Championship, and Rally SA. Even the name, Refuel Creative, was heavily influenced by Motorsport.

We met with an Adelaide-based branding agency called sector7g to help us develop our new brand. We'd tried to rebrand in the past, but any branding attempt was fraught with difficulty due to the fact that our team was too close to the Refuel brand - we needed an external perspective to help us get our message across and provide some clarity. After all, this is why clients turn to us for branding advice, so it made sense to take the same approach to our own branding.

Early brand discussions showed that the motorsport angle was something the team was passionate about. However, while there was always a connection between Refuel and motorsport, our team didn't want to take a deep, gimmicky dive into motorsport.

Instead, we took inspiration from key elements such as visuals, colour, and messaging to not only highlight our brand personality and values, but also our services as well.

The two stand-out elements of our brand will be explored in more detail below.
Our livery
We never wanted to be dull.

While we wanted a more mature, purpose-built brand, we also wanted a brand that would be eye-catching, unique, and accessible.

Taking inspiration from classic race colours, we chose a palette that would stand out without being glaring and obnoxious.

From our logo to our website, we drew inspiration from the world of racing. With a new track themed logo, and icons inspired racing patterns such as the chequerboard and other racing flags, we were able to build a purpose-built brand identity.
The marketing pit crew
One aspect of the new brand that the team enjoyed was the 'pit crew' concept.

We've always been a team-focussed marketing agency, but rebranding the 'Refuel team' as a marketing pit crew helped us get this messaging across in a unique, visible way.
Race cars pull into pit stops to get a quick tune-up; businesses engage marketing agencies to make their business better.

In this vein, we're positioning ourselves as a 'marketing pit crew' that gets businesses running at peak performance. We back our team's expertise and teamwork to get our clients the results they want.
The Refuel Difference
Refuel was born to be different.
We don't just want to be the place where businesses went to find solutions to their digital marketing problems; we want to continue to be the place where marketers want to work.

We hope this new brand will help us achieve these goals as the team continues to find success and grow over the next five years and beyond.
So, what do you think of the new brand? Whether it's compliments or feedback, let us know what you think!