Introducing Oktopost, the B2B social media platform
Ryan Jones
24 June 2021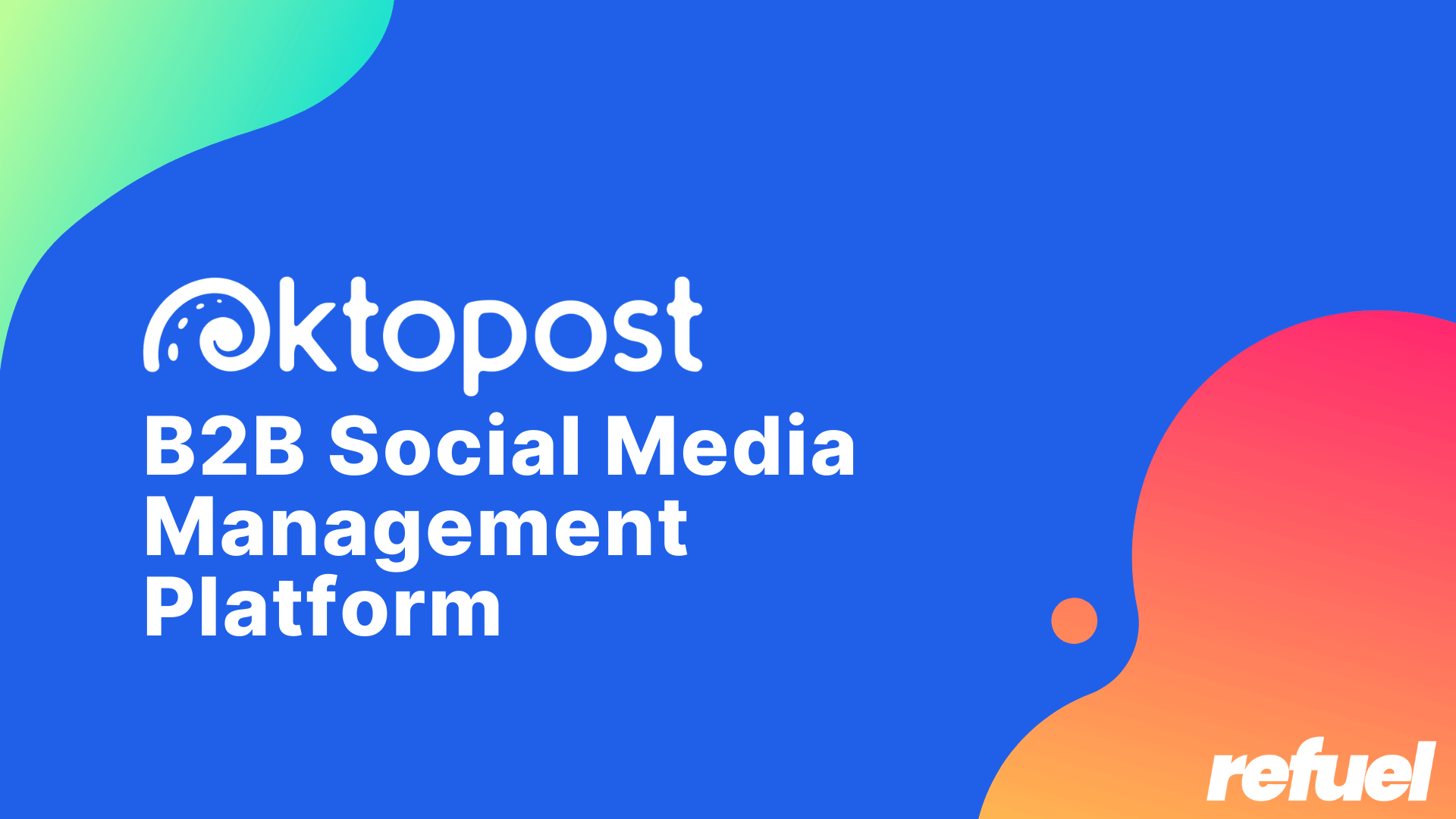 Social media management for B2B businesses is a little different to our B2C friends. You're looking at longer lead times, larger deals. You want to understand what influences your customer purchasing.
We get it. We're a B2B company ourselves, so we have to market ourselves to other businesses. It's challenging scaling up your social marketing and measure its impact on your company's bottom line.
This is where Oktopost comes in. Oktopost is the only social media management and employee advocacy tool optimised for B2B enterprises. It is designed to help you manage, monitor and measure all of your social media activities in a way that helps you meet the needs of B2B marketers.
Oktopost is more than just a tool to schedule posts to social media. Oktopost pushes social engagement data, such as likes, clicks, and comments, into HubSpot. It can even assign this activity to your existing CRM contacts.
The interface is easy to use, with drag and drop capabilities when publishing content and creating custom reports. Plus, you can download the mobile app to schedule content on the go and in real time!
Why Oktopost?
We've talked about it before, but whenever we look at new partners, they first have to solve a problem for our clients. With Oktopost, big check. The B2B intelligence tools are second to none.
So step two. Does it fit in with our existing technology stack?
In our case, this means HubSpot. With Oktopost, it integrates natively into HubSpot. Social media activity appears on contact records and has workflow integration for automation.
Oktopost is not only for HubSpot, it also meets the needs of our Salesforce and Dynamics CRM using friends too. Perfect!
Oktopost features
As a social media management tool, Oktopost covers all the basics you'll expect, but with strong specialised B2B features.
Oktopost's feature Whether you're a small business or large corporation, Oktopost has a feature that can support your business goals.
Here's a quick run-down of some of our favourites:
Social Publishing
This feature allows users to schedule social media posts across all social media networks from one place. Save time by creating posts in bulk and scheduling them over the month instead of creating an individual post every day for each network. You can even request approval for posts before they can be posted live. Create campaigns to organise your social asset and contextualise analytical data.
Social Analytics
Understand your content performance with custom reports, cross channel analytics, and engagement metrics in one place. From this, you can take a data-driven approach to your social media strategy and make the right impact on your audience. You can identify which posts and campaigns drive lead generation for your business, measuring the metrics that matter. You can even assign social media activity to existing leads to create an even clearer picture of individual customer's journeys.
Content discovery
Use Oktopost to discover and share the most relevant content to your customers. This helps position your company as a thought leader in your market. Speed up the process of discovering and sharing the latest industry trends, news and insights from around the web, all in Oktopost.
Social listening
Ever wondered what people are 'sub tweeting' about your brand? Or what your brand reputation is?
Social listening allows you to monitor keywords, related or indirectly related to your business. You can see what social media users are saying about your brand when they're not tagging you. You can even track trending influencers and compare performance, so you can feel informed before you reach out to collaborate.
You can also track your competitors' activity online, allowing you to see how you stack up against them.
Sentiment Analysis
Most social media tools can tell you how many mentions you're getting, your follower count, and other important stats. But with sentiment analysis, you can understand in-depth how people feel about your brand or products when they are communicating online with others or directly to you.
Social Customer Care
Manage multiple accounts from one platform! Oktopost shows every comment, mention, message from all social networks into one inbox to ensure timely follow-ups. Team members can reply to the message directly from Oktopost, rather than scouring through each network to find it. Customers will receive the best customer service possible you can see not just the comment, but the context too.
Employee Advocacy
Did you know that 7x more sales conversions come from employee-generated leads than marketing-generated leads?
Today's B2B buyers trust people, not brands; they want to hear the human voice behind your brand. Employee advocacy involves encouraging staff to promote your business through their own channels. Collectively, they have a wider reach and a more engaged audience than a corporate page could ever have. This extra promotion can help build brand awareness online.
What does this mean for your business?
Makes scheduling, approving, and posting content straight forward and contained within one system
You can take a deep dive into your social media content's performance and understand what your customer responds to
See what impact social media has on your sales, even if it wasn't the last point for contact before the sale is made.
Find relevant industry content to share on your social networks, boosting your authority.
With Social listening, monitor what people think of your brand and understand your customer better
Centralise customer service and assign team members to respond to messages based on their availability or knowledge
Build brand awareness by encouraging employees to use your messaging on their social media channels to promote your business with their voice.
How does it integrate with other programs?
Here at Refuel, we love integrations. They are ingrained into our business, and we've won enough awards to prove it. So when we discovered how many of our favourite programs integrated with Oktopost, we knew it was meant to be!
Oktopost integrates with tools to help you create the most engaging content possible. They provide you with a link shortening service through bit.ly, GIFs through Giphy and the ability to create graphic images with Canva.
Not only that, Oktopost integrates with your CRM and Google Analytics. Allowing you to get a full picture of your client base. Now you can track how each customer interacts with your content online and create meaningful interactions with them based on their social activities.
Want to know more?
As an Oktopost partner, our team are here to help you know if Oktopost is the right fit for you, get you onboard, and using it to it's fullest.
You can watch a full demo now!
Want a customised demo?
Do you want to branch out into the world of social media or just need some help with content curation? We're here to help!
We are also well versed in social media strategy, so if you want to start from scratch, we can build out a social media strategy with templates, calendars and content pillars.
We can also generate content for you with the help of our videographer and graphic designer, or send us your best images, and we'll turn them into winning social media content.