The 10 biggest Google Analytics 4 (GA4) mistakes
Sam Hutchinson
07 July 2023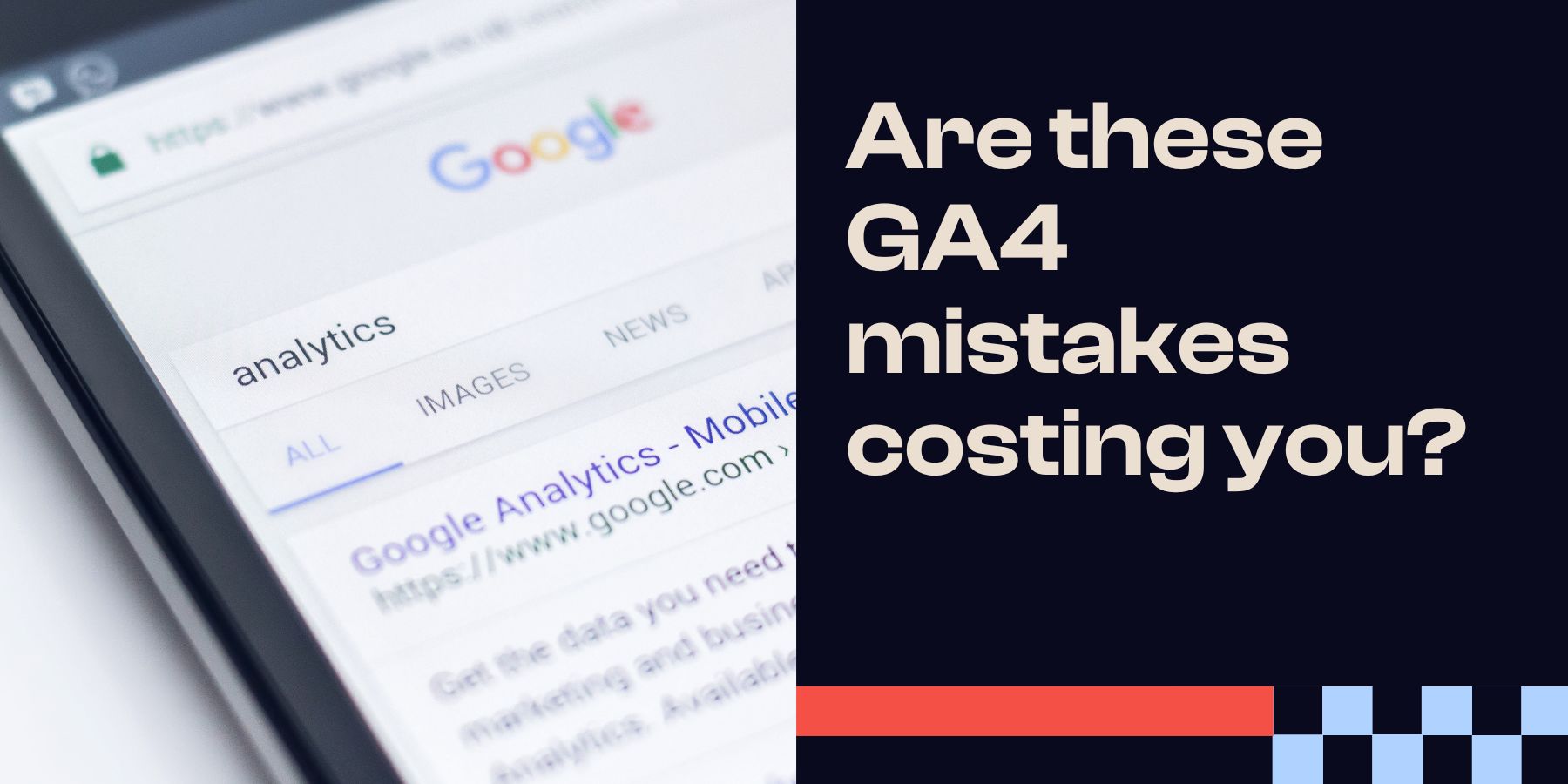 Universal Analytics is dead, long live Google Analytics 4 (GA4). Do you know how to set up GA4 properly?
While we're all required to switch to GA4, it's far from a smooth process. If you make a mistake, it can have big consequences on your business or your clients.
We're far from our first rodeo when it comes to GA4, so we thought we'd compile a list of the 10 biggest GA4 mistakes (and how to avoid them).
What is GA4
Just in case you're unfamiliar, GA4 is Google's newest analytics standard. Replacing Universal Analytics, GA4 was developed with a stronger emphasis on customer privacy, in response to the introduction of privacy regulations like the General Data Protection Regulation (GDPR) and the California Consumer Privacy Act (CCPA).
GA4 stands out as the most advanced property available, as it offers privacy-oriented tracking, predictive analytics powered by artificial intelligence, and comprehensive measurement of cross-channel data.
Common mistakes
Don't forget your conversion events!
GA4 does a lot more than just track how a user interacts with your ads, it also measures how successful your site is when persuading users to complete valuable actions.
In GA4, significant activities like purchases are referred to as 'Conversions'. One common error we've observed is failing to designate an event as a conversion in the GA4 user interface.
By neglecting to enable conversions, you miss out on valuable information provided by conversion-specific reports, including data-driven attribution reports. Moreover, if you haven't initially enabled events as conversion events, you won't be able to import GA4 events to GMP platforms for optimised bidding and targeting.
Therefore, it is crucial to ensure that you correctly mark events as conversions in GA4 to benefit from comprehensive insights and maximise the effectiveness of your advertising strategies.
Don't forget to enable custom dimensions
Enabling custom dimensions in GA4 is a commonly neglected procedure made up of two essential steps. It is frequently overlooked that declaring the custom dimension in the GA4 user interface is crucial to avoid making the same mistake.
To view your custom dimension data in the GA4 user interface, it is vital to ensure that you have enabled and configured these dimensions within GA4, rather than solely relying on your tagging tool like GTM. Dimensions are matched based on parameters and scope, so it is important to align these values with the ones set up through GTM or gtag.js.
Regrettably, the GA4 user interface only captures custom dimensions from the moment they are enabled. Therefore, it's not uncommon to encounter "(not set)" entries in your reports for periods preceding the enablement. If you find yourself in this situation, the only potential way to retrieve and utilise this data is through the BigQuery dataset. Consequently, we strongly emphasise the importance of linking and integrating with BigQuery for all clients, as it provides another avenue for data recovery.
Set up an automatic custom event transfer between UA and GA4
GA4's Setup Assistant is a helpful tool that assists clients in transitioning from their UA setup to GA4, even without prior knowledge of the platform. However, despite its convenience, we do not recommend relying on the Setup Assistant. Even Google suggests it as a last resort option for migration.
Based on our experience, using the tool has often led to unstructured event data within GA4. If your UA event tracking was not optimised, enabling this automatic migration tool will simply transfer the poor configuration from UA to GA4.
If you are investing effort into migrating to GA4, it is a great moment to ensure your tracking is well-organised. For instance, in a GA4 event report where all event names are in lowercase with underscores as spaces (e.g., 'page_view', 'add_to_cart', or 'sign_up'), an event with a name like 'Product A Click' disrupts the naming convention, making it challenging to query later in tools like BigQuery if a consistent naming pattern is not followed.
Keep an eye on PII collection
In the past, UA provided a view configuration feature in the admin UI that allowed the exclusion of query parameters from reporting. This feature made it relatively simple to exclude commonly sensitive query parameters such as emails, first names, last names, and phone numbers from being captured by Google Analytics. By doing so, it prevented unintentional collection of personally identifiable information (PII), which is a violation of the product's terms of service.
GA4 currently does not offer query parameter exclusion configuration from within the admin UI, which means you'll need to proactively take steps to prevent PII data being accidentally collected by GA4.
To further compound the issue, although GA4 has excellent data deletion tools which are much more precise than UA offered, there are still limitations when it comes to scrubbing PII data from GA4 should you accidentally collect it.
Attribution taxonomy
Acquisition reports in GA4 provide insights into how users discovered your site. Attribution reports focus on the channels that influenced users throughout their conversion journey. An example of a channel could be paid search, where a user clicks on an ad that brings them to your site.
By default, UA attributes all conversions to the last campaign that users interacted with before converting, following the last-click attribution model.
In GA4, attribution reporting has undergone significant improvements. It no longer relies on assumptions when assigning credit to your campaigns. Instead, GA4 utilises a machine learning algorithm and historical data to accurately attribute conversions to the most relevant channels. This approach is known as data-driven attribution (DDA).
The data-driven attribution model is available to all GA4 users and provides a reliable way to select the appropriate attribution model without guesswork. However, its effectiveness depends on the accuracy of attribution data flowing into GA4 from the beginning.sem
Although GA4 now allows the addition of Custom Channel Groups, the configurability of conditions is currently not as extensive as in UA's channel grouping feature. You can only establish conditions based on specific campaign parameters. Therefore, having clean campaign data flowing into GA4 greatly enhances the effectiveness of data-driven attribution and provides more accurate insights.
We cannot stress enough the importance of ensuring the accuracy of your attribution taxonomy to maximise the benefits of GA4 attribution reports. It's essential to note that GA4 has a distinct definition for Channel grouping compared to UA. We strongly recommend consulting an expert to properly align all your campaign details with the appropriate channel group, ensuring optimal outcomes in GA4.
Watch out for your domain listing
Attribution reports in GA4 provide valuable insights into the previous sites users visited before coming to your website. However, there are instances where a site that GA4 identifies as a referrer site might be considered part of a single customer journey.
For example, some users may navigate from your business website to a payment portal and then return to your website for payment confirmation. In this scenario, it is not desirable for the payment portal site to be classified as a referrer site for your business since it is essentially a self-referral.
To ensure cleaner attribution reporting and accurate campaign credit, it is crucial to identify and exclude self-referrals from your dataset. Self-referrals should be distinguished and removed to maintain data integrity.
Be careful when linking products
Product linking may appear to be a straightforward step, but it is a common oversight. We have observed numerous clients neglecting to link GA4 with other Google Marketing Platforms (GMP) products, including Google Ads. One contributing factor could be the increased capability of GA4, including the ability to link with more products, especially the free version of Google Analytics.
It is possible that many clients are unaware of this change, making it worthwhile to emphasise once again through the following table:
Ensuring proper linking between GA4 and other GMP products is crucial for obtaining comprehensive insights and maximising the benefits of these integrated platforms.
Make sure you leverage alternative user identities in GA4
Google has shifted its focus away from relying solely on device-level identities and single identity scopes like Client ID. Instead, it now offers the flexibility of multiple reporting identity types, which can be easily reconfigured without making permanent changes to your underlying dataset.
This newfound flexibility enables you to examine your data from various perspectives, allowing you to observe how it evolves based on the available reporting identities.
Depending solely on a single reporting identity to comprehend your data is no longer necessary in GA4, as there are now numerous additional options available.
Better, enhanced measurement
GA4 provides automatic tracking of common website interactions by default, which is a significant improvement compared to UA. However, it is important not to be misled into thinking that merely implementing the basic GA4 tag and enabling these automatic tracking features will guarantee 100% effectiveness in all cases.
GA4's Enhanced Measurement, like any automated tracking system, operates based on certain assumptions. Therefore, it is essential to invest extra effort in verifying the accuracy of the collected data.
Standard interactions are tracked in GA4 with additional data points, such as recording the percentage of page scrolled during a scroll event. However, it is important to note that these additional data points are not readily accessible in standard reports or in Looker Studio (via GA4 Data API) by default. Instead, they can only be found in GA4's Exploration reports.
For automatically collected events and their custom parameters to be available, manual enabling is required through the custom dimensions UI configuration. However, it is worth mentioning that this customisation counts towards the limit of 25 custom dimensions per property for non-360 accounts. We hope that Google will address this limitation soon.
Don't forget about data retention
In UA, you had the flexibility to adjust your data retention settings within a range of 14 to 50 months. However, in GA4, the maximum data retention period for non-paid GA4 accounts is limited to 14 months.
The default event data retention period in GA4 is set to 2 months when you create a new property, which means you need to manually adjust it to retain data for 14 months or longer.
It's important to note that changing the retention period from 2 months to 14 months will not grant access to the previous 14 months of data if the setting was at 2 months before the adjustment. The 14-month retention period starts from the date you apply the setting going forward.
We have noticed that many clients have not yet linked their GA4 property to BigQuery. Unlike in UA, where BigQuery integration was exclusively available for 360 users, GA4 democratised this feature, making it accessible to all GA4 users.
For GA4 360 users, there is an option to retain data for up to 52 months. However, similar to non-360 users, the maximum retention period is not enabled by default when upgrading to a 360 account service level. It is necessary to manually update the setting after the upgrade to take advantage of the extended retention period.
Need support with GA4?
If you need some support with your GA4 set up, reach out to our team today. As Google Partners, we have the experience, tools, and connections you need to get the most out of your GA4.