Can I delete Google reviews?
Sam Hutchinson
02 December 2022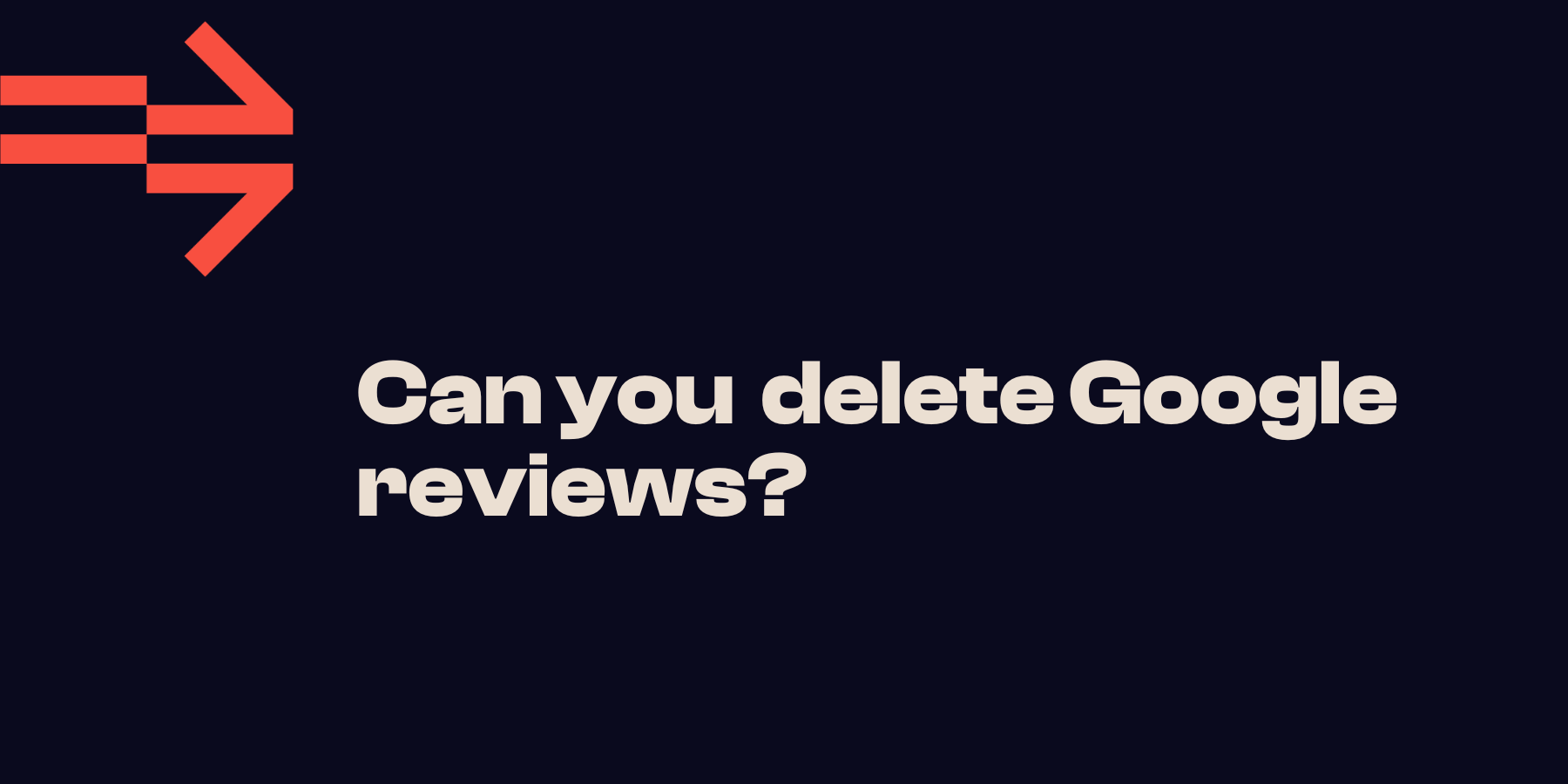 Google reviews are crucial to the perception of a business.
Consider the last time you were looking for a new hotel, restaurant, or gym - you probably jumped online and checked the Google reviews.
While all feedback is welcome for businesses, some negative reviews could be the result of trolling or spite, as opposed to honest feedback. In this blog, we dive into the world of Google Reviews to explain why you should keep an eye on your Google reviews and if you can delete them
Why are Google reviews important?
The importance of Google reviews was hinted at in the introduction, but an introduction wasn't enough to explain how crucial Google reviews are to modern businesses.
Below, we grabbed a few important stats that highlight why you should pay attention to your Google My Business. If you don't, it could be having a detrimental effect on your brand image.
81% of consumers use Google to evaluate local businesses (BrightLocal)
Google is the biggest review platform in the world. When you Google something like 'restaurants near me' you don't just get a list of restaurants, you get a list of restaurants that have reviews attached to them.
If you haven't been to any of these restaurants, you're going to hone in on the reviews to help formulate your decision.
Today, 81% of consumers said they read Google reviews which is a significant increase over 2020 when just 63% of consumers read the site's reviews.
82% of consumers have read a fake review in the last year (Invesp)
We've all heard about fake news, but fake reviews are becoming more and more prevalent in the world of business.
In fact, of all the age groups, more than half have said they've seen fake reviews in the past year. Not only are more people starting to spot fake news, but as many as 72% believe that fake reviews have become an expected part of modern business.
86% of users will think twice about buying from a company with negative reviews (Invesp)
People take online reviews incredibly seriously. After all, what else have they got to go on? 86% of people say they would think twice before making a purchase from a company with poor reviews. Similarly, a massive 92% would say they only visit businesses with a four-star rating or higher on Google.
So, online reviews have a monumental impact on how consumers come to conclusions about their buying decisions.
While buyers are able to spot most fake reviews if they see them, not all buyers will read individual reviews and these fake reviews can severely impact your overall star rating on Google.
How to delete a Google review
Unfortunately, there isn't a simple and easy 'delete review' option on Google.
This is understandable from Google. After all, if it was too easy to remove reviews, the entire review system would be untrustworthy, as business owners could just remove unsavoury reviews at their discretion.
Instead, the process requires an investigation from Google. Rather than deleting a review outright, you highlight this comment for a review by Google. Google will then ask you to complete a brief report of the issue.
To send a report to Google about a dodgy review, follow the steps below:
Locate and select the review you wish to delete.
Click the three vertical dots on the left side of the review.
Select the option "Report review."
Choose an option for why you are reporting the review.
Submit the report.
You'll receive an email confirmation once the review has been deleted.
Why will a review be deleted?
Before you report your review, make sure that you have a good reason to send the report.
Google will only remove reviews that violate their policies. Learn more about Google's policies regarding reviews and content in the link here.
As a TLDR regarding the Google policies, keep the following in mind before submitting a report:
Don't report a review just because you disagree with it or don't like it.
Google doesn't get involved when businesses and customers disagree about facts.
There's no reliable way to tell who's right about a particular customer experience.
You can't report third-party hotel reviews. To flag an inappropriate third-party review, contact the third-party provider directly. To go to the third-party website, click the reviewer's name. Soon after the provider removes or changes the review on their website, the update will show on your Business Profile.
TLDR - your Google presence is crucial
Today, Google is crucial to modern businesses. Google is where potential customers find out about your business; Google is where people learn about your business; and Google is where people contact your business.
You need to make sure that your Google business profile is up-to-date with all the information you want your clients to see. This doesn't only include your website, business address, and contact information; it also means you have to ensure your business stands out from the crowd too.
In addition to keeping an eye on your Google reviews, you should make sure that your business images are up-to-date.
Need help with Google?
Keeping on top of your Google presence can be a difficult job. At Refuel Creative, we're Google Partners with the connections, tools, and experience to elevate your business to the next level on Google.
If you need help with starting, managing, or elevating your Google presence, reach out to our Refuel team with the button below.