Recharge - slick business subscription services are here
Sam Hutchinson
08 July 2022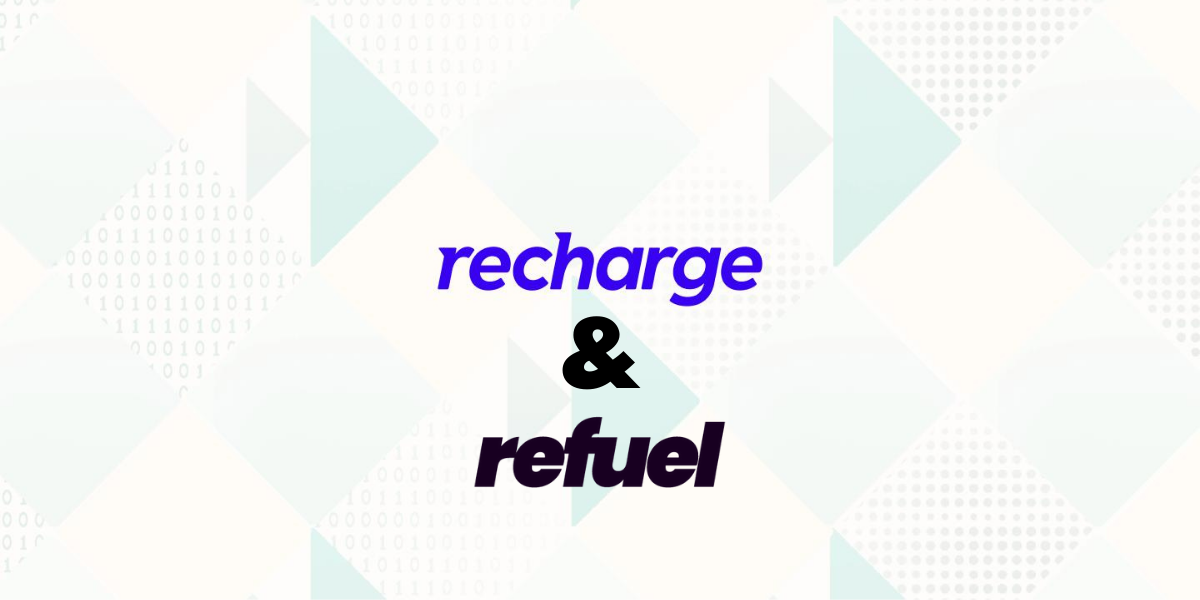 Get your subscriptions into top gear with Recharge.
We've partnered with Recharge to help our clients get the most out of their business subscription services.
Subscription based businesses are becoming more and more common among modern businesses. We want to streamline the process and make it easier than ever for our clients to get ROI on their subscriptions - this is where Recharge comes in.
What is Recharge?
Recharge is changing the way consumers interact with brands. Recharge recognised that the subscription business model was being adopted by more and more companies, so they created a frictionless subscription payments solution.

Their focus is to help eCommerce merchants of all sizes launch and scale subscription offerings. Recharge's subscription billing and payment management solutions are designed to help merchants grow by increasing revenue and customer lifetime value while reducing operating costs and churn.

Today, Recharge powers subscriptions for more than 15,000 merchants serving 50 million subscribers, and supports brands such as Verve Coffee Roasters, Bokksu, Who Gives A Crap, Geologie, and Keap Candles.
What makes Recharge different?
Recharge was focused on a seamless experience from the start. With innovative and intuitive software, they made a subscription model easy for both businesses and customers.

With Recharge, your business will get:
Quick subscription offers
Set up your subscription program in minutes, then easily connect to your existing tech stacks and your payment processors.

You won't have to spend hours figuring out how to code the software. Quickly get your subscriptions up and running for your customers.

Not only does this make setup easy, but it also makes it easy to use across your team.
Increase lifetime value & customer engagement
Create a seamless experience for shoppers to manage their subscriptions via SMS and a customer portal. If they want to pause, cancel, or edit their subscription, they can do so via RechargeSMS.

This also enables upsells and one-time purchases. Increasing customer lifetime value is one of the superpowers of Recharge. Learn more about how Recharge increases lifetime value here.
Reduce customer churn & boost brand loyalty
Recharge gives your shoppers more options than cancelling. After all, a monthly subscription might not work for everyone all the time. You can let your customers skip or delay deliveries, as well as swap out products to try new things.
This lets your customers have it their way and makes it more likely that, even if they do pause their subscription, they will be back in the future.
Measure performance & optimise your business
Gain actionable insights that help you meet your customers' needs in real-time. Leverage our powerful APIs to get any job done.
Recharge gives you an intuitive view of all your data. This allows you to easily track how your business is doing, make necessary changes, and keep your business running in top gear.
What does this mean for your business?
Recharge currently has over 15k merchants in over 180 countries managing more than 50 million subscribers.
With Recharge, you can increase your Lifetime Value (LTV) with their intuitive subscription platform, boost customer loyalty, and even see all your data for future optimisation opportunities.
If you want to launch a modern subscription service, you'll need Recharge.
Want to give Recharge a chance?
Want to know more?
We are already using Recharge with one of our US-based clients to deliver a reliable, frictionless service for their customers, with plans to recommend the product to more clients in the future.

However, you may need more than just a slick subscription service. If you need help marketing your business, building your new website, or increase conversions through paid advertising, we're here to help.

Want to use Refuel and Recharge?