Top five takeaways from Inbound 2023
Sam Hutchinson
13 October 2023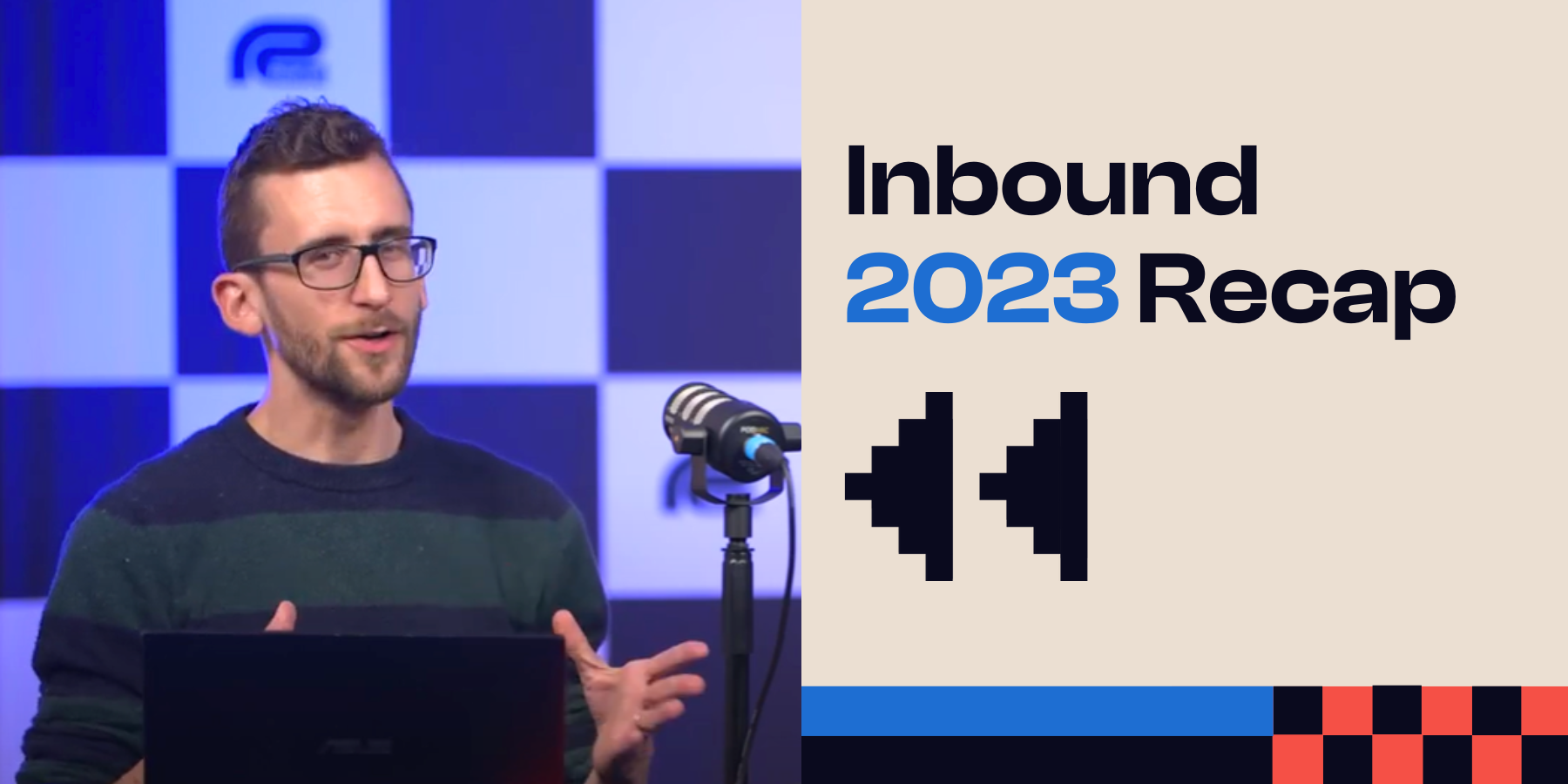 Inbound 2023 was another big one for all HubSpot users. AI, naturally, took centre stage, as HubSpot announced a slurry of new features powered by our robotic friends (and future overlords).
In our September HubSpot User Group (HUG) event, Ollie and Ryan recapped Inbound 2023, diving into the key takeaways from the event and sharing their own views on what was announced at the biggest inbound marketing event in the world.
Want the full breakdown?
If you missed out on our latest HUG event, you can still watch the event without the need to invent a time machine.
We recorded the full presentation, check it out below and make sure to make the next one so you can throw all your questions at Ollie or Ryan!
AI-generated social copy within blog editor
The power of AI writers and designers continues to grow. This year, ChatGPT and Google's Bard made headlines as many became concerned with the impact these AI writers could have on jobs.
While AI writers probably can't replace the pros just yet, they've proven themselves to be an incredible productivity tool, helping writers and marketers break through writer's block and get a head start on their projects.
At INBOUND, HubSpot announced further improvements to their AI integrations. As part of the Marketing Hub, users are now able to generate social copy within the blog editor - this allows marketers to create social posts promoting their blog in a heartbeat.
Another impressive announcement, though, was that their AI Powered Blog Post Generator is now powered by Semrush Data. As a result, HubSpot is now able to break through your writer's block with content ideas AND offer suggestions on keywords and how difficult your topic is to rank for on Google.
In addition to AI-powered, SEO-optimised blog articles, HubSpot is also here to help with AI Image Generation, saving you time on tracking down fresh, royalty-free images for your articles, as long as they don't include fingers.
Prospecting Workspace conversation summary
Sales and customer service just got a whole lot easier with the updates to Sales Hub and Service Hub at INBOUND 2023.
With a dedicated Prospecting Workplace now ready to go, sales reps will be able to consolidate the entire prospecting experience into HubSpot. This will boost efficiency, keep them focused, and allow any new or urgent activities to get the attention they deserve.
Perhaps the most impressive element of these updates is that HubSpot has introduced an AI-generated conversation summary within the inbox. All active conversations can be summarised by AI, removing the need for you to read a whole conversation to understand the context.
Book meetings on behalf of others
One of the most exciting announcements in the Sales and Service Hubs was that reps can now book meetings on behalf of others. This new feature will help teams streamline their sales process and improve efficiency.
With this new feature, reps can now book meetings on behalf of other reps, such as when a prospecting rep qualifies a lead and wants to hand it off to an account executive for the next step. This can save reps a lot of time and hassle, as they won't have to go back and forth with each other to coordinate schedules.
The round-robin routing functionality will automatically assign meetings to the next rep in the rotation, based on their availability. This can help ensure that all reps have an equal chance of being assigned meetings, and it can also help to reduce the number of meetings that are missed due to scheduling conflicts.

The new feature of booking meetings on behalf of others with round robin routing offers a number of benefits, including:
Increased efficiency: Reps can save time by not having to manually coordinate schedules with each other.
Improved productivity: Reps can focus on more important tasks, such as selling and building relationships with customers.
Increased fairness: All reps have an equal chance of being assigned meetings.
Accurate reporting: You can track which reps are booking and hosting the most meetings, and which meetings are resulting in closed deals.
AI-generated workflow descriptions
Another exciting announcement was the AI-generated workflow descriptions, allowing users to generate summaries of their workflows. This new feature will make it easier for HubSpot users to understand their workflows and to identify any areas for improvement.
People often struggle to know at a glance why a workflow was created and what it's meant to do. This is especially difficult when there is a high number of workflows or workflow users in a portal.
With the new AI-powered workflow summaries feature, users can simply generate a brief description of their workflow and then edit or re-generate a new one. This can save them a lot of time and hassle, and it can also help to ensure that all workflows are well-documented and easy to understand.
Need support with your HubSpot?
It's been another big year at HubSpot, with the company diving headfirst into the productivity enhancements provided by AI. If you or your team needs support to get the most out of your HubSpot hubs, reach out to our team today.
Check out how we helped a HubSpot client get the most out of their HubSpot below.