6 reasons you should hire a marketing agency
Sam Hutchinson
19 August 2022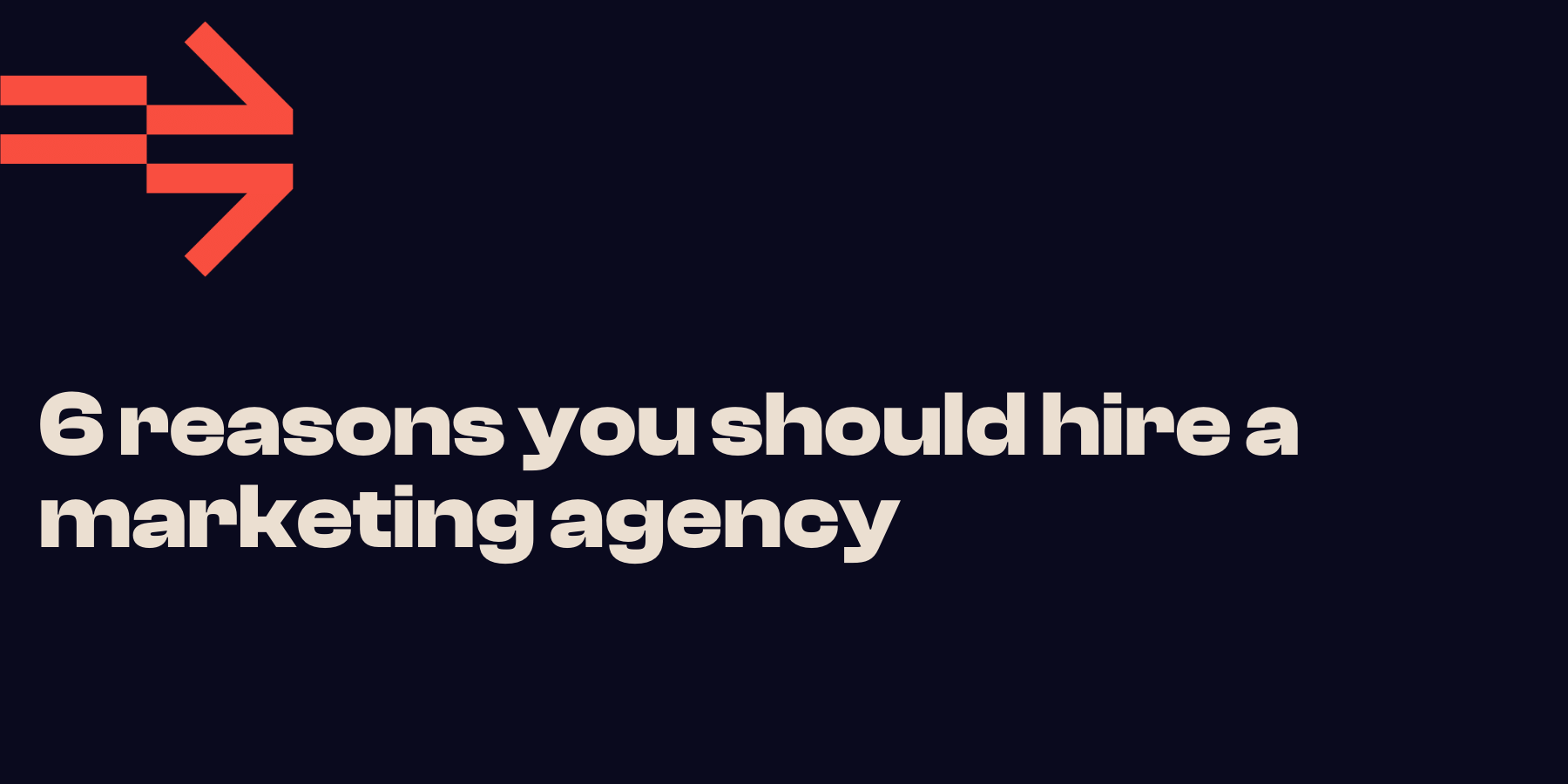 Hiring a marketing agency is a big decision, but it's a decision that can take your business into the next gear.

We've helped clients from across the world find success with digital marketing. When meeting these clients, there's often six main reasons that connect them.

In this blog, we've compiled a list of common indicators that show your business needs a digital marketing agency to help get your marketing engines into top gear.
6. Slow sales
Slow sales aren't always your sales team's fault. More often than not, you need to rejig your marketing campaigns and build a solid sales process to manage your sales pipeline.

A marketing agency will be able to work with you to pinpoint why your sales are slowing. Perhaps you need to modernise your sales process with a tool such as HubSpot, or maybe your marketing is what's holding your sales back.

One of the most common problems for small businesses is a clear vision for the future. In fact, many times companies don't have a defined target audience, or a clear understanding of why customers choose them over competitors.

And without a clear idea of who your ideal customer is, it's hard to determine whether or not you're reaching them. Or whether or not you're hitting your numbers.

The truth is, most people aren't buying because of price alone. They buy because they believe in your brand; they trust you; they love your products or services. So if you don't have a clear picture of who those people are, you won't be able to make decisions based on data.

You'll miss opportunities to improve your conversion rates. And you'll never really know if you're making progress towards your goals.

So here's the thing: Marketing isn't just about finding potential customers. It's about turning leads into buyers, and that requires knowing who your best customers are.

A marketing agency can help you achieve this.
5. You don't like marketing
Marketing isn't for everyone.

We all enjoy different aspects of business and if you're not enjoying your marketing activities, you may not get the results you want.

If you're not enjoying your marketing and you aren't getting the results you want, you may end up in a negative cycle that results in you doing less marketing.

Reaching out to a marketing agency lets you focus on what you do best, while also increasing the likelihood of marketing success.
4. Inconsistent results
No one would expect consistent results all year round, but it's crucial to have an overall, consistent trend to your results.

A lack of consistency is often due to no marketing plan. Using a proven marketing plan, you should have the visibility and the data to see what's working and what isn't.

A marketing agency will provide you with a data-driven marketing strategy that can be adjusted where necessary to ensure good results continue throughout the year.
3. You want to focus on your business
Many small businesses are stuck in a rut because they rely too heavily on DIY strategies they find online.

They feel like they don't have the time or money to hire in-house marketing professionals. This is where marketing agencies come into play. These companies offer a variety of marketing services such as social media management, email marketing, web design and development, graphic design, copywriting, video production and much more.

Hiring an agency will free up time to focus on running the business while providing quality products and services. A good marketing agency will help you build a solid foundation for success.
2. Leads are dropping
The marketing landscape is always changing. If your business isn't proactive and constantly on top of the latest trends, you may find your leads dropping.

Marketing agencies keep an eye on upcoming developments across the digital landscape to ensure that their clients keep performing.

When engaging with a marketing agency, they'll take a deep dive into your data to figure out a cause of the drop in leads. Then, they will start enacting the changes your business needs to get those leads back on track.
1. You want to save on costs
Hiring a digital marketing agency can be a more cost-effective option than hiring a dedicated, internal marketer. So, when it comes to the question of 'is a digital marketing agency worth it', in terms of the finances, it certainly can be.

Not only is it often cheaper to outsource your marketing, but digital marketing agencies often have a wider pool of talent.

For instance, our team has marketing specialists, web developers, copywriters, videographers, and graphic designers; would one internal marketing be able to handle all of these jobs?

Additionally, even if you can find this magical marketer who has the skills to do all of these things - will they be able to complete these jobs at the same level as an individual that dedicates their day to that job?
How Refuel helps
Do any of these points ring true to you? Reach out to the team at Refuel Creative today and learn how we can help get your business on track to success.