Help the bushfire recovery with the #BookThemOut campaign
Ryan Jones
21 January 2020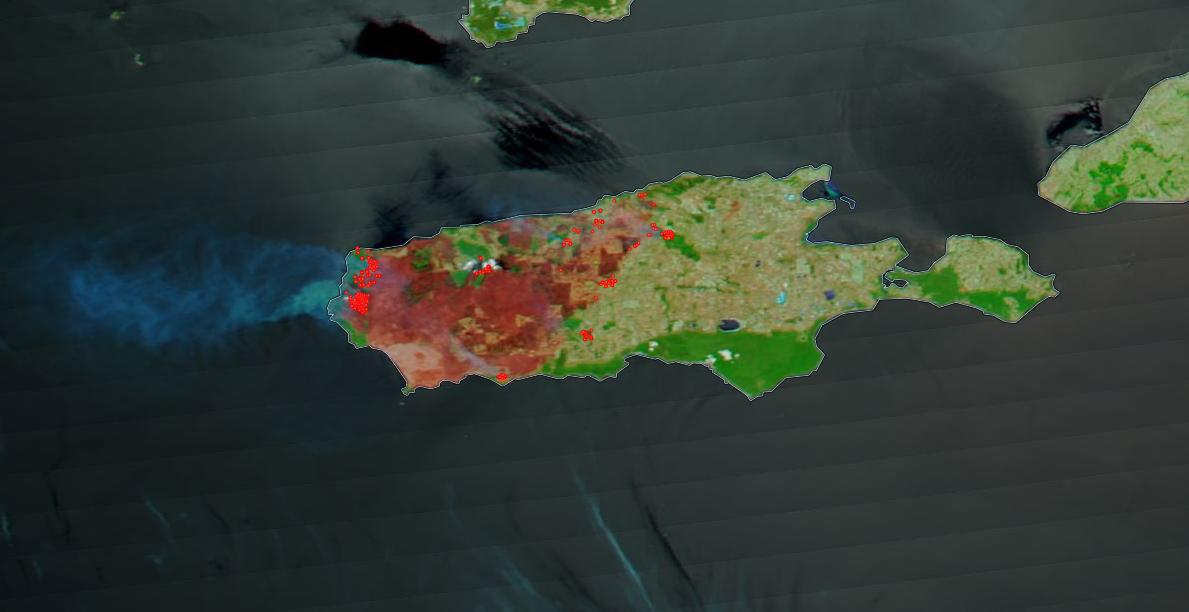 As many of you will know, Australia has been ravaged by a number of bushfires over our summer. Word of these fires spread far and wide, and we had partners from as far afield as Boston and Paris checking in on us to make sure we're ok as they turned on their TVs and scrolled their social media to see the devastation.
Fortunately, the Refuel team have been spared the worst, but many parts of Australia are not so lucky.
On a local level, there were two main bushfires in our backyard.
The Cudlee Creek bushfires, just before Christmas, tore through the Adelaide Hills causing devastation to a number of communities a short drive from Adelaide. This has decimated the Adelaide Hills winemaking industry and it will be some time before the communities can rebuild.
The Kangaroo Island bushfires followed in the new year, and burnt through over a third of this picturesque island off the coast of South Australia. For an island that relies so heavily on tourism, the fires on Kangaroo Island have created a long term impact and we will all need to do our part to help them rebuild.
Since we're getting requests from our friends interstate and overseas for information on how they can help, we've put together a guide on a number of steps you can take to actively support the rebuilding process.
Making a donation
There are a number of fundraisers currently running to support these communities, fielding donations from rich listers and Hollywood celebs alike. If you're looking to donate there are some key funds you can donate to:
Kangaroo Island Mayors Fund
Country Fire Service
Wildlife Rescue Organisations - there are a number of wildlife support and rescue groups helping our furry friends who have been hurt in the fires.
Supporting Kangaroo Island
Kangaroo Island is a beautiful Australian destination abundant in wildlife and unique natural habitats. Unfortunately, much of its stunning landscape couldn't be saved from the devastating bushfires. While the community rebuilds, the SA Government, South Australian Tourism Commission and our clients over at SeaLink are encouraging people to take a trip down to KI.
SeaLink has joined the #bookthemout campaign to help get people across to KI to help support the local community to get back on their feet. They're offering $15* passenger ferry fares so you too can show your support by visiting the Island with family and friends.
Book from 19th January 2020 to 29th February 2020 for travel from 19th January 2020 to 30th June 2020.
If you're looking for an excuse to head over, we've summarised ten reasons to book a getaway to Kangaroo Island!
Seal Bay Conservation Park
Ever seen a sea lion up close? Australian sea lions are a majestic endangered species who spend their days hanging out by the seashore at Seal Bay! You can get up close and personal with them on a guided beach tour; watch these fantastic beasts in their natural habitat. If you're travelling around June, you might even see some pups!
Glamping
Revel in stunning coastal views and native bushland in the Kangaroo Island Seafront Holiday Park. This luxe camping experience is complete with a fully equipped tent, complete with a bed, bathroom and living areas. Each tent is set in a different theme from Coastal to Moroccan or African; you can sleep in style! Complete with local artwork and a minibar stocked with fresh local products, you can't go wrong.
Penneshaw markets
Everyone loves a good market on holiday because there's no better way to see what the area has to offer. The Penneshaw markets are lined with stalls of local food, produce, art and crafts.
Grab some delicious ready-to-eat grub, from baked goods to meals, refreshing beverages and gourmet coffee. Support local businesses by purchasing a keepsake. Bring a piece of KI back home with you!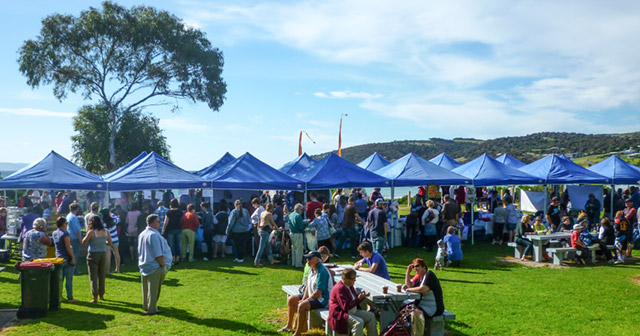 Swim with Dolphins
Dolphins are the sweetest, most gentle creatures you will ever encounter. It is truly magical to interact with them in their natural habitat. The crystal clear waters of Kangaroo Island are the perfect place to play and cuddle with the Dolphins! Need I say more?
KI Wildlife Park
The Kangaroo Island Wildlife Park is home to over 600 Australian animals! Cuddle a Koala, pat a wombat and see the Islands Kangaroo's up close and personal.
Kangaroo Island has lost over 150,000 hectares of land through the bushfires which have significantly impacted their wildlife populations. KI Wildlife Park is running a fundraiser to help with staff, pain relief, medication and infrastructure for the injured animals coming into their care. All the more reason to visit! Donate to their cause here.
Stokes Bay
Discover the transparent waters and white sands of Stokes Bay hidden beach. Concealed by a rock passageway, you'll find natural rock pools, great waves and the quaint Rockpool Cafe. It's the perfect spot to do absolutely nothing.
Adventure activities
If wildlife and relaxation isn't your speed, there are plenty of action-packed adventures to be had in KI. Thrillseekers can enjoy an island tour on a quad bike or kayak, paintballing or surfing lessons. There are also plenty of scenic hiking trails like the Prospect Hill Lookout!
Beer and wine
Head up to the Kangaroo Island Brewery for a craft beer or two or visit one of the five cellar doors in the region to try award-winning wines. Kangaroo Island has a reputation for producing some of the best alcoholic beverages in Australia. KI is located in SA, the biggest and best wine region in all of Australia.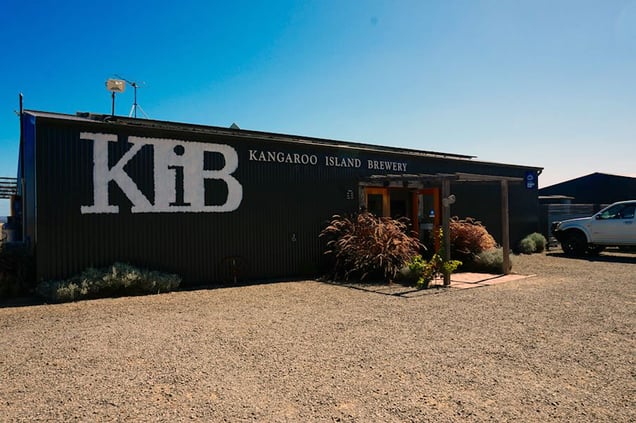 Penguins
As if there weren't enough friendly and fuzzy animals to visit in KI, there is also a Penguin tour! Go on an evening walk with the Penneshaw Penguin Centre using wildlife-friendly red light torches to light the way. You'll see our funny Penguin friends and other wildlife as they hang out amongst wallabies and possums!
Emu Bay Lavender Farm & Cafe
If you're a sucker for gorgeous landscapes and good food, you'll love the lush purple Lavendar fields of Emu Bay. Eat a tasty meal at the Cafe, walk through the fields and purchase lavender products from the farm gate store. Prepare to be relaxed beyond belief by the fresh scent of lavender flowers!
Looking for other ideas?
Our friends at Brilliant Travels have a huge selection of ideas for your next Kangaroo Island holiday. From day trips to multi-day tours and experiences, there's something for everyone.
We urge you to support these communities in their time of leave by taking that well-deserved break to Kangaroo Island. You can't go wrong with a $15 ferry ride, and the locals will love you for it! Show your Aussie spirit and head to the SeaLink SA website and use promo code BOOKTHEMOUT to get your discounted fare.
Not planning a holiday?
If you can't make it over to Australia or SA for a holiday, you can help from afar. There are a number of fundraisers running to raise money for the local communities and rebuilding efforts.
The fires just before Christmas across the Adelaide Hills destroyed a third of our wineries. Well known wineries including Vinteloper, Tomich Wines, New Era Vineyards, Golding Wines, Tilbrook Estate, Henschke and Barristers Block have all been significantly damaged in these fires and will take a while to get back on their feet.
The best way you can support these companies and the region from afar is by choosing to buy Adelaide Hills wine next time you're shopping for wine. Buy direct for the best impact.
What are Refuel doing to help?
Our team have already been supporting affected areas, with many of us on holidays when these fires started. Some of us were already planning a trip to Kangaroo Island, and the bushfire crisis won't affect those plans. We are already doing our part to support local producers and tourism operators.
In addition to this, we are offering a support package to any business in the Adelaide Hills and Kangaroo Island that has been affected by the bushfires. This support package will vary from business to business but will be designed to help each business get up and running as fast as possible, or at least their virtual, online shopfront. We'll do what we do best so that these businesses can rebuild.
Our partners are going in to bat for these businesses too. They're offering discounts and delayed invoicing to help everyone through these difficult times.
If you are one of these affected businesses, please contact us as soon as possible so we can discuss your support. If know of a business that is affected that needs help, please refer them to this link or get them to call our office on 1300 699 742.