Join Refuel as our Operations Manager
Ryan Jones
27 April 2023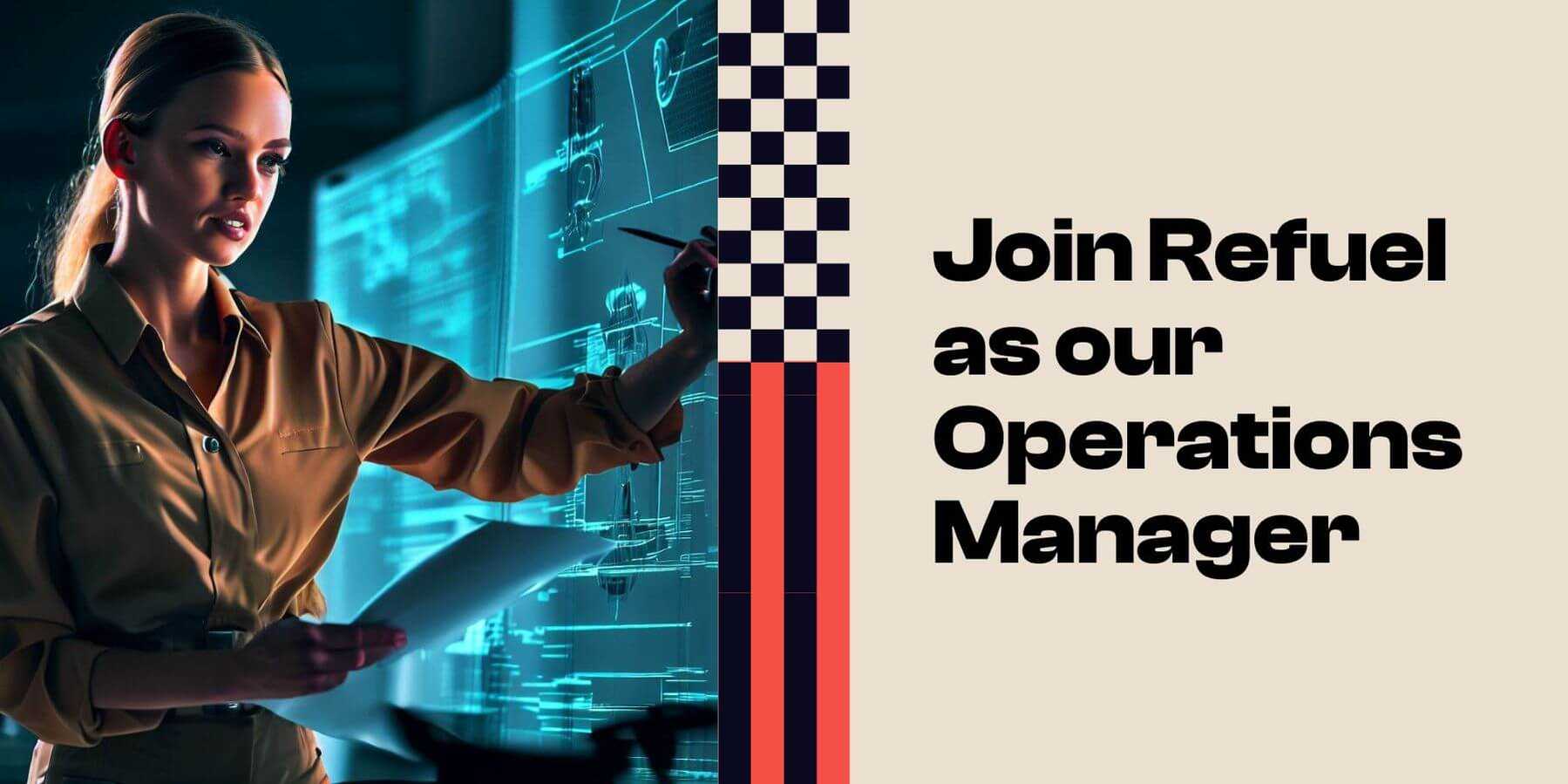 Are you an experienced Operations Manager seeking a fresh challenge in a flexible, dynamic, and fast-growing digital marketing agency? Look no further!
Refuel Creative, a leading agency based in Port Adelaide, is on the hunt for a skilled and motivated Operations Manager. This opportunity offers the perfect blend of flexibility and growth in an exciting and innovative environment.
Read on to learn more about what makes Refuel Creative the ideal place to take your career to new heights.
Why Refuel Creative?
Innovative and cutting-edge solutions
At Refuel Creative, we pride ourselves on delivering innovative digital marketing strategies and solutions to help our clients thrive. We stay ahead of the curve by keeping our finger on the pulse of the latest trends, technologies, and best practices.
As our Operations Manager, you'll be part of a forward-thinking team pushing the boundaries of what's possible in digital marketing. You'll also contribute to ensuring that our processes and systems are automated, customer-centric and world-class.
A collaborative and supportive team
Our team is our most valuable asset, and we foster a culture of collaboration, support, and growth. You'll find yourself surrounded by talented professionals who are passionate about what they do and eager to share their knowledge and expertise.
As the Operations Manager, you'll play a key role in guiding and nurturing this exceptional team. You will support the team and help them excel in their roles to achieve their full potential.
Flexibility and work-life balance
We understand the importance of work-life balance. We offer a flexible work environment that empowers our team members to manage their personal and professional lives effectively.
You can expect a reasonable workload, with the freedom to adjust your schedule to accommodate your individual needs. We are not an agency of burnout; we want to ensure you stay happy, healthy, and productive.
Fast-growing and dynamic environment
Refuel Creative is a rapidly expanding digital marketing agency with a diverse and ever-growing client base. This dynamic environment offers the perfect setting for ambitious professionals looking to make their mark in the industry.
You'll play a critical role in shaping the direction and growth of Refuel, with ample opportunities for personal and professional development.
The role: Operations Manager at Refuel
As the Operations Manager at Refuel Creative, you'll be the tactical leader and integrator in our Entrepreneurial Operating System (EOS).
Your primary focus will be on managing projects and people. You will ensure the team has the resources they need to deliver exceptional results on time, on scope, and on budget.
Here's a snapshot of the key responsibilities you'll be tasked with…
Drive alignment and execution of company goals
As the tactical leader and EOS integrator, you'll be responsible for aligning the team with the company's goals and priorities. You will work to ensure effective communication and execution across all departments.
Lead and mentor a high-performing team
You'll manage, coach, and mentor a team of dedicated professionals, fostering a culture of collaboration, growth, and continuous improvement. Your leadership will be instrumental in helping the team excel and achieve their full potential.
Implement Agile methodologies
Leveraging your expertise in Agile methodologies, you'll optimise processes and workflows across the organisation, enhancing productivity, efficiency, and overall project outcomes.
Manage projects using ClickUp
With skills in ClickUp project management software, you'll effectively track and manage projects. You'll ensure that all team members have clear briefs, objectives, timelines, and resources to deliver exceptional results.
Collaborate with the team
Your role will involve close collaboration with our whole team to ensure seamless workflow and communication. No lone wolves here: to succeed you'll need to work with the team. You'll need to identify and resolve potential bottlenecks and areas for improvement across the business.
Build and maintain strong client relationships
You'll develop and maintain strong relationships with clients, suppliers, and stakeholders, ensuring their expectations are consistently met or exceeded. Your excellent communication and interpersonal skills will be invaluable in fostering trust and long-lasting partnerships.
Continuously improve operational processes
As a proactive and solution-oriented leader, you'll continuously analyse and improve operational processes and procedures. You will identify opportunities for increased efficiency and cost savings.
Monitor and report on Key Performance Indicators
Your keen eye for detail will enable you to monitor and report on key performance indicators. You'll ensure that projects are consistently delivered on time, on scope, and on budget. This data-driven approach will help keep the team focused on achieving the best possible outcomes for our clients.
Who are we looking for?
To excel as the Operations Manager at Refuel, you'll need a unique blend of skills, experience, and personal attributes. Here are the key qualifications we're looking for:
A Bachelor's degree in Business, Marketing, or a related field.
At least 5 years of experience in an operations management role, preferably in a digital marketing agency or similar environment.
Proven experience managing and leading teams, with excellent interpersonal and communication skills.
Strong understanding of Agile methodologies and experience implementing them in a professional setting.
Proficiency in ClickUp project management software.
Ability to adapt to changing priorities and manage multiple projects simultaneously.
Exceptional problem-solving skills.
Strong attention to detail, with a focus on quality and client satisfaction.
A desire to constantly improve and adapt to change.
How to apply
If this sounds like the perfect opportunity for you, we'd love to hear from you! To apply for the Operations Manager role at Refuel Creative, just click the button below 👇
Refuel Creative is an equal opportunity employer and is committed to creating a diverse and inclusive work environment. We encourage applications from candidates of all backgrounds and experiences.
In conclusion
This is a rare opportunity to join a flexible, dynamic, and fast-growing digital marketing agency as an Operations Manager.
At Refuel Creative, you'll be part of an innovative and supportive team that values work-life balance and professional growth.
If you're an experienced Operations Manager looking for a new challenge, we'd love to hear from you.
Apply now and take the first step toward an exciting and rewarding career with Refuel Creative.