Refuel recognised as one of SA's 25 Fastest Movers
Ryan Jones
27 May 2022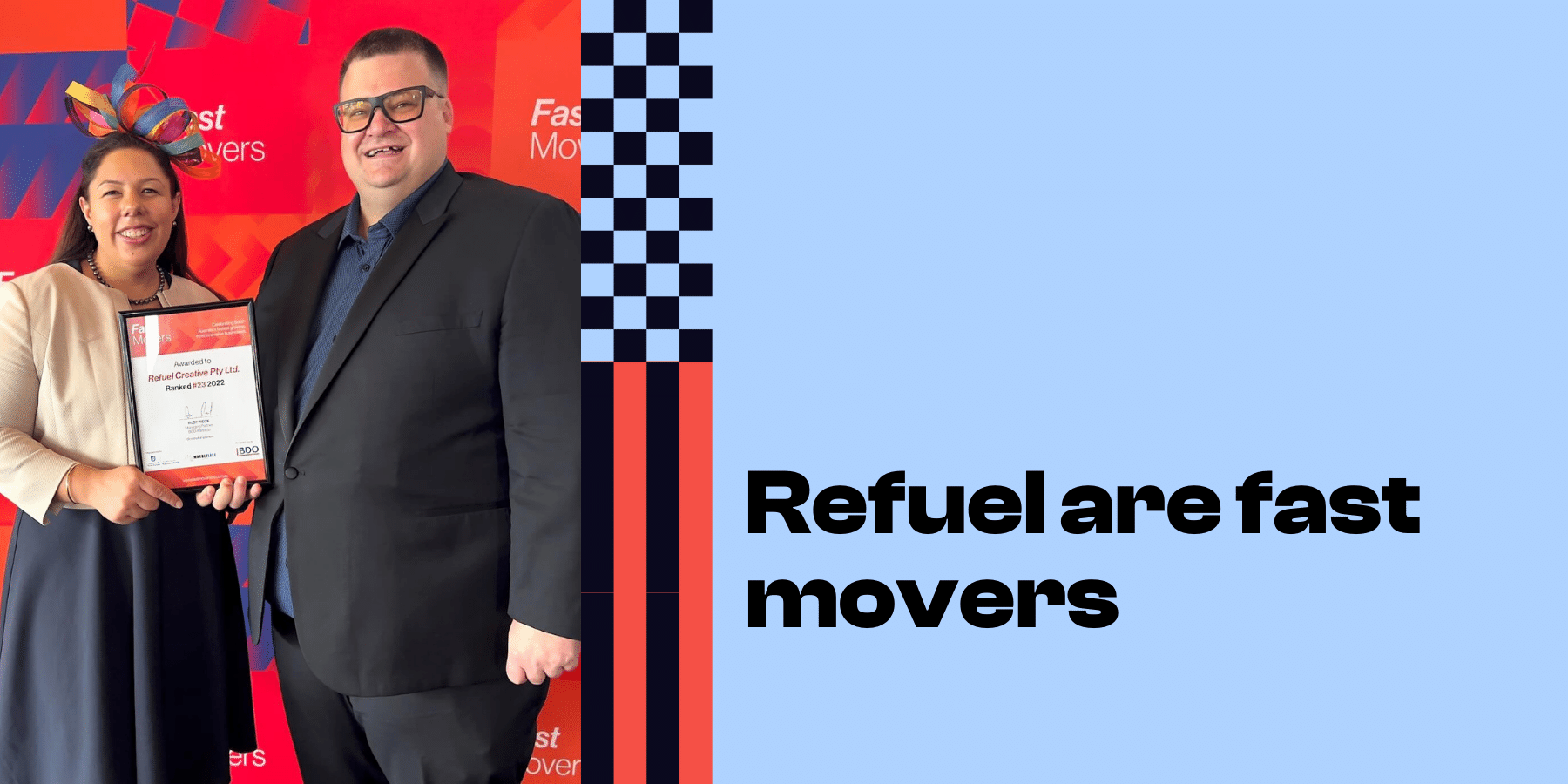 Refuel Creative is officially one of the 25 fastest growing businesses in South Australia, according to BDO Fast Movers SA.
According to BDO, the Fast Movers program recognises South Australia's fastest growing, most innovative and arguably the smartest small to medium enterprises.
The top 25 fastest-growing businesses are determined based on average percentage growth in revenue across three financial years. So, while lots of businesses love to say that they're a fast-growing business, it's another thing to be recognised as one.
How we got here
Beginning as a one-man-band in 2017, Ryan Jones has grown Refuel into a team of over 10 people (with room for even more).
Work for Refuel: Check out our vacancies
We've always had a strong presence in Australia. With local clients in South Australia and even more across the country, we've helped bring success and solve digital marketing problems for Aussie businesses, not-for-profits, and startups.
While we still pride ourselves on supporting and growing local businesses, over the last couple of years we've taken huge strides in the US market. Not only does this allow our Australian team to export their expertise to the States, it also puts us in a valuable position to help Australian businesses take their first steps into the American market.
We're still based in Port Adelaide, but we're now officially a global marketing agency and the 23rd fastest growing business in South Australia!
Ryan, CEO and Founder of Refuel, said on the Fast Movers award:
"It's a huge honour to be recognised by Fast Movers. It's a list of businesses I admired in my first entrepreneurial attempts, and to make the list is unbelievable.
To be seen as one of the fastest growing businesses in South Australia also gives the whole Refuel team something to be proud of, current, past and future, and I'd like to thank the whole team over the years for their work to get to this point.
Saying 'we give a shit' goes far beyond just getting results for clients. It's about taking pride in your work and recognising that you're a fundamental part of a team. I'm proud of our team and the work they've done to take Refuel to the next level.
I'd also like to thank our clients for trusting us with their business, backing our expertise and helping us get to where we are today. We can't grow without this trust, and I'm proud of the work we've done and the businesses we've built.
I can't wait to see where we go from here."
2022 has been incredible so far. We launched a US division, moved to a bigger, brighter office, and we were recognised by Fast Movers; but there's still even more exciting things to come from our Port Adelaide office.
Make sure you're following us across our social channels to get a sneak peek of what's coming from the Refuel team.