Your DigitalADL 2023 Recap
Alicia McMahon
13 August 2023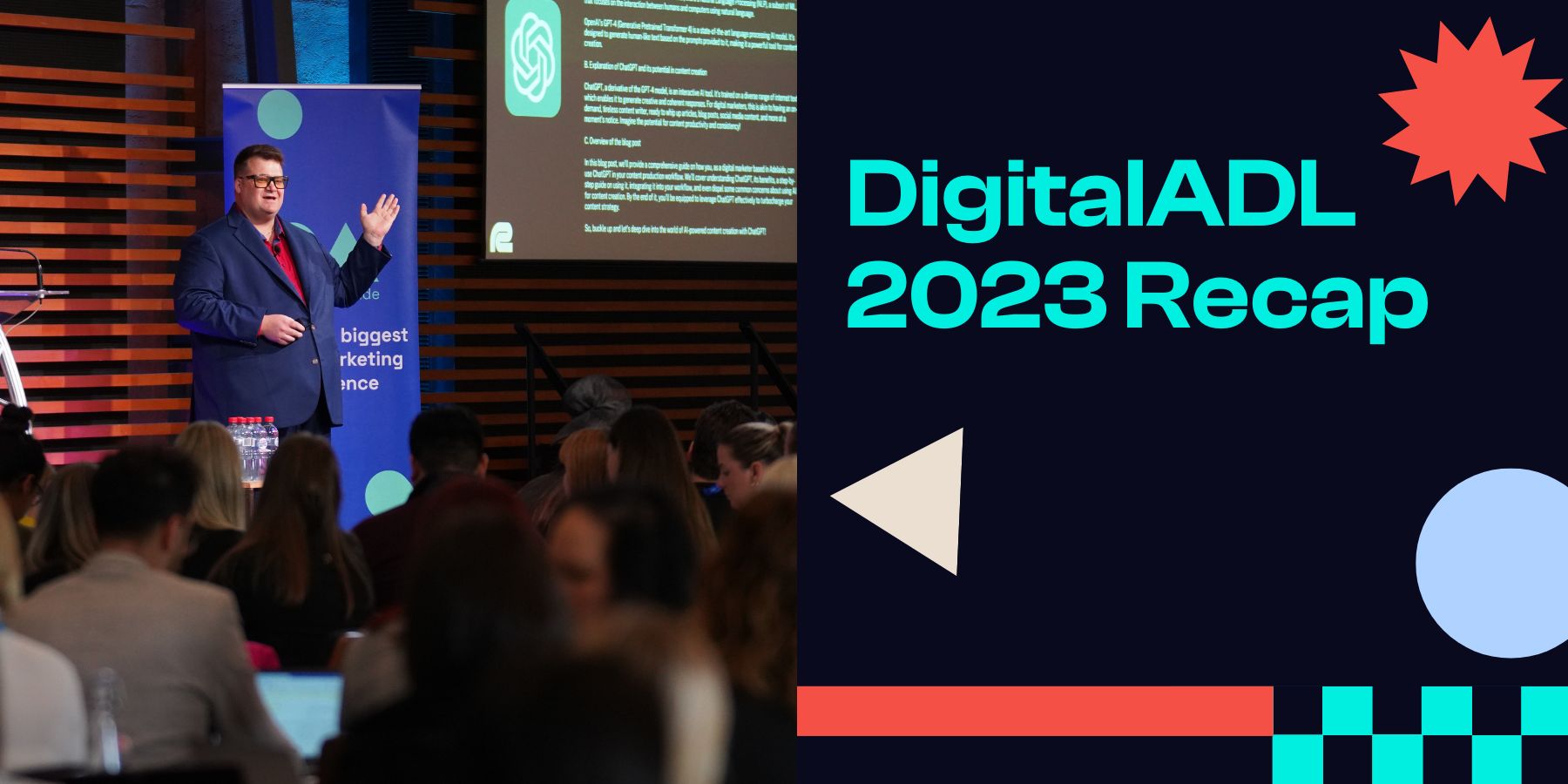 Marketing negronis, meme making for the police, and befriending AI. Here's all the best bits of #DigitalADL 2023!
And just like that, we have come to the end of another incredible year of #DigitalADL. With close to 250 tickets sold, an impeccable line up of inspiring industry speakers, and the last minute addition of a second coffee cart, Digital Adelaide 2023 was the biggest yet!
By the end of the two wonderfully packed days at the National Wine Centre, we were all filled to the brim with cutting edge new marketing insight, good food and fine wine. So, whether you couldn't make it and are dying to get your hands on a goldmine of marketing tips, or you simply want to top up the notes you took on the day, here is a recap of all the best bits!
Fostering innovation + creativity: Add some panetone to that negroni
As we soaked in the insights from our wonderful speakers, the topic of innovation and creativity consistently shone through.
Julia from Never Never Distilling, one of the country's top 10 gin distilleries, used their newest sell-out product 'bottled cocktails' as an example of how innovation can create success. Upon the launch of these bottled cocktails in November last year, Never Never earned a quarter of their yearly income in that month alone. This proving the power of always looking for new, exciting and innovative ways to entice customers.
Wade from Journey Beyond also gave us some food for thought on this topic, emphasising the effectiveness of a "test & learn" approach, but also the acceptance that you don't have to get it right every time, and won't get it right every time. Innovation can be incremental and being first is not always best. Evolution over revolution is the name of the game!
Carmen from Credit Union SA added to this notion of allowing your ideas and progress to be imperfect. There is great value in being open minded and making space for creativity. "What if…" and "Ask, don't tell" are the mantras to spark fresh ideas and foster a culture of innovation.
So go on, test the waters, try something new, throw in some crazy ideas, let creativity and innovation manifest in your business and among your team. This could mean scheduling structured time for fun and creativity in the work day, or it could mean mixing panetone and a negroni.
AI in the marketing space: Run from it or run with it?
AI has been a highly debated topic in recent times, not just in the marketing industry, but across many aspects of our lives. Some people despise it and find it frightening or threatening, to this Gavin Artz assured us that "it is not truths, just maths." However, others find it extremely useful and utilise it to help them write, or in some cases, make up false law case studies.
Returning crowd favourite, Paul Gordon, otherwise known by his self-proclaimed title 'the destroyer of marketer's dreams', explained an unfortunate example where this happened in a real industry context. Let this be a reminder to ALWAYS further investigate information that AI gives you. Next time you hand in a paper that ChatGPT helped you write, remember that a simple Google search, just to confirm that your AI tutor has actually provided you with FACTS, could save you.
However, when it's not making things up, AI programs such as ChatGPT and Bard can be extremely helpful to us marketers in enhancing the efficiency of our writing. Ryan, Refuel Creative's CEO, broke down his top tips for getting the most out of AI:
Ryan's Top tips for getting most out of ai:
Don't use the free version – paying to use the more intelligent version of ChatGPT is worth it. It will provide you with higher quality responses which will ultimately make your work much easier
Try Bard – Google's response to AI, 'Bard', could offer greater accuracy over ChatGPT 3.5 which only has a limited archive of knowledge of up to mid-2021
Provide as much detail as possible when prompting it

Tell the AI your personas/target audience
Share your brand tone of voice
Include information about the writing level you want
Keep related questions or requests in the same thread – you can train the AI
If you're not sure if AI can do it, just try
Don't expect to use AI content 'as is', always review, edit and fact check
Be authentic and customer obsessed: "Catch more flies with honey"
If you've ever lingered on the question of how to get more customers, more followers or more engagement in general, the answer of 'authenticity' resounded loud and clear at Digital Adelaide this year.
Authenticity and transparency resonates strongly with people in the current social space. Raw, relatable content and communication is what builds customers' loyalty and engagement.
Kirrilee Hay from the Adelaide Fringe emphasised that an authentic social media approach played a big role in boosting their engagement, and ultimately getting them to 1 million ticket sales. Putting their artists first with personal, engaging content proves to truly resonate on socials and in return, brings in customers.
Caitlin Jinks, social media lead for the Australian Federal Police, shared her analogy for this approach: "catch more flies with honey." Basically to say that posting fun, humorous things such as memes that engage and resonate with audiences, works to bring more people on board to listen when you have serious or important messages to get across.
So you read that right? Yes, good news, you are being encouraged to use memes!
However, to be authentic in a way that successfully resonates with your audience, you have to TRULY know them. Director of Ecom Nation, Mal Chia preached how crucial it is to focus religiously on your customers. Personally engage with them to find out what is important to them, what motivates them and then get involved with that in an authentic way. Building a passionately dedicated fan base who enthusiastically support your every move, and as a result bring organic traffic, will reduce your need for hefty ad spends.
Saving money and time on ads whilst receiving unwavering support from dedicated fans? That's what we all want right? So it's time to get customer obsessed.
Conclusion
Now, let's just let that all sink in for a second.
And while you do that, you might as well click here to secure your pass to #DigitalADL 2024 so you don't miss next years' round of marketing goodness.
But until then, move forward embracing these ideas and see what new heights you can take your business to!