Recap: 5 Key Takeaways from Digital Adelaide 2022
Tori Haywood
11 August 2022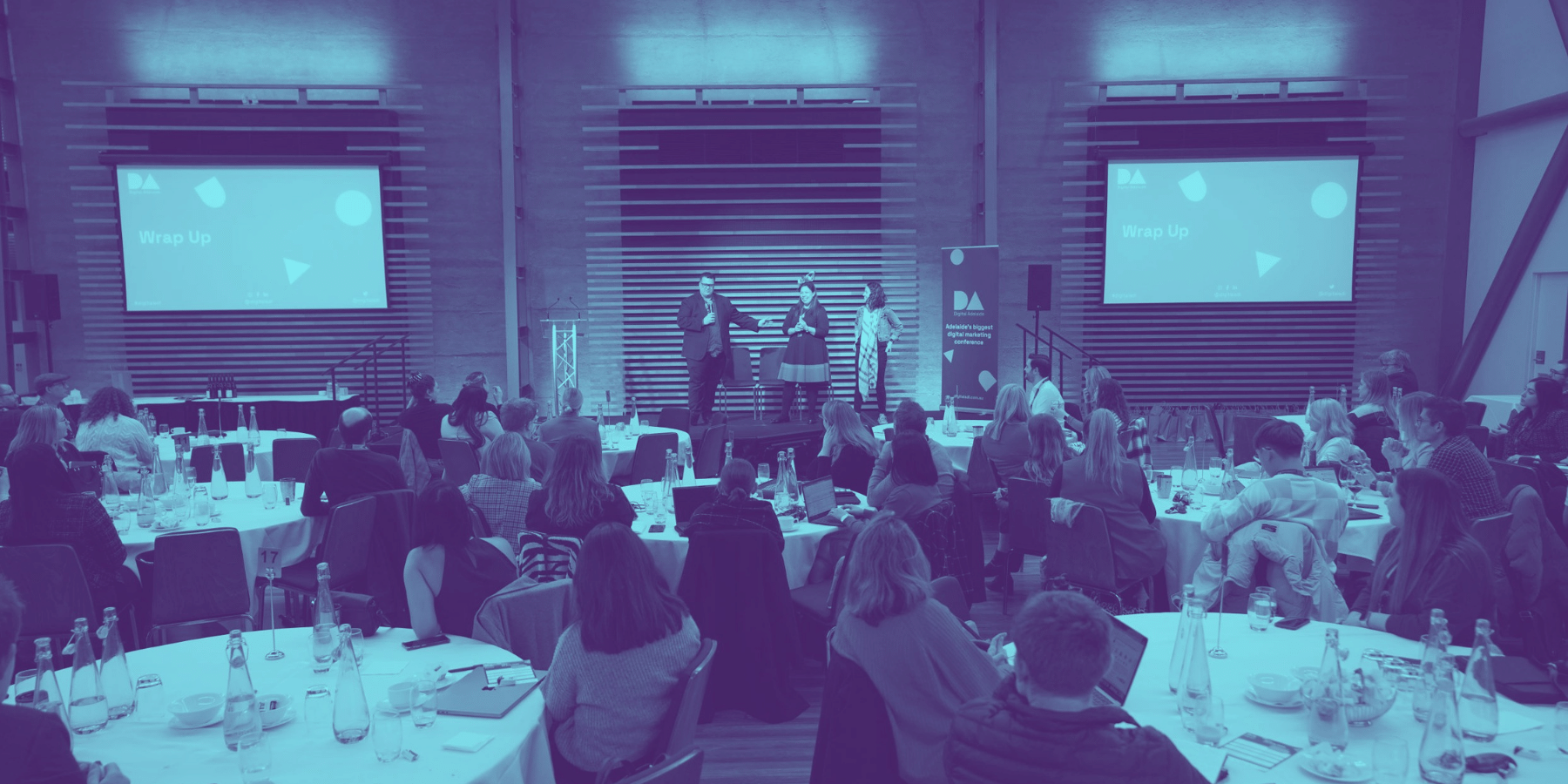 Sadly Digital Adelaide is over for 2022. 2 jam-packed days full of knowledge, networking, food and wine. This year we heard from 12 experts in the marketing industry at a new location, the National Wine Centre. For those that didn't attend or just need a recap on everything that was said, here are 5 key takeaways from the conference.
Accessibility
This year we heard of ways to make digital content more accessible to everyone. David Walker told us that the term disabilities covers more people than you think, lots of people struggle with being able to use and access media.
In fact, one in five Australians is disabled. So what does this mean to us marketers? It means that we need to assess if our content online is accessible to others. Kathryn Jensen showed us ways to make social media more user-friendly by using its tools the right way.
How to make your content more accessible
Alt text-Social media platforms like Instagram, Facebook and Twitter have tools to add alternative text to images. However, when you create these texts DON'T use 'image of….' or 'photo of….' as the user knows it's a picture. But make sure you are brief and descriptive. Use the example below as a guide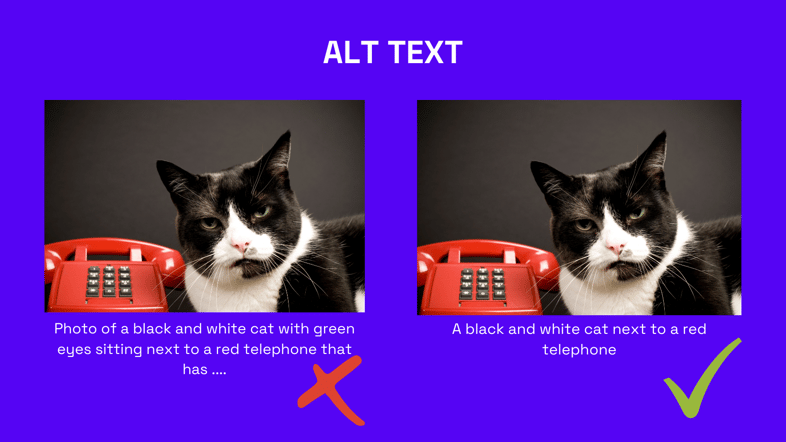 Colour contrast- Ensuring the colours of the background and foreground are different is essential. Not everyone can read light blue text on a dark blue background but if you change the text to red they could. A good rule of thumb is to look at the colour wheel and choose the opposite colour to the one you picked already. If that doesn't work then use black or white to create contrast.
Text-Make sure your language is simple and can be understood by anyone. It's important to keep it short, and have 3 to 5 sentences in a paragraph. For images, if you are putting text on the photo ensure it's a 4:5:1 ratio. You want the viewer to be able to read it on any device with ease.
Emojis and hashtags- By having too many hashtags or emojis on your posts can be very irritating to users. Screen readers will read out the descriptions of emojis and say 'hashtagdigitaladl' for hashtags. Use camel case to minimise the use of emojis and hashtags on posts to no more than 5.
Video- 85% of Facebook videos are watched without sound. This means that captioning videos is critical for those with and without hearing impairments. You can easily grab the attention of users by having text on the videos. But don't rely on auto-generated text, they don't always get it right.
Before you put content online remember to POUR
Perceivable- Can use 'see' the content?
Operable- Can the content be used?
Understandable-Can users comprehend your content?
Robust-Can your content be viewed on all devices without breaking?
We suggest that you download an accessibility program on your device and try it out on your own content, you might be surprised by the results
Screen Reader Tool: userway.org
Blend of new and old media
As new features are being added and change constantly happening to digital platforms, we are seeing more of a mix of old and new media. Hand in hand they can work together to promote and advertise your campaign.
Anna-Louise Coppock showed us that using the tools we have available to us like social media, traditional media and local business can help attract customers to your campaign. Kidchella they gain high exposure from using mixed media which brought customers to the pier.
Gaming marketing?
We are also starting to see advertising through video games, Chris Johnston discussed all the new waves of marketing.
'Average monthly engagement in gaming sits at approximately 82% of 15-34-year-olds'

'Over 17 million Australians engage with video games or gaming content
Now when you look at those numbers, you can understand why marketers are making their move to gaming sites. The gaming space provides a new way to engage with audiences and the opportunity to think creatively about your content. It can be as simple as in-game creation, content streams, talent, creator partnerships and more. It presents a unique partnership opportunity for companies.
Fun fact: KFC came out with the 'KFConsole' which was designed to warm up your chicken while you game. Who knew?!
Blending employees
We are not just blending media but people too, Mal Chia told us how to build high-performing teams in the Decision Makers Breakfast. He told us the importance of breaking down the walls (literally and figuratively) between departments to get people together and improve the work environment.
Privacy
Not only is the media changing but the rules and regulations are always updating. Within the last 12 months changes have been made to the Privacy Act, which has interrupted the ways marketers find data. Prior to 2021, there were 0 laws specifically directed to social media and internet use but that's not the case now. There have been amendments made to the Defamation Act, court rulings that changed online responsibility and lots of cases on social media.
This means for marketers have to be careful about how they act and do on social media. It means we have to monitor the content we put out and also what the public says on our pages.
You can get into trouble having discriminatory comments on your posts. Even Though you didn't post them, once they are on your page they are deemed to have been 'published' by your channel. This is your responsibility to monitor what is being posted on your business page. If you need more information, it's best to get advice from a legal representative.
What can we do?
Don't worry it's not the end of the world, the data is still there. We just need to look for it in different places to get the information we need. The changes to the rules and regulations have made digital platforms change their policies. Mal Chia explained that we can no longer trust metrics on social media analytics as they are only capturing half the activity.
This means you can't see how your customers are getting to your platform or their process to purchase. You are only able to see the last touchpoint in the buyer's journey which doesn't represent the influence for them to make their purchase decision. Georgia Auokar describes last click attribution through a drinking analogy, here's a visual representation of it.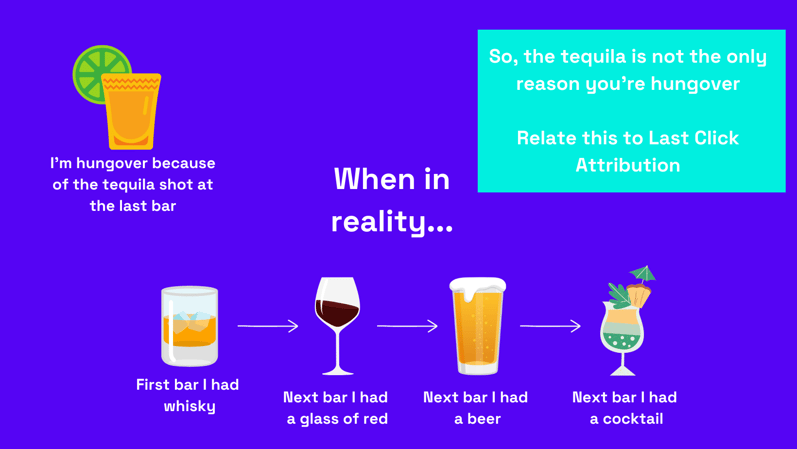 Ryan Jones told us that Meta is saying that last click under values Facebook by 47% on average. Which we are seeing as the purchasing process is no longer a one-click and done process. Consumers are having to take many steps before purchasing your product or service. This may or may not lose customers as depending on the number of steps to check out, they might not want to continue buying. For us marketers, it means it is time to modernise your attribution. Here's your homework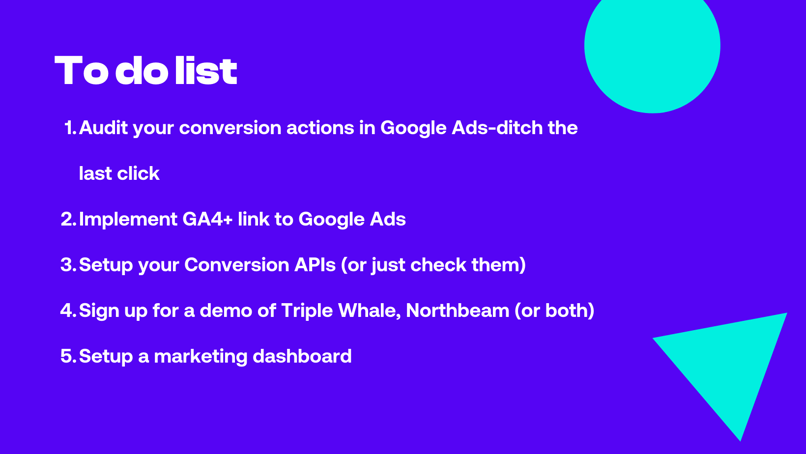 Customer Expectations
It's all about the customer, we learned ways to make the customer journey more of a positive experience. As Rachael Fahey expressed 'We are no longer being compared to our competitors, we are being compared with the best digital experiences globally' The consumers' expectations are changing and they want all the options.
Joni Edson and Vanessa Lobban shared their experience with Open Days moving online due to the start of Covid-19. But now the restrictions have eased and it can go back to in person, the students want an option for both. Which has changed the ways they offer opportunities to accommodate the real and online world.
Segmentation of the market has been a key factor to help understand what the students want. To get the right message they have split their audience into categories based on their education level, interest and location
Your digital content
Another way to gain customer attraction to your digital content is to make it visually pleasing to the eye. Consumers are more than likely to engage with your content if it looks appealing or shows the personality of the brand.
Ed Garner has been using memes as a way to make the council relatable and likeable to the viewers. It is a way to humanise your brand, make boring topics fun and own up for your mistakes without having a huge negative backlash. Keep up with the latest trends to see what your customers are viewing on their feeds. Maybe try a meme, see if it works for you and they are really fun. Here's something we whipped up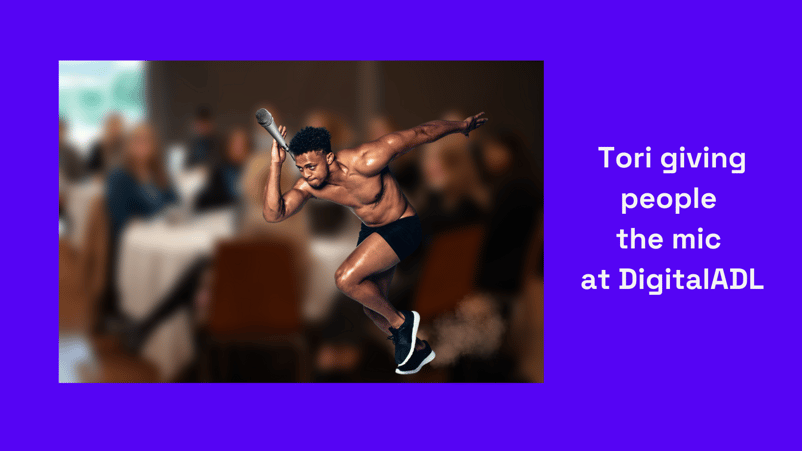 Promises
As a business, you need to ensure to fulfil the promise you make to customers to drive a positive experience and encourage repurchasing behaviour. Our panel, Abby Richardson and Joel Sanders talked about how their companies improve the customer's journey. Think of it as if you are the consumer, what do you like and dislike about the process to purchase?
Abby's company they have both online and physical stores which makes some competition. They offer limited edition releases and free shipping to encourage people to buy online. This makes the need for easy-to-navigate websites critical to make the buying process as quick as possible.
Personalisation
The power of personalisation makes a huge difference in getting people to be continued buyers/supporters of your brand. As Simone Douglas stated 'we live in an internet age, but we are still running on instinct. So being human is key'. We aren't robots that have no feelings, we can use this to our advantage when targeting our audience. Using the resources you have of community involvement and real-life stories can play at the consumer's heartstrings.
Andrew Sabatino showed us the difference between having media personalised to the consumers. People are willing to go back to a company if they feel like they care about them and value what they are doing. It's as simple as using information the consumer has given you and put it in an email. Not only emails but PURLs (personalised URLs) which can be in the form of SMS campaigns, EDMS and even videos
When you're creating your next personalised content remember BASIC UX:
Beauty
Accessibility
Simplicity
Intuitiveness
Consistency
Phew, that was a lot!
Digital Adelaide 2023...
Digital Adelaide will be returning for
2023

! More information will be coming out soon
Get the latest news by subscribing to the Refuel Creative newsletter
If you have a case study or knowledge you'd like to share for next year's event, consider becoming a speaker