Add people to Google Analytics to help measure your website performance
Goal: To grant access to your Google Analytics property (website) to a new user (employee, contractor, agency).
Ideal Outcome: Your employee, contractor, or agency will have access and be able to collaborate on your Google Analytics account.
Prerequisites or requirements: You will need admin access to a Google Analytics Account.
If you have not created a Google Analytics account, you can refer to SOP 009: Adding Google Analytics to a site.
Why this is important: Google Analytics allows you to grant access to other users so you can share your data with them, or give them access to create reports for your company. Granting access is the most secure way to share your site's data without having to share your login details.
Where this is done: Google Analytics.
When this is done: Every time you want to grant, request, or revoke access to your Google Analytics property.
Who does this: The person responsible for managing access to your Google Analytics or web analytics.
User roles for Google Analytics: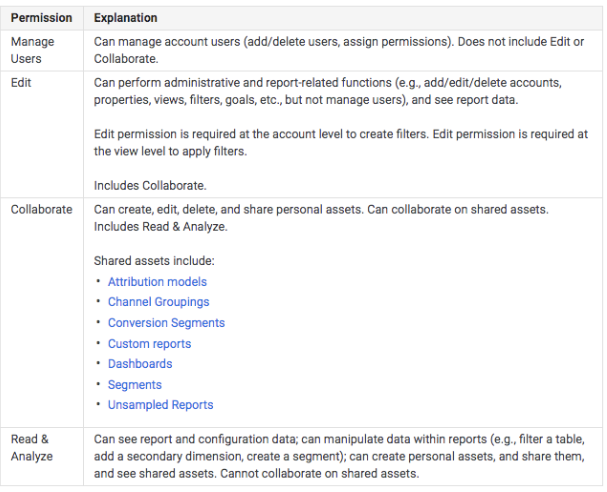 Granting access to Google Analytics
Sign in to your

Google Analytics account

.

Make sure you are in the correct account (Google Analytics account that you want to share access to) by selecting it from the top menu.
On the left sidebar, click "Admin".
In the admin dashboard, click "Property Access Management".

Note: Granting a user access to a property will also grant access to all views for that property.

Click "+" in the top right corner → "Add users".
Enter the email address you want to grant access to and select the right permission(s). Then click "Add".

Note: The email address you enter has to be a Google account, otherwise you won't be able to add them.

You will now see the new user added with permission to access and collaborate on your Google Analytics account.