Why you need a brand
Why did you get into the business you're in? How do your customers currently see you? How do you want to be seen in five years time?

Your brand is the only thing your competitors can't take away from you. It's your key differentiator and is the only true competitive advantage you have. Whether you're sleek, sophisticated, sexy, or down-to-earth, your brand is a promise you make to your customers each and every time they engage you for your services or buy one of your products.
This is why it's so important for us to work collaboratively with you to help build your brand correctly, authentically and position you to meet your market objectives.
A work of art
What colours should we use? How does our logo fit in? Is that idea too out there?
Your brand informs every decision that's made inside your company. From the services you offer, to the design of your logo to the copy on the website. From where you choose to advertise to how you choose to advertise.
Whether you have a mature business or one that's just starting out you already have a market presence. This presence evolves as your company does and it's crucial that your brand materials are reflective of not just where you are now but where you want to be.
That means you need a creative team that understands the responsibility of shepherding your brand but isn't afraid to push you out of your comfort zone to provide transformative possibilities for your company. Our team threads that needle effortlessly and provides a strategic roadmap for either soft or hard rollouts to ensure a smooth transition in both brand & positioning.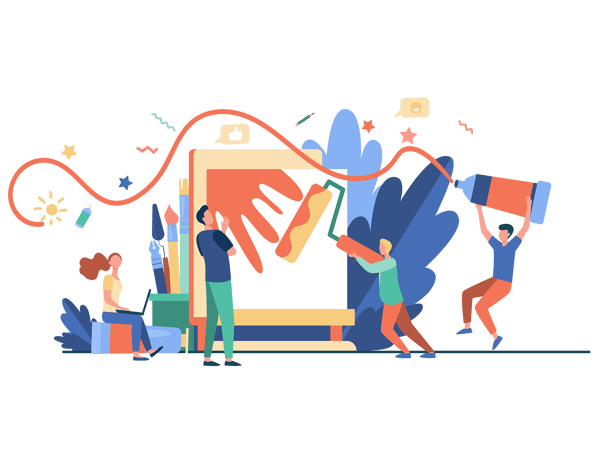 Retargeting and reputation
Which customers are most valuable to you? What customers would you like to attract more of? Where do you encounter resistance and why?

Your brand is a powerful tool to attract your ideal customers and deter time-wasters. It gives new & existing customers a vision to rally behind rather than just a product or service. It allows them to align their goals with your own and builds confidence between you and your clients. It removes friction in the sales process and is often the deciding factor between a prospect picking you or someone just like you to service their needs.
We work with you to minimise our assumptions about your business and take the time to understand your target audience, build out customer profiles and make sure our approach is the correct one. We help you deliver on your brand promise to build loyalty & convert one-time sales into repeat customers and Brand Ambassadors.
Got a question?
We'd love to hear from you!