We are looking for a talented, experienced PPC expert to join our passionate, results driven team at Refuel Creative.
If you've got 2+ years of experience with managing Google and Microsoft Ads, can set up conversion tracking in your sleep, and love getting deep into Analytics, this is the role for you.
You will work across a variety of SEM and Paid Social campaigns, working closely with our team to optimise campaigns through search, display, video and social media channels.
Your goal is simple. Drive traffic and generate leads, sales and other conversions. We want people who are passionate about results, and looking for the best possible ROAS. You need to be across the latest in PPC and paid social, and always recommending new activities to clients to grow their results.
What will you be doing as our Digital Advertising Coordinator?
You'll be our lead on PPC and digital advertising accounts. Together with our Operations Manager (Miranda), you'll be responsible for Account Management of PPC clients, to make sure we're making the most of every opportunity to meet their goals.
Campaign Management is the core focus of this role. This means weekly campaign optimisation and improvement, ensuring campaigns are performing and on budget. You'll also be highlighting new opportunities for every client to other team members and clients when you spot them.
You will be comfortable writing ad copy for PPC campaigns, and be able to do this solo to a superior standard.
Ultimately, you are accountable for the quality, timely delivery and results of all client campaigns.
Client reporting is also critical, which is where your experience in Google Analytics will be important. Between your Google Analytics experience and our existing Databox reporting, you will be results focused and detail orientated.
You will have access to a team of passionate, creative experts who can provide you with support with graphic design, video creation, landing pages, copy, and more, so you will be ready to work as part of a team to deliver the best client experience and outcomes possible. This means you'll have to do some occasional training, mentoring and support of other team members and upskilling clients!
You'll also have access to client data in HubSpot, allowing you to run targeted and efficient campaigns, with closed loop reporting.
Why Refuel Creative?
Refuel is a fast growing, award-winning marketing agency made up of digital marketing innovators. We work hard, play hard, and strive to always get the best results for our clients.
Four years into our journey, we have a team of 9, split between South Australia and Queensland, working on clients across the APAC region.
We want people who share our vision, passion and drive, and want to be part of our long term success. We're working hard to be an employer of choice for Adelaide marketers and creatives, building a collaborative and inviting working environment and culture where people can do their best work.
We're also open to flexible working arrangements, helping you achieve your personal ideal work/life balance. This role can be performed 0.6-1.0 FTE, which will be discussed with successful applicants.
Who should apply?
You should apply to join our team if you're...
Serious about a career in PPC and SEM and looking for a more senior role.
Have 2+ years Google Ads and Analytics experience.
A successful graduate from some form of tertiary institution - a Marketing or Advertising degree would be best.
Experienced in setting up Google Ads Conversions and Google Tag Manager.
Have advanced knowledge of Google Analytics, including setting up Goals and eCommerce tracking.
Have experience with Microsoft Ads and UET conversion tags.
Have experience running Facebook, LinkedIn and other paid social campaigns.
Demonstrated experience in delivering effective and strategic digital campaigns for clients across a range of sources.
Passionate about doing great work, getting great client results, and continually improving.
You can work autonomously but are equally comfortable working as part of a team.
Looking for some variety in your PPC work, and looking to work on a range of different business and not-for-profit accounts.
Keen to learn about traffic beyond PPC, diving into SEO, paid social, and other forms of traffic generation.
You share the Refuel Creative values, and want to join a team of like minded professionals in a fast paced, fast growing agency.
You're looking to grow your career, and looking for a home to do that.
Meet some criteria but not quite the experience? We're also hiring a Digital Advertising Assistant that could be right up your alley.
Who shouldn't apply?
Not everyone is a good fit! So why shouldn't you apply for our Digital Advertising Coordinator position?
You're looking for a short term fling. Your next gig. Something for 3-6 months. We want people who want to be a part of our growth, and who we can invest in their development.
You have some SEM experience, but you're not passionate about it. You just need a job. You're looking to get into an agency and pivot your role from there. For this role, we want someone who wants to be the best at SEM, focused on SEM, so we can help you achieve that. While you will be working across other channels too, SEM will be your main focus. If you're keen to get your foot in the door for a different role, we have other vacancies that may be better suited to you.
You don't share our values, and don't want to work as a team.
Applications for this position are open. We'd love to hear from you if you're interested in joining the Refuel team.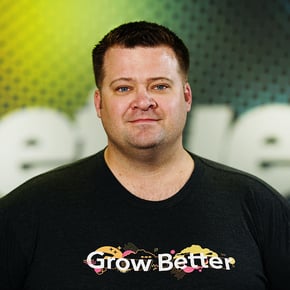 Ryan Jones
Ryan is the Founder & CEO of Refuel Creative. He's a HubSpot certified marketer and SEO expert.