So you've heard all about inbound marketing. You're hooked. You've had some success, but you want more - more results, more opportunities. You want the right tools to truly succeed at inbound. You want training and development opportunities. You want to work directly with leading companies in inbound marketing to hone your craft.
You want to join the Refuel Creative team.
We're looking for an amazing, data-driven inbound marketer to join our team.
You'll work across a select number of our clients to help them meet their goals. You'll work with clients to develop strategy, attract site traffic, convert traffic into quality new leads, and nurturing those leads to close into customers.
You'll also apply your inbound marketing talents to our own marketing. You'll contribute to the Refuel blog, scoping our content strategy as part of our team. You'll also work on our marketing and improve lead capture and nurturing opportunities.
This will include spending some time on our own leads and sales opportunities. You will also work with both our leads and our partners to develop solutions for potential clients to help them achieve their goals and become Refuel Creative clients.
What are we looking for from you?
You will be experienced in inbound marketing and digital marketing. Equally adept at developing content and nurturing leads. You'll already have some runs on the board and be looking for the next step in your career.
You will be comfortable with project management and time tracking, and prepared to develop marketing campaigns in a fast-paced agency environment.
This will include:
Building and managing content calendars for internal and external clients that attract a qualified audience to owned properties. This includes blog posts, whitepapers, ebooks, reports, webinars, infographics, etc.
Grow new leads for internal and external clients. This includes marketing qualified leads, by converting website traffic through calls to action, landing pages and lead generation content.
Increase the total number of Refuel clients on retainer, including meetings, developing proposals and working with clients to build solutions.
Optimise marketing automation and lead nurturing processes through email, content, social and PPC channels.
Establish closed-loop analytics to understand how our inbound marketing activity turns into customers and continually refine our process.
Building and optimising digital advertising campaigns including Google and Bing Ads.
Inbound Marketing Consultant Requirements
For a position at this level, you'll need some specific qualifications:
Marketing (or similar) tertiary qualifications
Google Ads Certification, including Fundamentals and Search
Google Analytics Certification
HubSpot Inbound Certification (which you can take for free in the HubSpot Academy)
You'll need a minimum of 18 months to 2 years in a similar position. If you don't have this experience, but you're keen to kickstart your career with an entry-level inbound marketing job, we are also hiring a Marketing & Design Assistant.
Your skillset will be varied. We're looking for 'T' shaped people who have knowledge across digital marketing and marketing strategy but specialise in particular areas.
This includes:
Experience in marketing automation and blogging software (preferably HubSpot) to generate traffic, convert visitors into leads, and nurture them into converted customers using dynamic workflows and smart content.
Excellent communicator and creative thinker, with an ability to use data to inform all decisions.
Experience in managing client accounts, and working with them to explain marketing concepts and help them make informed decisions on their marketing strategy.
Experience in sales and proposal development to close project and retainer based contracts.
Intermediate to advanced G Suite skills, including Google Docs, Sheets and Slides.
Experience with technical SEO tools such as SEMRush, Ahrefs, etc
Knowledge of Google Tag Manager, Search Console and/or Optimizer
Basic WordPress design and management including the Divi theme framework
Basic graphic design including Photoshop, InDesign, and/or Canva
Working knowledge of HTML and CSS
Up to date with the latest digital trends and best practice in SEO and SEM
What can Refuel Creative offer you?
Refuel is a young, hungry marketing agency. We use cutting edge marketing tactics, with a focus on digital marketing and search engine optimisation. Our aim is to help clients achieve their goals and grow their organisations.
We do things differently, with all of our marketing backed by technology know-how, and a strong focus on assessing global marketing trends and bringing them to Australia.
Inbound Marketing Jobs don't come up in Adelaide very often. This is a great career opportunity to get involved in a growing part of digital marketing.
Modern Office Environment
Every desk is an adjustable standing desk. Choice of Mac or PC. Great coffee. Our office is right in the heart of a renewed Port Adelaide surrounded by excellent restaurants, pubs and cafes.
We use entirely modern technology platforms, no frustrating legacy tech here:
Slack for team communication
G Suite for email and documents
Dropbox for storage
Accelo for project management and billing
HubSpot for marketing automation
Drift for chat, bots and conversational marketing
Zoom for video conferencing and webinars
And much more…
Industry Connections
You have the opportunity to work directly with our partners, like HubSpot, Drift, Google and Bing. We want to ensure you have development opportunities and that we continue to provide our clients with the best results possible. You'll get to learn from them and develop your career through these connections.
You'll also get the opportunity to learn from and compare notes with interstate and overseas agencies. We want you to develop your skills and be involved in our continued evolution.
Flexible Working Arrangements
This is a senior, truly flexible position. Initially 0.6 FTE, this position will grow as you achieve your targets, with opportunities to develop your career. Once you complete onboarding and are comfortable within the business, there will be opportunities to work from home and flexible work arrangements available.
You will be working from our Port Adelaide office, but we will also consider suitable candidates located in Darwin.
Development Opportunities
You will be put onto a development plan to help you continue to grow and develop as an inbound marketer. This will include:
Onboarding with both Refuel Creative and our HubSpot agency support team.
HubSpot Academy courses on inbound marketing, inbound sales, and more.
Mentorship from our team, and our HubSpot team, to help you develop new skills.
Occasional travel opportunities, including meeting our NT clients, and attending HubSpot, Google and Drift events interstate and overseas.
We are very much a team environment, and you'll have the opportunity to collaborate across our team. You'll require a bit of initiative, but we love new ideas and embrace experiments and opportunities.
How to apply
Submit your details in the below form and we will be in touch shortly.
If you have any questions on the position, you can book a short call to discuss.
APPLICATIONS ARE NOW CLOSED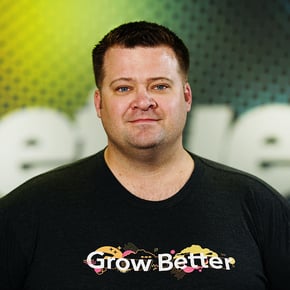 Ryan Jones
Ryan is the Founder & CEO of Refuel Creative. He's a HubSpot certified marketer and SEO expert.