We're looking for an online advertising wiz, someone early in their career looking to grow and develop, to join our team at Refuel.
You'll have at least 6 months experience managing Google Ads, ideally for multiple businesses or clients. You will have your Google Ads certifications, and be ready to get your hands dirty with a variety of exciting clients.
You will be aligned with our shared values, and looking to grow your knowledge and expertise. This role has the potential to work on Bing, Facebook, AdRoll, LinkedIn, Pinterest, and other advertising platforms.
It's ok if you're not an expert yet - that's what we're here for! As long as you have some experience, we'll train you in our PPC processes and methodologies, so that you can deliver consistently exceptional results for a range of clients.
This is a great opportunity to work across a huge range of clients, from travel, e-commerce, not-for-profit, SaaS and service based businesses. Your goals are sales, leads and conversions.
Not many entry level PPC positions like this come up in Adelaide. If you have what it takes, make sure you apply today!
What will you be doing as our Digital Advertising Assistant?
Google. Bing. Facebook. LinkedIn. Pinterest. TikTok. Snapchat. HubSpot. YouTube.
All of it.
We want you to get experience and skills in a range of different advertising platforms, working with our team to not just 'do some ads', but to create campaigns that exceed expectations.
Google will be your focus, but you'll be keeping up to date on a range of different platforms, so you can recommend the best advertising strategies for a range of different clients.
You will train up in HubSpot, so you can use their Ads tools together with Google Analytics and Databox to monitor campaign performance and produce reports for clients.
Your uni studies or industry experience will help you understand clients and identify opportunities for new copy, creative, campaigns or platforms.
You will work with our wider team on campaign creative and support, having access to a Copywriter, Videographer & Content Creator, Graphic Designer, and a team of expert marketers to help you achieve your goals. Mentoring, training and support from our CEO and Digital Marketing Manager is also an essential — you must be open to learning and improving.
Why Refuel Creative?
Refuel is a fast growing, award-winning marketing agency made up of digital marketing innovators. We work hard, play hard, and strive to always get the best results for our clients.
Four years into our journey, we have a team of 9, split between South Australia and Queensland, working on clients across the APAC region.
We want people who share our vision, passion and drive, and want to be part of our long term success. We're working hard to be an employer of choice for Adelaide marketers and creatives, building a collaborative and inviting working environment and culture where people can do their best work.
We're also open to flexible working arrangements, helping you achieve your personal ideal work/life balance. This role can be performed 0.6-1.0 FTE, which will be discussed with successful applicants.
For this position, we want people who are looking for a long term gig. We see our Digital Advertising Assistant role growing and developing to a Digital Advertising Manager over time, with opportunities to branch out into other media buying roles.
Who should apply?
You should apply to join our team if you're...
Serious about a career in PPC and SEM, looking to learn from our team of experts and take your skills to the next level.
Have at least 6 months of Google Ads and Analytics experience.
A successful graduate from some form of tertiary institution - a Marketing or Advertising degree would be best.
Passionate about doing great work, getting great client results, and continually improving.
Looking for some variety in your PPC work, and looking to work on a range of different business and not-for-profit accounts.
Keen to learn about traffic beyond PPC, diving into SEO, paid social, and other forms of traffic generation.
Identifying with our values, and wanting to join a team of like-minded professionals in a fast-paced, fast-growing agency.
Looking for a home to grow your career.
Who shouldn't apply?
Not everyone is a good fit! So why shouldn't you apply for our Digital Advertising Assistant position?
You're looking for a short term fling. Your next gig. Something for 3-6 months. We want people who want to be a part of our growth, and who we can invest in their development.
You have some SEM experience, but you're not passionate about it. You just need a job. While there will be opportunities to broaden your experience in digital advertising in this role, your main domain will be SEM/Google Ads. If you're keen to get your foot in the door for a different role, we have other vacancies that may be better suited to you.
You don't share our values, and don't want to work as a team.
Applications for this position have closed. We'd still love to hear from you if you're interested in joining the Refuel team.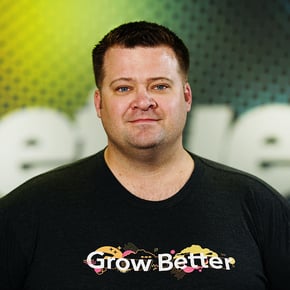 Ryan Jones
Ryan is the Founder & CEO of Refuel Creative. He's a HubSpot certified marketer and SEO expert.