SOIO - a website built for sales with HubSpot
Sam Hutchinson
06 February 2023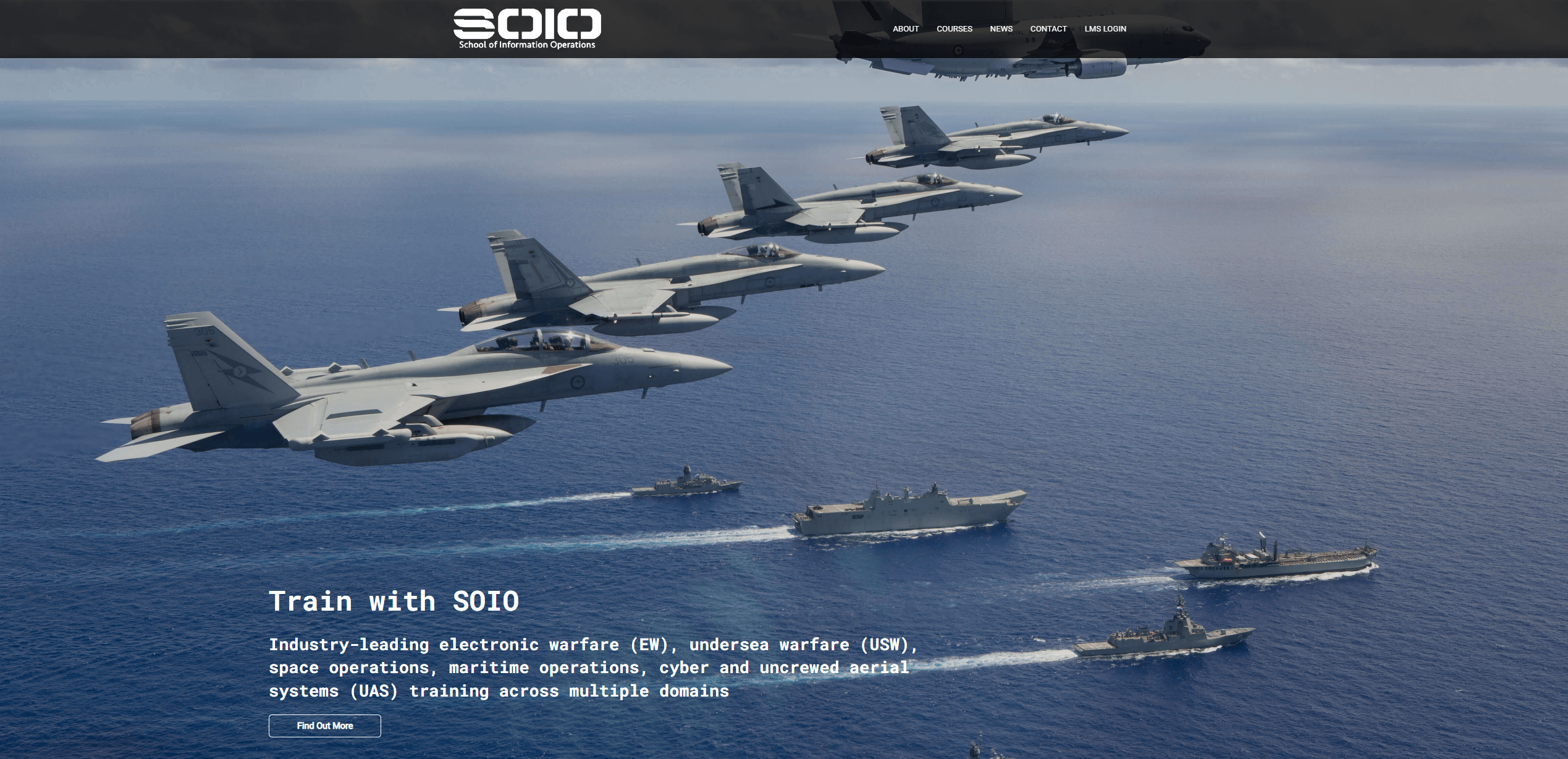 We worked with our client, the School of Information Operations (SOIO), to build a website that was designed to transform leads into sales.
Working in collaboration with DEWC in Australia and Leonardo in the UK, SOIO delivers high quality training in electronic warfare to defence professionals across Australia.

With a modern website design and cutting edge sales integrations, SOIO is now ready to attract leads and customers with less pressure on their sales team.
What was the scope of the project?
Their old website did the basics, but they needed a website that could help them better market their events and make quick changes. The website showcased the breadth of courses that SOIO offers, but there was no option to buy these courses online. As SOIO wanted to focus on selling the short courses online, their website was no longer fit for purpose.

Their website was also difficult to update internally, with changes going through a third party. In addition to being frustrating, it was also challenging for the sales team to match the conversion data with the CRM data.
The objectives
Our primary objective was to build a modern website that helped SOIO sell seats on the short courses.
Moving on to the HubSpot CMS platform from WordPress will give the in-house SOIO team the ability to make fast, easy changes to content in HubSpot CMS.

Given the lack of eCommerce functionality built into HubSpot CMS, we will build the capability to sell courses through the website using the Ecwid ecommerce platform and track the return on investment of their various marketing channels through HubSpot's tools.

Secondary objectives include:
Providing sufficient information for prospective students to buy courses without contacting a SOIO human.
Improving customer and registration process.
Creating a space for news and resources.
Capturing enquiries for bulk purchases of short course for teams.
Attracting subscribers.
The challenges
One of the unique challenges with this client was born from their industry - defence.
As a defence training organisation, SOIO offered courses that had varying degrees of clearance requirements.

We needed to prompt people with the clearance they'd need before they booked their course. Additionally, we would have to provide a system by which proof of this clearance could be provided.
The solutions
Working with our graphic designer, web developer, and copywriter, we onboarded SOIO to HubSpot CMS, complete with a new website design and new SEO-ready copy.
With the new website in place, we then got to work on building their sales platform. We built their courses page and separated each course based on the clearance requirements. Next, we had to find an eCommerce solution that suited SOIO's industry and integrated with the HubSpot CRM.

We settled on Ecwid, with Zapier acting as the go-between to update the data in HubSpot CRM. This integration took the pressure off the sales team and also removed friction from the sales process, as customers were able to purchase short courses without having to speak directly to the sales team.
The results
Today, they have a modern, responsive, conversion focused website that their own team can update. In addition, their sales and enrolment team is now greatly supported by the eCommerce integrations we implemented into HubSpot.