We've created a new leadership position for a driven and experienced digital marketer to join our team. If this sounds like you, and you want to step into a new challenge, we want you to join us as our Performance Marketing Manager.

This new role is all about taking the lead in our growing digital advertising business. You'll be managing our SEM Strategist, Web Developer, and Videographers to deliver quality client deliverables.

It's an exciting time for this role, and for Refuel Creative. Not only will you be working on a range of clients across the globe, but you'll be joining an established team of professionals.

The main purpose of this role is to provide senior digital marketing expertise to Refuel Creative and its clients, in addition to leading and managing a small team.

Reporting to our CEO, Ryan Jones, this role will plan and implement multi-channel marketing strategies for internal and external clients, that incorporate marketing automation, digital, social and offline channels for clients.

Managing a small team, the Performance Marketing Manager will be responsible for mentoring and training their team, along with HR duties like enforcing Refuel policies and procedures, approving timesheets, and regular one-on-one meetings.


What are the responsibilities of a Performance Marketing Manager?
This is an all round digital marketing position where you'll get your hands dirty on a range of tools and channels, including:
Plan and execute all digital marketing strategies including SEO/SEM, email, social media and display advertising campaigns.
Measure and report performance of all digital marketing campaigns, and assess against goals (ROI and KPIs). This includes developing conversion measurement strategies and remarketing strategies, and implementation of these strategies.
Work with the team to research, build and manage paid campaigns across a range of channels including Google Ads, Microsoft Ads, Facebook, Instagram, etc.
Analyse and optimise existing paid campaigns including campaign structure, keyword research, negative keyword mining, bid adjustments, creating new campaigns, laser-focused audience targeting, and any other optimisation required to drive revenue and profitable growth.
Work closely with the marketing team and external stakeholders to ensure strategic alignment in campaign planning.
Work with the team to deliver website projects.
Implement quality control processes to ensure a high standard of output.
Develop processes for technical tasks, eg installing Meta Pixels, managing Google Tag Manager, etc.
Setup conversion tracking using Google Ads, Google Tag Manager, Google Analytics and HubSpot as required.
Plan and organise production schedules to ensure client work is completed on time.
Utilise industry best practices, techniques, and standards throughout entire project execution.
Monitor progress and adjust plans as needed.
Collaborate with partners, agencies and other vendor stakeholders.


This is a flexible position. You can work full-time or part-time, 4-5 days per week depending on the successful candidate. This is an in-person role at our office in Port Adelaide, South Australia with flexible work arrangements available for the right candidate.

What are the role requirements?
Tertiary qualifications in marketing or related field required.
5+ years' experience in digital marketing and advertising.
Excellent grasp of SEO, SEM and website metrics and best practices.
Demonstrable experience with lead generation and website development.
Basic to intermediate knowledge of HTML and CSS required.
Strategic thinker and a practical implementer.
Excellent problem-solving skills demonstrated through using digital marketing analytics tools to derive insights and recommendations to improve digital channel performance and marketing effectiveness (eg Google Analytics, Google Ads, Hotjar, Semrush, etc).
Outstanding communication skills with the ability to write a variety of effective customer-facing digital content (eg website content, blog posts, etc).
Ability to think creatively and contribute to promotional concepts and ideas that add value to our digital marketing efforts.
Strong attention to detail to produce error-free, superior quality work.
Excellent knowledge of search engine marketing.
Ability to lead a team, work independently and/or a part of a team, quickly and creatively under tight deadlines.
Ability to lead, teach and mentor others within digital marketing to improve internal capability.


Who will succeed in this role?
Someone who has a hunger to learn and grow a digital marketing career, first and foremost. They'll also be able to:
adapt to different programs and processes easily.
prioritise multiple tasks and deadlines.
be detail-oriented and diligent.
Ideally, they'll also bring great team spirit and a well-developed sense of humour.


About us
Refuel was founded in 2017 by Ryan Jones after successfully growing his part-time consulting into a full-time business. Early in 2018, Refuel partnered with software company HubSpot to maximise the value and results reporting to clients.

Since then, Refuel has become one of Australia's fastest-growing marketing agencies. We have grown to become a Platinum HubSpot Partner Agency. In 2019, we won the HubSpot Rookie of the Year Award for the fastest growing new partner in APAC. We were also state finalists for the Telstra Business Awards Emerging & Energised category in 2019.

Today, Refuel is a digital marketing agency assisting businesses and not-for-profits in achieving their marketing and sales goals.

We have a small team of 10 based in our Port Adelaide office, with clients and partners across the globe.

Our core values define who we are and who we want to work with:
We genuinely give a shit
We back our own expertise
We play as a team
Everyone has value
Be the innovators

What are some of the benefits of working at Refuel?
Interactive employee training and onboarding.
A training focus with a development plan and dedicated learning time.
Amazing colleagues to learn from.
Flexible work hours and schedules - this position is offered 0.8-1.0FTE.
Open office environment with work from home opportunities.
Team lunches and events.
In office snacks and great coffee.

Ready to apply? Hit the button below to submit your application!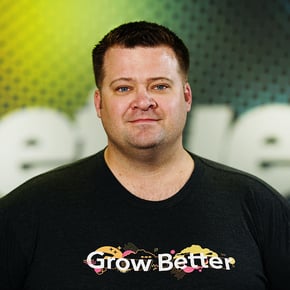 Ryan Jones
Ryan is the Founder & CEO of Refuel Creative. He's a HubSpot certified marketer and SEO expert.