Are you a passionate, up and coming marketer looking to learn the ropes in a fast paced agency environment? We're growing our team and are looking for a Marketing Assistant to join us in Port Adelaide.
This is a varied and dynamic Marketing Assistant role. You'll be working across B2B and B2C clients in a range of industries. You'll get access to the latest in Enterprise marketing tech thanks to our partner networks.
This is an exciting opportunity to learn. You'll be working with a team of experts, gathering experience across a range of different industries and countries. You'll contribute to different marketing strategies, and work with the best tech in marketing.
Adelaide marketing jobs like this do not come up often.
We're looking for a marketer who gives a shit. About their professional development and learning. About doing a great job for their clients. About their colleagues and team members.
Reporting to our Digital Marketing Manager, Rubina Carlson, you will work as part of our delivery team, covering social, advertising, marketing automation and more.
This is a perfect opportunity for an ambitious marketing graduate who has gained some experience, but really wants to kick their career up a gear.
The Marketing Assistant role is a flexible position. It can be full time or part time, 3-5 days per week depending on the successful candidate. This is an in person role at our office in Port Adelaide, South Australia with flexible work arrangements available.
You'll need to have:
At least 1 year experience in marketing and/or a similar position.
Marketing, graphic design, or similar tertiary qualifications, or industry experience in lieu of qualifications
Basic image creation skills in Canva, Adobe Photoshop, or similar
Basic knowledge in social media content creation, scheduling and strategy
Basic knowledge of Google Analytics, Tag Manager, Search Console, and/or Optimizer
Basic HubSpot or Mailchimp email marketing experience
Knowledge of WordPress and publishing content to the web
To succeed in this role, you will need:
A hunger to learn and grow a digital marketing career
Adaptability to different programs and processes
The ability to prioritise multiple tasks and deadlines
Great team spirit
To be detail orientated and diligent
A well developed sense of humour
Your Digital Marketing Assistant experience
We know it's hard when you're a recent grad to have the experience you need for a role like this. But that's exactly why we want someone with at least a year's experience. We want those marketers, those graduates, who have done something to develop themselves and gain relevant industry experience.
Andrea has previously written a blog on how to gain industry experience while you study. If you're a recent grad with no experience, read it now!
We want those candidates who pushed themselves to gain experience. To stand out from the other grads. Those who built websites, developed social profiles, volunteered with not-for-profits, wrote blogs, sought out internships, or did something else to put credible experience on their CV.
You can also look to obtain free digital marketing certifications, which we also look on positively.
But to get an interview for this role, it won't be enough to send a resume showing you graduated from uni. You'll need to demonstrate experience, and show that you've read this ad. I've previously put together some tips on applying for marketing agency jobs for just this occasion.
About us
Refuel was founded in 2017 by Ryan Jones after successfully growing his part-time consulting into a full-time business. Early in 2018, Refuel partnered with software company HubSpot to maximise the value and results reporting to clients.
Since then, Refuel has become one of Australia's fastest-growing marketing agencies. We have grown to become a Platinum HubSpot Partner Agency. In 2019, we won the HubSpot Rookie of the Year Award for the fastest growing new partner in APAC. We were also state finalists for the Telstra Business Awards Emerging & Energised category in 2019.
Today, Refuel is a digital marketing agency assisting businesses and not-for-profits in achieving their marketing and sales goals.
We have a small team of 8 based in our Port Adelaide office, with clients and partners across the globe.
Our core values define who we are and who we want to work with:
We genuinely give a shit
We back our own expertise
We play as a team
Everyone has value
Be the innovators
How to apply
Just click the link below to apply online quickly and easily. We will start getting back to candidates who meet the criteria above early in the new year.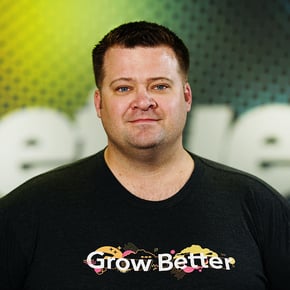 Ryan Jones
Ryan is the Founder & CEO of Refuel Creative. He's a HubSpot certified marketer and SEO expert.