First place Digital Marketing for the Australian Centre for Business Growth
Sam Hutchinson
22 September 2023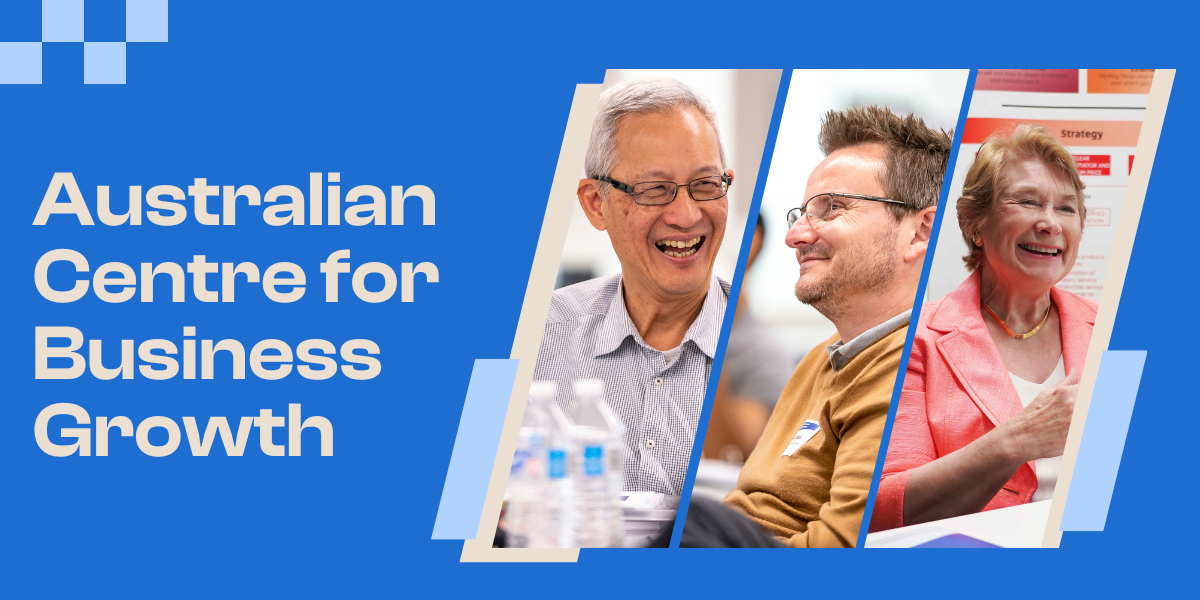 We worked with the Australian Centre for Business Growth to deliver a full service digital support across social media marketing, paid advertising, SEO and website management.
After approaching our team, the Australian Centre for Business Growth saw their PPC leads increase, their social media become more consistent, and were able to receive on demand website support.
Who is the Australian Centre for Business Growth?
The Australian Centre for Business Growth (AUCBG) delivers world-class growth programs that provide business owners, CEOs, Managing Directors, and their executive team members with the knowledge and skills they need to grow their companies.
The impact
Their needs
Drive more leads and establish their position as a thought leader in the business growth space.
The Australian Centre for Business Growth needed a data-driven PPC plan to drive the leads they needed across their assessment clinics.
In addition, they needed an email marketing campaign that worked with their existing tech stack. This would allow them to continue to grow as a thought leader and nurture leads.
Similarly, they also needed consistent, reliable social media to grow their brand and maintain their online presence.
Finally, their website also needed an audit to ensure that it was capable of converting those leads once they landed on the site. The landing page with the most views was the Contact Us page (over 35% of page views), which consists only of a form. While this does make it easy for the prospect to complete the form, the value proposition for the Centre is not clear, so the conversion rate is less than 0.02%.
Finding a solution
The AUCBG project was an almost all encompassing task for the Refuel team. Everyone except the video team was working on the project at one time or another.
Working with the Business Development Manager, Richard Littleton, we developed a holistic marketing and website plan that would help them achieve their goals and bring in more leads for ACBG.
PPC
Two Google Search Campaigns were set up using the existing Australian Centre for Business Growth Google Ad account, both for the consideration stage and the conversion stage. This is a key part of the strategy as it targeted an audience with a high intent to purchase - either searching for the Centre, specific programs or for specific terms related to business growth programs.

As the Centre ramped up its marketing in NT and WA, we were able to carry out ad creative refreshes, adjust the targeting and budgets to meet the goals of the Centre and get the leads they needed to fill their clinics.
Social media
We worked with the Australian Centre for Business Growth to deliver consistent, on brand social media that was designed to improve engagement, establish the Centre as a thought leader, and drive leads across Facebook and LinkedIn in the process.
We would deliver a monthly content calendar designed around the following content pillars:
Our Impact
Our Programs
Our Events
Our Experts
Our News
Special Occasions
Posts will be published three times per week on each social media channel; Facebook, LinkedIn and Twitter/ X using a mix of the mentioned content pillars for a consistent and engaging social feed.
The Australian Centre for Business Growth followers are most active at different times on each channel, and Sprout Social [the platform used by us to schedule all social media content] will calculate and provide optimal send times. This is based on the audience Engagement with the posted content, when the audience is the most active on each platform and these times are adjusted regularly for each individual platform, maximising the reach of the content.
Email marketing
We worked with the Australian Centre for Business Growth to release a monthly newsletter that highlighted the organisation as thought leaders in the field, while also sharing important news and events happening at the centre.
Website lead capture
We worked with the client to deliver suggestions on how they can increase their conversion rate on the website. This came as a result of a comprehensive website audit, with suggestions on improving the site covering not just forms and lead capture, but the overall user experience and SEO, ensuring that leads reach the lead capture form in the first palace.
Challenges
We have a proactive, data-driven approach to our PPC and social media campaigns. Through testing, we figure out what is working and what isn't, then hone in on the successful areas. We don't deploy an 'off the hanger' approach to any client and this is why ultimately we got results for the Australian Centre for Business Growth.

One of the biggest challenges was with attribution. Their Formstack wasn't correctly passing through UTM parameters to Google Ads or Google Analytics. This meant that switching to Formstack would mean losing any understanding of the impact their marketing was having on leads. Our Web Developer worked with the web team at the Centre for Business Growth to ensure that tech mishaps regarding the Formstack were kept to a minimum and, if they did occur, were quickly resolved and their impact minimised. This was only possible due to the fact that the client had direct access to our Web Developer and didn't have to pass through an Account Manager to get their request across.

Another challenge is that engagement on Facebook and LinkedIn is tied to events and activity at the Centre for Business Growth, in quiet months this results in lower engagement on socials. With this in mind, we developed a bank of evergreen content designed to get engagement in periods of low activity at the Centre. This ensured that the socials continued to perform regardless of how many events were happening at the Centre.
"Working with Refuel makes our team's life a lot easier because we're getting much better quality leads coming into the centre."
- Richard Littleton (Business Development Manager at AUCBG)
The results
We dramatically increased the number of leads coming into the Australian Centre for Business Growth using a data-driven approach to PPC, combined with web support and a consistent social media content plan.
In 2023, we delivered 248 leads with a spend of $28.6k. This came out to a cost of $115.47 per lead and averaged at 41 leads per month. For comparison, this was an increase of 64% in leads per month from the same time last year and a -12% reduction in cost per lead.

Regarding social media, we increased their net Facebook followers by 152% and their LinkedIn followers by 31%. Overall, we increased their total audience by 259.6% and grew their total net audience by 47.4%.
Number of leads


Comparison:



Social media


"The most impressive thing about Refuel is their depth of knowledge — technically and socially."
- Richard Littleton (Business Development Manager at AUCBG)