Do you want to take lead on managing $8m+ of ad spend? Work with brands across Australia and the US? Work at an agency that actually cares about you, and doesn't expect you to work 60+ hour weeks?
If this is you, we want you to join the team at Refuel Creative as our Search Engine Marketing (SEM) Specialist.
You will be in charge of paid search campaigns for clients on Google and Bing. You will work with our team to incorporate SEM into our client's marketing campaigns, and help our clients achieve their goals. You won't be cold calling or selling.
We want someone who wants a place they can fit. Who wants to be part of a supportive team, and wants to deliver awesome results for our clients. Who wants opportunities and a development path. This role has a development path to a senior role heading up our Paid Ads or Search efforts.
What level of experience do you need?
Tl;dr… at least one year of focused SEM experience.
That said, we're motivated to hire for this position thanks to recent client account growth.
So we want the right person that fits with our culture and values. If you have more experience, and are the best fit candidate, we'll work with you to find a position description, title and package that reflects this. It's more important that we get the right person for our team and our clients.
What will you be doing?
This role will report directly to our CEO, Ryan Jones. You will be taking accounts over from Ryan and continuing our efficiency and high ROAS. This role will include:
Google & Bing Ads management and optimisation. Search, display, shopping and video for a range of clients across industries, countries, and both B2B and B2C.
Building out new PPC campaigns, including keyword research, campaign structures, ad copy development, budget management and analytics.
Proactively work with your clients and colleagues to help them get the most out of their PPC investment. This includes answering questions, advice, and strategy guidance.
Setting up Conversion Tracking with Google Analytics, Tag Manager, and other relevant pixels.
Providing support with campaigns on other platforms, including Facebook, Pinterest, TikTok, and LinkedIn.
Putting together monthly client reporting using our Databox reporting system.
Working with our sales and BD folk on pricing and strategy for new clients.
A bit about Refuel…
We're not your typical agency. Our team enjoys work-life balance. We care about our team and our customers, and want team members who share those values.
Our 3-year plan has growth goals AND a goal to be the best place for Adelaide marketers to work. And we mean it - we may not always get it right, but it's our goal to be the best place for you to work. A place where you can develop, where you can balance your work and home life, and where you can do your best work. We are committed to that goal.
We don't have Account Managers, which allows our team to communicate directly with the client they're working with.
We run on the Entrepreneurial Operating System. This provides us with the tools to drive our growth. Change is a part of what we do, and we encourage suggestions and solutions to make the company run better, and for our team to enjoy their work more.
We've only been around for just over four years, but already we are 10 strong. We work with direct clients and agencies in Australia, New Zealand, China, the Philippines, Malaysia, and the United States. We are a 2019 Telstra Business Awards finalist, HubSpot's 2019 Rookie of the Year for APAC, two time HubSpot Impact Award Winners, and co-organisers of Social Media Day X Digital Adelaide.
Some great reasons to work at Refuel include:
Flexible working arrangements - Work from home or remote as needed, work the hours you need. Our team works from different locations at times that suit their lives. This role can be 0.6-1 FTE, and your work hours each day are flexible. Perfect for kid pick up/drop off, fitting in the gym, or getting to sports practice.
Friday team pub lunch - Share a pub meal and a drink at the end of the week with your colleagues at The Port Admiral Hotel.
Our fast growth creates opportunities for you. Do the work, and you'll create the opportunities for your own promotion and development path.
Professional development and training opportunities with dedicated PD time every fortnight.
Who should apply?
If you're a marketer who loves keywords, data, and the rush you get from epic results, this position is for you.
Self-driven PPC experts looking for an opportunity and prepared to do the work to get it.
Marketers with at least 1-2 years of hands on SEM experience with Google Ads.
Analytics nerds experienced setting up Google Tag Manager, Google Ads Conversions, Google Analytics, and Microsoft Ads Conversion Tags.
People who share our values, and want to join the Refuel team.
Professionals that are looking for a home where they can grow and make a position their own. There is no limit to where this position can take you if we work together.
Experts with experience in delivering effective campaigns for clients.
Who shouldn't apply?
Not everyone is a good fit for our team, and that's okay. We get it. So we'd rather cover it off early. Who shouldn't apply for this position?
Those looking for a short-term fling. Something temporary until the next big thing. We get attached to our people, we invest in our people, so we want those that join our team to respect that and become part of our growth.
People who don't share our values. Who don't value their colleagues, or think they're better than everyone else. Those people who think they're too good for the occasional admin task, or to pitch in and help.
Marketers who are looking for their big break in SEM, but have no prior experience.
Ready to apply?
Apply with the big blue below!
If you want to discuss the position before applying, book a time to talk to Ryan.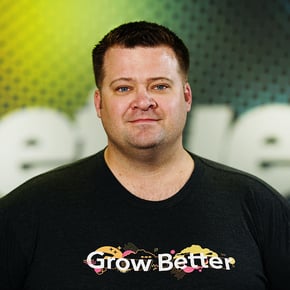 Ryan Jones
Ryan is the Founder & CEO of Refuel Creative. He's a HubSpot certified marketer and SEO expert.